Maserati makes a star turn this week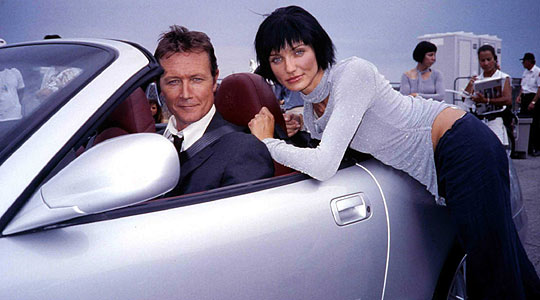 Maserati makes a star turn this week – a Hollywood first – in this summer's blockbuster movie "Charlie's Angels II: Full Throttle". Today the launch in Rome.
Today in Rome the world's finest Italian luxury car manufacturer will premiere in its international star role in Columbia Pictures' "Charlie's Angels II: Full Throttle". The movie has been successfully launched in the U.S. the last weekend. The Maserati Spyder will make its highly anticipated Hollywood debut on the big screen. In this way, Maserati confirms the traditional link with the "big screen", as in the past Maserati cars have been driven by famous actors like Alberto Sordi, Vittorio Gassman, Donald Sutherland, David Niven, Peter Sellers and Alain Delon and many others.
"Charlie's Angels II: Full Throttle", which opens in Italy July 3rd, the sequel to the first "Charlie's Angels", is a sexy, high-octane action-adventure comedy, with Natalie (Cameron Diaz), Dylan (Drew Barrymore) and Alex (Lucy Liu) alongside newcomer Bernie Mac as their sidekick in fighting evil-doers worldwide, one of which is Madison Lee, played by Demi Moore. As the highest paid actress in Hollywood in the 1990s and an eight-year absence. Another celebrity character is played by Robert Patrick whose steed is the latest from the Maserati stable, the Maserati Spyder in a full throttle car chase sequence.
As the title of the movie suggests, the most glamorous automobiles in the world of going 'Full Throttle' are in the stable of Maserati as time and history has proven. In order to match the caliber of the Angels' brilliance, beauty and finesse, Maserati was up to the challenge. Maserati has always been chosen for the extreme speed, sportsmanship, and performance fitting for the cinema. The "Charlie's Angels II" movie is officially the first project of many in a new relationship the Gruppo Ferrari Maserati, in its North American product placement policy, is building with Columbia Tristar / Sony Pictures Entertainment Group.
The highly anticipated theme song of "Charlie's Angels II: Full Throttle", "Feel Good Time", written by Beck, is performed by Sony Music's internationally acclaimed pop star Pink. Pink co-stars with the Maserati Spyder for the music video directed by Dave Meyers that features auto racing and sexy beach scenes. The "Feel Good Time" music video was the subject of MTV's "Making the Video" rockumentary. The film is the directed by celebrated movie, music video and commercial director McG. The Film is based on the original television series that ran from 1976-1981.
Text & Photos: Maserati