Luxury Holiday in a Scottish Castle
Surrounded by stunning scenery in Glenisla, Forter Castle was built in 1560 and enjoys a history as rich as the countryside in which it sits. All who come to stay at Forter quickly learn to use the castle as their own, and greatly enjoy the warmth of a charming home and the magnificent outdoors that surround it.
Forter Castle was originally a fortified tower, built in 1540 and owned by the Ogilvys, and destroyed by the Duke of Argyll's men in 1650. Completely restored to its present glory in 1990, it was rebuilt using traditional materials and methods.

The castle sleeps ten comfortably; there are two four poster beds and then three further rooms with the option of double or twins. Each room has its own character and atmosphere and the new addition of storage heaters means that your evenings will be both toasty and relaxing.

A magnificent hall which spans the entire width of the castle, furnished with traditional Scottish furniture offers comfort and colour. An inlet log fireplace dominates one side of the Great Hall, whilst mahogany shelving displaying antique books borders the north side.

The dining area is offset offering a unique dining experience of luxury and tradition seating up to 16. One of the main features is the elaborate-painted ceiling, this along with the various painting and tapestries make a truly traditional Scottish hall complemented with comfort, relaxing atmosphere and history. The Great Hall has under floored heating.

The kitchen is a fully-working modern kitchen, giving every-day facility with out losing its authentic charming design. Not only can this kitchen produce a simple two-some highland breakfast but can accommodate serving a full wedding party. The latest top-of-the range stove, dish washer and other mod-cons make this a cooks dream. A separate Breakfast Room adjoining the kitchen is fitted with full-size refectory table with seating for ten.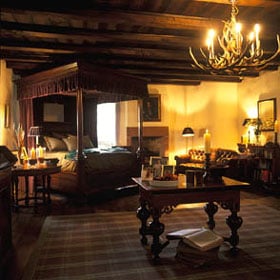 'The Laird's Room', self contained glamorous master bedroom, sweeps across the entire breadth of the castle. Fitted with traditional antique furnishings, this is completed with a sumptuous four-poster bed with elaborate draping. The room has its own freestanding bath and wash area, screened off from the main room. The writing desk is positioned in one of the turrets for those inspired and a library area on the opposite side with leather sofa offers comfort for evenings with a good book and a glass of whisky. There are an additional four sumptuously appointed bedrooms.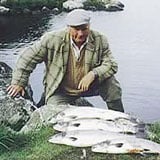 A stay at Forter Castle can be either self-catering or they can offer a tailored week of food to suit you. The Perthshire/Angus areas boast many various activities for active people such horseback riding to facilitate viewing much of the magnificent wildlife. Alternatively, this can also be accomplished by mountain-bike, or on foot. The mountains offer both skiing and snowboarding during winter months, while summer months offer alternative mountain-biking and hiking. For those with a passion for water, rivers, lochs, and beaches offer numerous aquatic activities. And what trip to Scotland would be complete without at least one visit to one of the many local whisky distilleries?

For further information, or details on how to book Forter Castle, please visit www.fortercastle.com or contact Katharine Pooley on +44 (0)773 680 4426, email: [email protected]
Text/Photos: Forter Castle
---
ClassicInside - The Classic Driver Newsletter
Free Subscription!