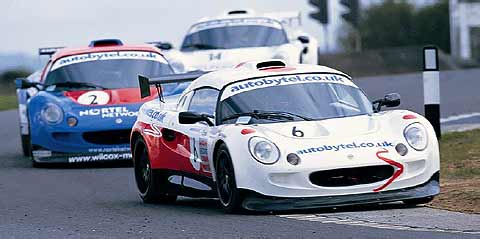 Proposed changes to the FIA GT rules will make the Lotus Elise and Exige eligible to compete in the new N-GT category. Although there do not seem to be any plans for a works entry, the factory believes that for privateers an N-GT Elise would be a "natural evolution" of the Lotus Sports Elise, which last year competed in such races as the Spa 24 Hours.
Meanwhile, the "Elise Scholarship" will again be available in 2002, aiming to provide an affordable introduction to club racing. The "Scholarship" involves the driver purchasing a package from Lotus Motorsport which includes a Lotus Sport version of the Elise, tuition from Lotus at its famous 2.25 mile race track, plus two sprint races, two hillclimbs and two circuit races.
The newly-developed Lotus Sport Elise 190 track car will be eligible for the Lotus Roadsport Series and the Intermarque Challenge. Since both these series will feature in the AMOC race meetings druing 2002, it gives competitors the opportunity to race twice at each meeting.