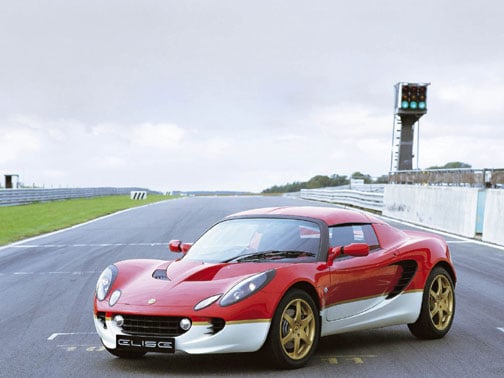 Very few racing cars are as famous or as celebrated as the Lotus Type 49 Formula 1 car. Its racing pedigree was instantly proven, winning its debut Grand Prix in the hands of Jim Clark. This was not the only reason for its fame; it was the car developed alongside the V8 Cosworth Ford DFV, the engine that dominated F1 for a full decade. The Type 49 was also the first Formula 1 car to use the engine as an integral stressed part of the chassis. This combination of car and engine would bring major Grand Prix successes for Jim Clark, Graham Hill, Jo Siffert and Jochen Rindt.
The Elise Type 49, as part of the Elise Heritage range, not only shares the distinctive red, white and gold livery of the Type 49 Formula One car, but also many of the strengths that made the Type 49 F1 car so successful; Lightweight aluminium chassis, GRP body, Lotus world beating ride and handling and of course the principles of performance through lightweight.
The racing heritage look is continued with gold coloured six spoke wheels. The interior stays true to its racing theme using perforated red leather seats and steering wheel centre black Alcantara door panels, and the distinctive Heritage laurels embroidered in red onto the headrest of each seat. Making the Elise Type 49 even more special is a Heritage Type 49 ID plate confirming its limited edition status. Only 100 of these cars will be produced for the UK market. The car is also supplied with both Hard top and Soft top as standard.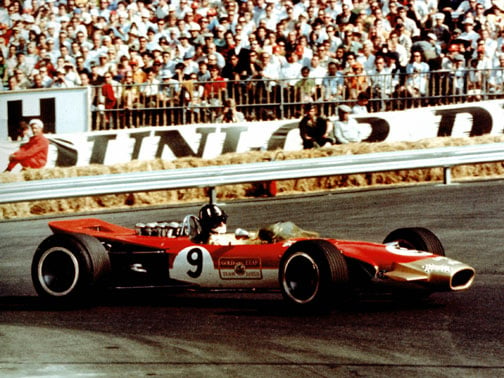 UK General Manager Ansar Ali explains "The essence of Lotus is high technology engineering, sports cars and motor racing. I believe that the Elise Type 49, the third of our range of heritage models bring all three elements together. With its extruded aluminium chassis, award winning styling and legendary ride and handling characteristics, the Elise Type 49 is a future classic."
Note: To read more about the Lotus Elise as a 'Car of the Week' please click here
Story and photos: Lotus Media