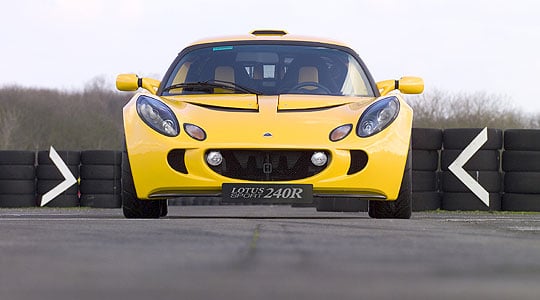 Lotus Sport, the performance division of Lotus Cars Ltd., has developed the Lotus Sport Exige 240R, a limited edition high performance sportscar with total global build volumes kept strictly to 50 cars.
Lotus Sport will build the Lotus Sport Exige 240R within its facilities at the Group Lotus Headquarters in Hethel, Norfolk. This facility, located in the centre of the famous Hethel Test Track, has a great history of producing bespoke versions of Lotus products and can list the Lotus Sport Exige 400 hp racecar and over 100 Elise and Exige racing cars in its portfolio.

With a supercharged and intercooled high revving engine producing over 240 hp and over 170 lbft of torque, the Lotus Sport Exige 240R reaches 60 mph in less than 4 seconds and 100 mph (160 km/h) in less than 10 seconds before topping out at 155 mph (249 km/h). At this top speed the advanced aerodynamics produce 113 kg of downforce increasing grip, stability and safety.

The 50 versions of the Lotus Sport Exige 240R will be built as post registration official factory conversions of new Lotus Exiges. Up to 40 of these cars will be sold in the EU and the balance is intended to be predominantly sold in Japan. The suffix of 240R indicates the approximate horsepower of the engine, conservatively rounded down from the actual figure of 243 hp (181 kW, 247 PS). The total unladen weight is approximately 930 kg and the power to weight is approximately 261 hp / tonne (195 kW / tonne, 266 PS / tonne).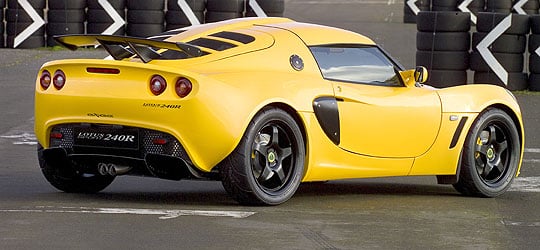 All 50 cars will be built to order and to further identify and maintain the exclusivity of the Lotus Sport Exige 240R, they will only be available in Sport Yellow or Sport Black – both unique and exclusive colours specifically blended to denote the brand colour scheme of Lotus Sport.

The Lotus Sport Exige 240R will be sold at a Recommended Retail Price of £43,995 (62,000 Euros).
Text/Photos: Lotus
---
ClassicInside - The Classic Driver Newsletter
Free Subscription!