Bette Hill, wife of Graham and mother of Damon, has been interviewed by Charles Harbord, Editor of 'Cars for the Connoisseur'. Charles has very kindly allowed us to include some pieces from the interviews which appeared in his excellent publication from May to November this year.
So Bette how did you meet Graham in the first place?
"In 1950 at a Boxing Day rowing regatta at Auriol Rowing Club at Hammersmith while Graham was still in the Navy doing his National Service…I worked with a girl who was engaged to one of his crew members and they had a Boxing Day engagement party which she took me along and things sort of clicked."
How did he come to join Lotus?
"When he came out of the Navy he joined Smith's Instruments as an apprentice working at Cricklewood and loathing every minute of it until one day someone threw him a copy of Autosport and said 'This is what you should do!' And it said for £1.00 you can take a race car out at Brands Hatch and do a lap for a £1.00 a go, so he went down one Wednesday and that was the beginning of it, gave up his job, went on the dole and started teaching people to drive having never taken part in a race himself! About 1952 after his second race he met Colin Chapman and Mike Costin [of Lotus]…they had a problem with a damaged car that needed repairing and Graham said he had some time available, like every day, and talked them into giving him a job at a £1.00 a day. He was really a freelance racing mechanic then and only after 1955 did he get a full-time job at Lotus at £9.00 a week. Colin lent him a Lotus XI in bits and told him he could build it up and race it. This was his first regular drive in what became known as the 'Yellow Peril'." "
* Of course Graham was to then drive more frequently for the team in Grand Prixs as well as club races and the Le Mans 24 hrs. Bette would accompany her husband to the races and, like all wives and girlfriends of the drivers, be the official timekeeper for the team with a bank of stopwatches. Damon was born in 1960 and by then he was a leading driver with BRM. *
How did you get on with BRM?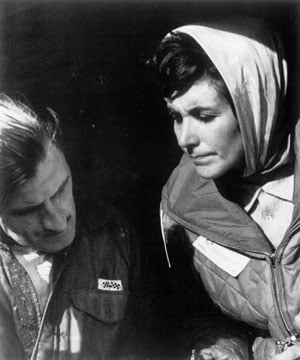 "We were much better off financially. Graham was getting a bigger retainer and a higher percentage of the starting money, but it was sometimes difficult dealing with the hierarchy after so long at Lotus [BRM considered itself the English National Team, with support from Sir Alfred Owen and others it often lacked the flair and flexibility afforded by the smaller, more dynamic Lotus set-up]…Sir Alfred was deeply religious and wouldn't attend any Sunday races, after he died his sister took over with he husband Louis Stanley [who later did so much for the safety of Grand Prix drivers with innovations such as the mobile operating theatre]. They were a most distinguished couple who entertained in great style."
* In 1962 Graham won his first World Championship for BRM. *
" Graham took me to America for the first time for the Grand Prix at Watkins Glen; which he needed to win to clinch the World Championship. By that time he had won at Monza, which had increased his lead. Graham held the lead [in the USA] for about five laps but lost it to Jimmy Clark by 8 seconds. This meant that all hinged on the South African Grand Prix right at the end of the year. Graham was nine points ahead of Jimmy, but if Jimmy won the race he would take the World Championship regardless of Graham's placing due to a rather complicated formula involving the best five out of nine races. Sadly I could not attend the race, which Jimmy lead convincingly until breaking down, leaving Graham to cruise home to win both the race and the World Championship for BRM.

It was only the second Grand Prix I had missed that year, but being over Christmas, the children came first. I heard the news from Reuters and threw a party in his absence. I am sure he was there in spirit!"
We are grateful to the publishers of 'Cars for the Connoisseur' Magazine for allowing us to use part of this interview; a full version appearing in the May to November 2002 editions. For further information and details of a free sample issue call +44 (0) 1258 473215, visit www.carsfortheconnoisseur.com or email Charles Harbord direct.
In a future article, again by kind permission of Charles Harbord and 'Cars for the Connoisseur', we will take up the story and tell of Graham's exploits winning a further World Championship, becoming 'Mr Monaco' and how Damon emulated his father's success on track.