Le Mans Classic 2010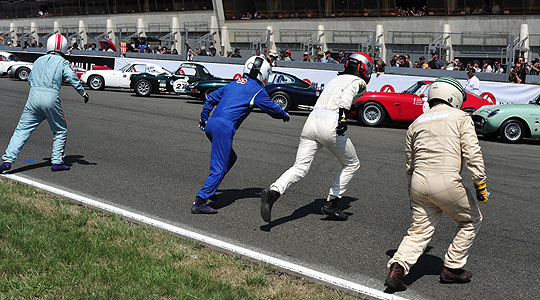 The fifth running of the definitive homage to long-distance motor racing provided 96,000 spectators with feats of entertainment ranging from Attwood/Schuppan in the Gulf Porsche 917 which finished second in 1971, to puttering Panhards, tiny Renaults and even a two-stroke Saab.
In addition to the racing on the famous 'long' Le Mans course, which partly uses closed sections of public road, the event also encourages car clubs to meet on the Bugatti Circuit. So, you can dip in and out of the on-track excitement to browse the 100s of Jaguars, Alpine-Renaults, Porsches et al on display. There's also quality merchandising ranging from automobilia and vintage clothing to Leica cameras, Chapal leather goods and the sublime technological watches de luxe from main sponsor Richard Mille.
Significant manufacturer displays saw Porsche and BMW (in particular) bringing their priceless museum exhibits back to the track that made them famous. From Porsche came the 1971 winning Martini 917 and the 'Pink Pig', while the Bavarian manufacturer showed several Art Cars.
For newcomers to the Le Mans Classic, here's a brief synopsis of the format. Only cars of a type that actually competed in the race from 1923 to 1979 are allowed to race. In actual fact, many entries are veterans of the famous 24-hour endurance event, including the winner in 1962 (Ferrari 330 TRI), the previously mentioned second-place 917 Porsche, many competition Ferrari 'Daytonas', Aston Martin DP 212, the sole Jaguar E2A in existence and the gloriously French Inalteras (built near Le Mans and named after a wallpaper manufacturer...).
The 460 entries were split by age into six individual grids (or Plateaux), each grid given three 40-minute races during the 24-hour period. It should be mentioned at this point that many veteran drivers of the main June race were competing once again. Classic Driver contributor and past works Porsche driver Tony Dron was behind the wheel of a 1923 Model T Ford and Jaguar E2A, 1970 winner Richard Attwood was paired with 1983 winner Vern Schuppan, and Henri Pescarolo (a four-times winner) was back at La Sarthe once again. Other famous drivers included: Jan Lammers, Alain Serpaggi, Jean-Pierre Jaussaud, David Piper, Rene Arnoux and Prince Leopold von Bayern.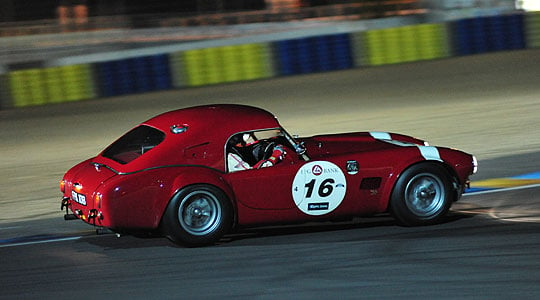 The Le Mans Classic organisers (Peter Auto, in conjunction with the ever-efficient ACO) are having none of the new-fangled 3 o'clock start; at 4pm racing was underway - as in period - and it was Grid 3 (1957 - 1961) that led the way. Significant entries here included several Lister-Jaguars, Porsche 550s, the Jaguar E2A and GT cars from Ferrari, Aston Martin and Austin-Healey.
Pace-setters in practice had been the Verdon-Roe/Leventis/Fisken 1960 Ferrari 246S and Peter Thornton's DB4GT. After three rounds, however, it was the ex-Camoradi, 'Streamliner' Maserati T61 'Birdcage' of Willi Balz and Audi DTM driver Frank Stippler that emerged overall winner, just four seconds ahead of the Roger Wills/Joe Twyman Lotus 15.
Having started slightly out of sync with Grid 3, the rest of the weekend ran in number order so next up were the 1962 - 1965 cars, an entry which included early Ford GTs, Bizzarrinis, Cobras and Porsche 904s.
A highlight of this race was the 1962 race-winning Ferrari 330 TRI (sold by RM at Maranello in 2007 for 6,875,000 euros and entered by Argentine owner Luis Perez Companc). This, the 1963 ex-works 275/330 P and three other significant Ferraris were maintained during the event under the awning of a Corse Clienti transporter with Ferrari Classiche mechanics tending the 330 TRI.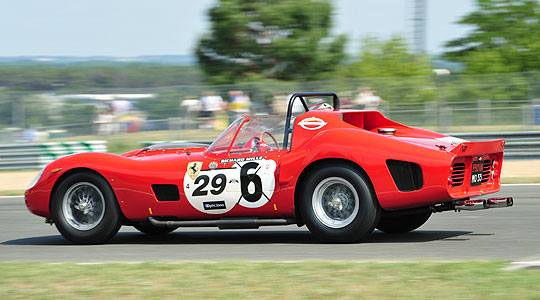 The intrusive roll bar on this car (an FIA requirement, easily removable) clearly offended the sensitivities of Ferrari Classiche and Corse Clienti head Marco Arrighi. But, with activity at Ferrari Classiche busier than ever, he was philosophical, delighted to be asked to look after the Classiche-certified car which (considering its totally original specification) had put in some competitive times.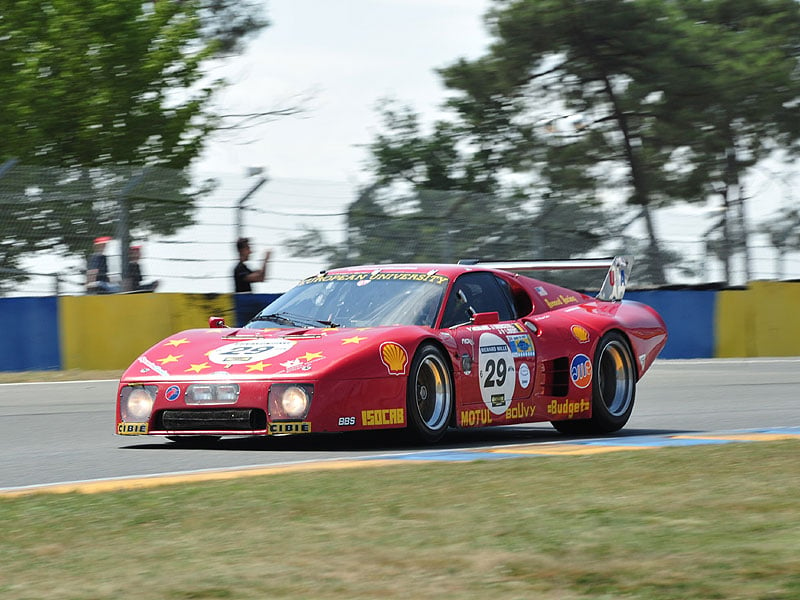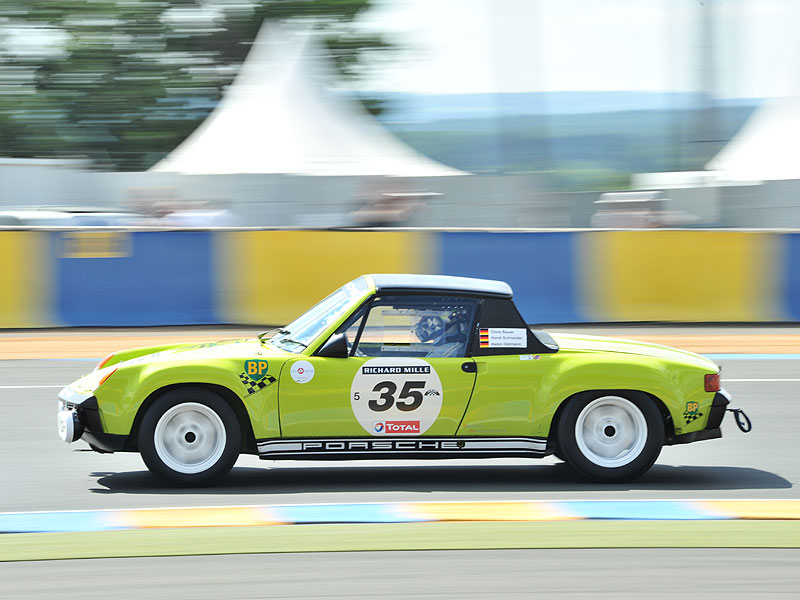 In the race, nothing could stop Christian Gläsel's GT40, which finished (on aggregate) some eight minutes ahead of the Peruch/Hitchins Cobra. More heavy metal rolled out for Grid 5 (1966 - 1971), where Lola T70s, ferociously quick little Chevrons and more-modified GT40s took on the technologically superior Porsches.
Two Porsches were in Gulf colours, the pair (plus a green 906) run by Adrian Hamilton's Hampshire-based company. The Attwood/Schuppan pairing was formidable, as was the immaculately prepared 917K; however, nothing could stop Bernard Thuner's red/black #21 Lola T70 Mk IIIB. Main sponsor Richard Mille ran well in his T70, although a setback in the second round dropped him a couple of places in the overall result.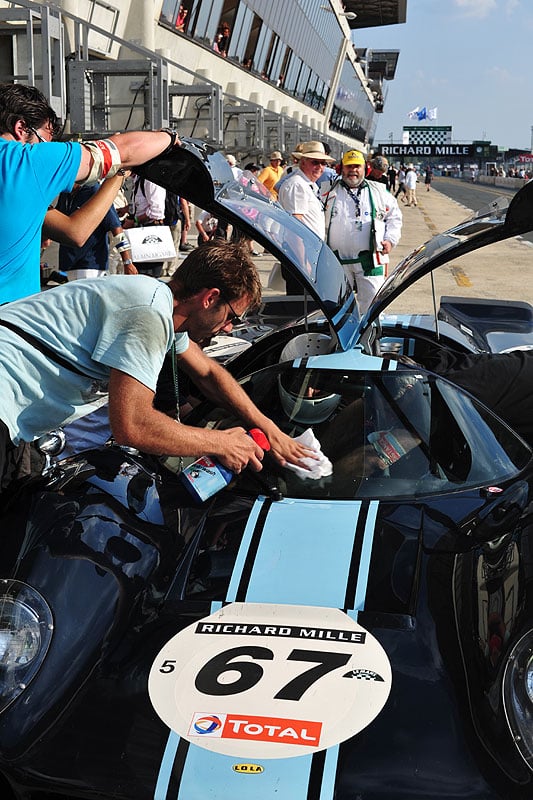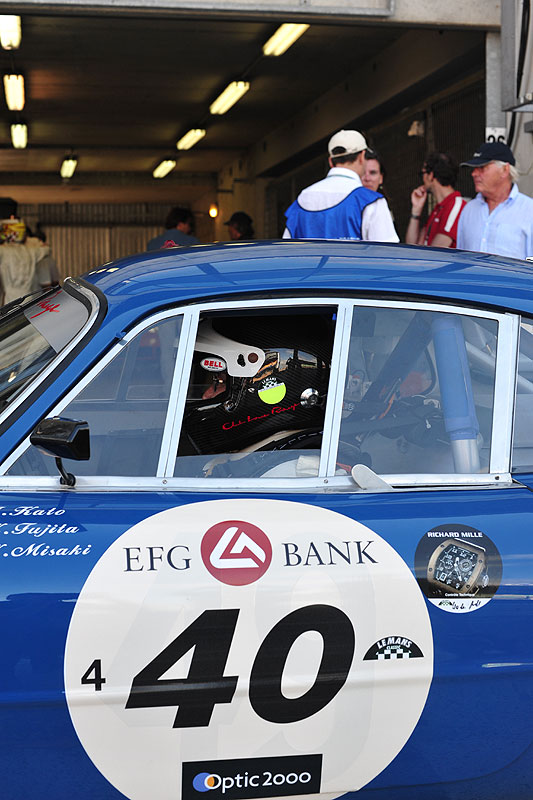 The Grid 6 cars hit the track just before 20:00. With the sun dipping (although the temperature remained at 35deg C/94deg F...), it was time for the really fast stuff. The era of turbo cars saw much banging, popping and flame-outs with Jean-Marc Luco's 1977 Porsche 936 emerging a dominant victor after every round. The performance of the Ferrari 512 BBLMs was impressive, trouncing the Porsche 935s every time - unlike in period.
As darkness fell, out came the pre-War grid. For two races it was a Talbot affair, although Albert Otten's BMW 328 managed to win the second by the tiniest margin (0.228 seconds) and finish first overall on aggregate, despite the efforts of the many pale green cars. Disappointingly, the pre-War entry featured just one Alfa Romeo 8C and no Mercedes SSKs.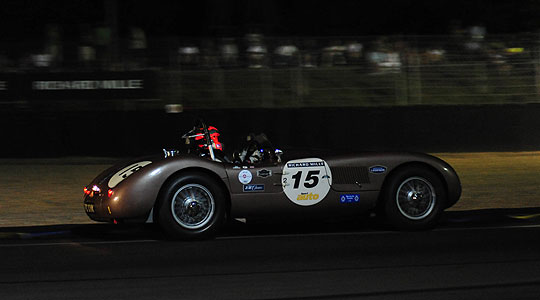 When Grid 2 crossed the line at 22:34, the circuit was completely dark. Two British D-type Jaguars had dominated practice but it was the Peter Neumark/James Baxter #14 'D' which took overall honours. Hats off to Alex Buncombe in JD Classics' ex-Fangio Jaguar C-type, though, for a storming drive from the back of the grid that garnered a win in the last race.
After 24 hours of pretty non-stop action, the flag dropped at 4pm on another Le Mans Classic - probably the best yet. As a spectacle, it, and the Goodwood Revival, are the world's best historic motor racing events. It's a shame we'll have to wait until 2012 for the next one.

PLEASE CLICK HERE TO SEE A PHOTO GALLERY OF THE 2010 LE MANS CLASSIC.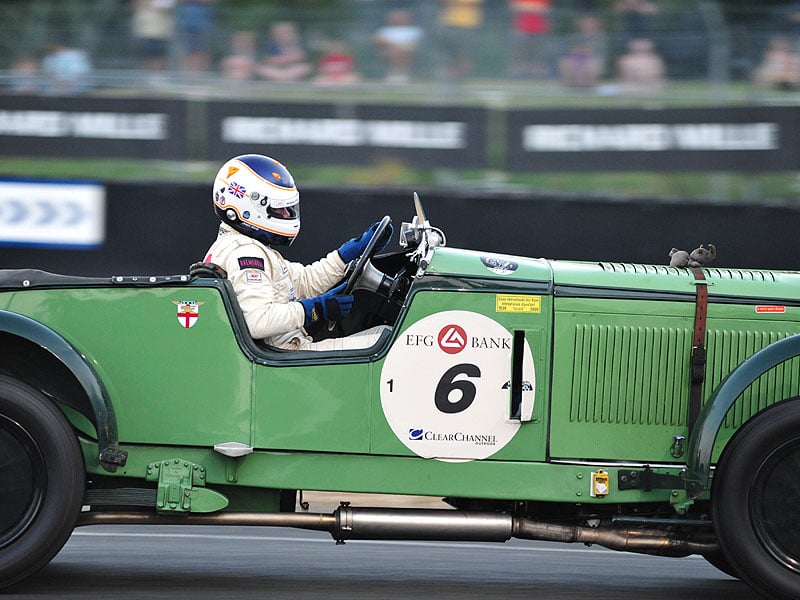 2010 Le Mans Classic - Final Results:

Grid 1
1. BMW 328 - Albert Otten #26
2. Talbot 105 BGH 21 - Lee Maxted-Page/Julian Bronson/Gareth Burnett/Alex Ames #7
3. Talbot 105 - John Ruston/Alex Amex/Phil Stanton #2

Grid 2
1. Jaguar D-type - Peter Neumark/JS Baxter #14
2. Maserati 300S - Nicolas Chambon/Henri Chambon #21
3. Jaguar C-type - Nigel Webb #2

Grid 3
1. Maserati Tipo 61 'Birdcage' - Willi Balz/Frank Stippler #35
2. Lotus 15 - Roger Wills/Joe Twyman #4
3. Lotus 15 - Ewan McIntyre/Jamie McIntyre #74

Grid 4
1. Ford GT40 - Christian Gläsel #34
2. AC Cobra - Steve Hitchins/Bernard Peruch #24
3. Ford GT40 - Manuel Ferrao/Diogo Ferrao #42

Grid 5
1. Lola T70 Mk IIIB - Bernard Thuner #21
2. Chevron B16 - John Sheldon #7
3. Porsche 917K - Richard Attwood/Vern Schuppan #42

Grid 6
1. Porsche 936 - Jean-Marc Luco/Jacques Nicolet #34
2. Lola T298 - Patrice Lafargue #44
3. Chevron B21 - Ludovic Caron #21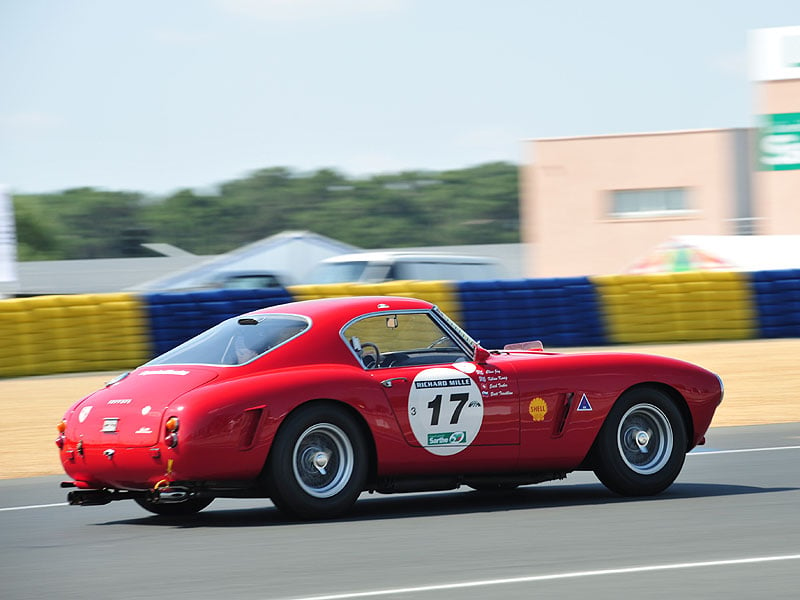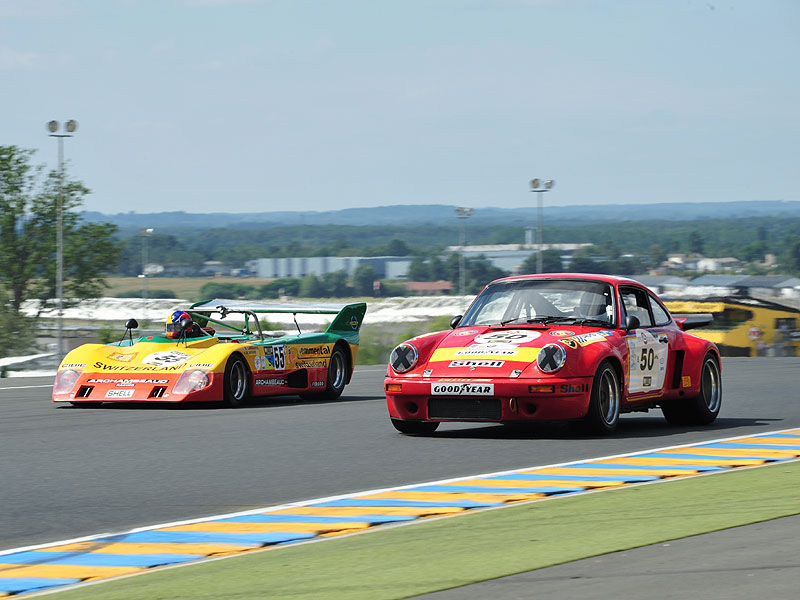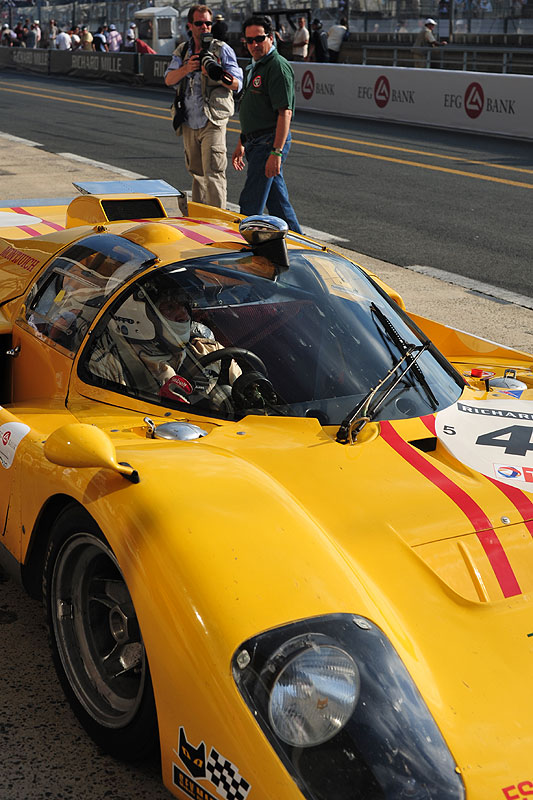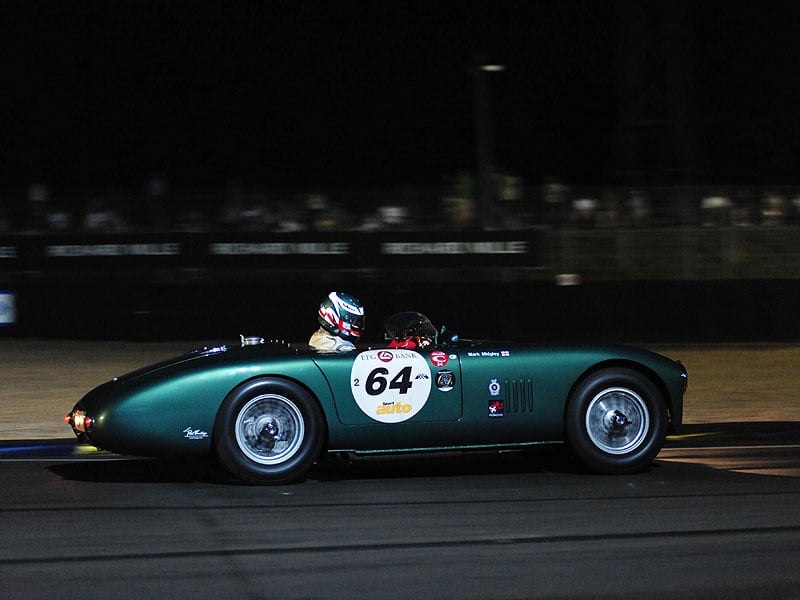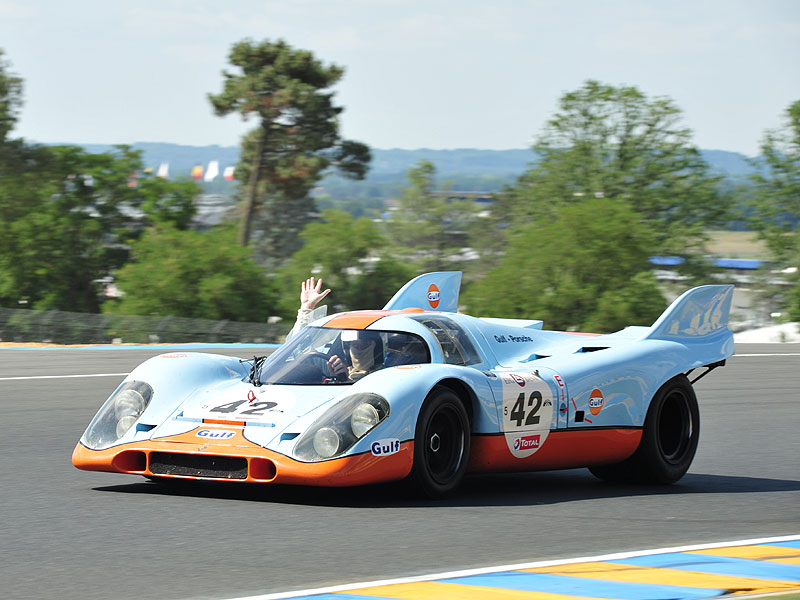 Text: Steve Wakefield
Photos: Classic Driver
---
ClassicInside - The Classic Driver Newsletter
Free Subscription!