Le Mans Classic 2004 - preliminary entries revealed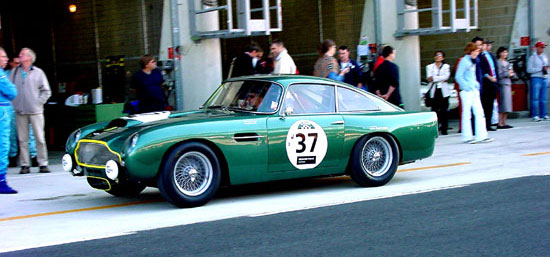 The first Le Mans Classic was regarded as one of the highlights of 2002 as an event for classic car enthusiasts all over the world. While representative cars from fifty years of the world's most famous 24-Hour race were on-track, a host of classics, from all the famous marques, could be seen in in-field displays and visitors could browse trade stands for models, books and automobilia. In 2004 the race has been brought forward to July and the organisers, Peter Auto, have just announced the first entries.
Held in September, the 2002 inaugural event drew a total of 30,000 spectators to watch over 300 racing cars and 1000 drivers re-enact the battles of the past. For 2004 the organisers have extended the cut-off date to 1978, added a sixth grid and reduced the laps required per grid to three – a measure designed to give drivers more track time and prevent some of the problems in 2002 that meant later races being reduced to just one lap. The meeting will be spread over three days with the familiar 24 Hour circuit closing to public traffic on the Friday night – rather than Saturday morning as in 2002. This will give competitors more practice time (a complaint from 2002) leading to greater car reliability and a safer racing environment.
For those unfamiliar with the format it can be summarised thus; the maximum 366 car entry (+72 reserves) is divided up into six grids (or 'plateaux') by date, with the object of completing 3 races per grid within a 24-hour period starting at 16.00 on Saturday and finishing 16.00 Sunday. In 2002 the oldest cars (Grid 1, cars from 1923 to 1939) started the event, then Grid 2 (1946 to 1956) and so on until 18 individual races have been completed.
In addition to the racing, Owners Clubs are actively encouraged to put on displays - the meeting is supported by the FFVE and the FIVA federations - a large range of trade stands will be available, and there will also be an auction of classic cars and automobilia.
The dates for the 2004 event are 23/24/25 July.

Further information can be obtained from – www.lemansclassic.com
The first entries have been announced by the organisers as follows - as the entry form did not include a deadline, some room will be left until the end of Retromobile (13 - 22 February) where the Le Mans Classic will have a stand -
Grid 1 1923 - 1929

| | | |
| --- | --- | --- |
| Driver(s) | Nationality | Car |
| EMMERLING | D | RILEY Brooklands 1928 |
| SWETE/SCHUMACHER | GB/GB | TALBOT GB 90 1930 |
| KNÖCHLEIN | D | BMW 328 1938 |
| BROOKS | USA | BUGATTI 37 A 1927 |
| ZIMMER | NL | TALBOT 105 1931 |
| ASHMEAD | GB | ASTON MARTIN LM 4 1930 |
| BUTLER/WALFORD | USA/GB | MG Magnette K3 1934 |
| BARRS/GUYATT | GB/GB | STUZ Blackhawk 1929 |
| HONEGGER/BURT | USA/USA | INVICTA S 1931 |
| ACKLAM/CLARKE | GB/GB | MORGAN 4-4 1938 |
| HOLMAN/HOLMAN/REED | USA/USA/USA | STUTZ Blackhawk 1928 |
| HINE/BARNES | GB/GB | LAGONDA LG 45 1937 |
| SADELER/BURNETT/RUSTON/BURNETT | GB/GB/GB/GB | TALBOT 105 1935 |
| BURNETT/MORRIS/BURNETT | GB/GB/GB | TALBOT 105 1934 |
| FREEMAN/BÜSST | GB/GB | ASTON MARTIN Speed Model 1936 |
| PEROU | F | DELAGE DE 1923 |
| ELLIOT PYLE/EVANS | GB/GB | LEA FRANCIS 1930 |
| du BOUCHERON/du BOUCHERON/ du BOUCHERON | B/F/F | THEO SCHNEIDER 25 SP 1928 |
| DA COSTA GOMES | P | AMILCAR G 36 1936 |
| SAGE | F | DELAHAYE 135 S 1935 |
Grid 2 1946 - 1956
| | | |
| --- | --- | --- |
| Driver(s) | Nationality | Car |
| FLATT/FLATT | GB/GB | ASTON MARTIN DB 2/4 1953 |
| ROUET/BARDINON | F/F | ALLARD J2X 1952 |
| ZWEIFLER | D | MASERATI 200 S 1955 |
| PINELLI | F | LOTUS IX 1955 |
| WALFORD/BUTLER | GB/USA | ALLARD J2R 1953 |
| BESSADE/LAURENT/MAGNIN | F/F/F | GORDINI T24S 1953 |
| DAVIES/FITZGERALD | GB/GB | LOTUS XI 1956 |
| BURANI | I | FERRARI 750 Monza 1954 |
| ROGERS | GB | AUSTIN HEALEY 100 1956 |
| ARNOLD | GB | AC ACE 1955 |
| VANANTY/BLANPAIN | CH/B | AUSTIN HEALEY 100 1955 |
| TOMASETTI/PERROUD | I/F | MASERATI 150 S 1955 |
| HADFIELD | GB | JAGUAR Type C 1952 |
| SELLYEI | USA | JAGUAR Type D 1955 |
| BIEKENS/FAWE | NL/B | FERRARI 500 1955 |
| JAQUES | GB | JAGUAR XK 120 1951 |
| ELOY/ELOY | F/F | AUSTIN HEALEY 100 1953 |
| DELIGNY/DELIGNY/DELIGNY | F/F/F | PANHARD Monopole 1956 |
| SPADINI/BLANPAIN/LANGER | CH/B/AUT | JAGUAR XK 140 1955 |
| RUCHETON/RUCHETON/RUCHETON | F/F/F | DB Sport 1945 |
| LANCKSWEERT | B | FERRARI 375 Plus 1954 |
| LAING | GB | ASTON MARTIN DB2 1952 |
| FLOOD | GB | AUSTIN HEALEY 100 1954 |
| MIDY/CARON | F/F | FERRARI 121 LM 1955 |
| CRIPPA | I | FERRARI 340 MM 1953 |
| KAHN | F | ALLARD J2 1950 |
Grid 3 1957 - 1961
| | | |
| --- | --- | --- |
| Driver(s) | Nationality | Car |
| HAQUETTE | F | FERRARI 250 GT 1960 |
| WHALE/GUEST | GB/GB | JAGUAR Type E 1961 |
| BATT/FLOYD | GB/GB | JAGUAR Type E 1961 |
| FRANKE/SALEWSKI | D/D | ALFA ROMEO Zagato 1959 |
| PENILLARD/ROCHER | F/F | PORSCHE 356 Coupé 1958 |
| WANTY | B | LOTUS XI 1958 |
| THORNTON/GARRETT | GB/GB | ASTON MARTIN DB4 GT 1960 |
| CHARAGIONI/DROULISCOS | GR/GR | LOTUS Elite 1961 |
| MAHMOUD | GB | ASTON MARTIN DB 4 GT 1960 |
| THOULOUZE/GRAVIER | F/F | LOTUS XI 1958 |
| DUDLEY | USA | FERRARI 250 GT TdF 1958 |
| THALMAN | USA | PORSCHE 356 A GT 1959 |
| PATERSON ACKLAM | GB | LOTUS XI 1957 |
| SADELEER | CH | FERRARI 250 GT 1960 |
| LA HAYE JOUSSELIN | F | ASTON MARTIN DB4 GT 1961 |
| CANE | F | LOTUS XI 1959 |
| RICKETTS/SEWELL | GB/GB | LOTUS Elite 1961 |
| BURT/HONEGGER | USA/USA | LOTUS XI 1958 |
| CARON | F | AUSTIN HEALEY 3000 1961 |
| PEROU | F | AUSTIN HEALEY 3000 1961 |
| PASOLD/ROCHAT | GB/CH | AUSTIN HEALEY 3000 1961 |
| GREEN/DAGGITT/PHILLIPS | ZA/ZA/ZA | M.G A "Twin Cam" 1960 |
Grid 4 1962 - 1965
| | | |
| --- | --- | --- |
| Driver(s) | Nationality | Car |
| HANDS | GB | LOTUS Elan 26R GT 1964 |
| BESSADE/LAURENT/MAGNIN | F/F/F | CD PANHARD LM 64 1964 |
| NAHUM/THUNER | TR/CH | FORD Shelby 350 GT R 1965 |
| HOOPER/WOOD | GB/GB | TVR Grantura MK III 1963 |
| WANTY | B | ALFA ROMEO Giulia T21 1964 |
| GOLD | USA | PORSCHE 904/6 1964 |
| BELLM | GB | FORD GT 40 1965 |
| FOUAN | F | JAGUAR Type E 1962 |
| DEVIS | B | AC COBRA MK II 4,7L 1963 |
| THOULOUZE/GRAVIER | F/F | ALFA ROMEO TZ 1965 |
| COTTERET/REICHER | F/F | RENE BONNET Djet II CRB/ 1L 1963 |
| LAIDLAW | GB | PORSCHE 904/6 1965 |
| MERLIN | F | LOTUS Elan 1964 |
| MORICEAU | F | LOTUS Elan 1964 |
| d'ANSEMBOURG | B | BIZZARRINI A3/C 1965 |
| BRATKE/LOUISODER | D/D | FORD Shelby 350 GT 1965 |
| HUBIN/LERICHE | F/F | FORD Shelby 350 GT 1965 |
| NEWEY | GB | FORD GT 40 1965 |
| BENDALL | GB | AC Shelby Cobra 1962 |
| GUTZWILLER/BÜRGIN/SALVADORI | CH/CH/CH | ALFA ROMEO Giulietta SZ 1962 |
| NOBLET | F | FERRARI 275 GTB 1965 |
Grid 5 1966 - 1971
| | | |
| --- | --- | --- |
| Driver(s) | Nationality | Car |
| GOODMAN | USA | CHEVROLET Corvette 1969 |
| MERIAN/DEGAND | B/F | LIGIER JS 1 1969 |
| NAHUM/THUNER | TR/CH | FORD GT 40 1968 |
| LUCO | F | PORSCHE 908/3 1968 |
| STEUER/de MIGUEL/CORTES/ORJUELA | COL/E/COL/E | FORD Mustang 1966 |
| SCHACHTSCHNEIDER | D | PORSCHE 914/6 GT 1969 |
| DEVIS | B | ALFA ROMEO Tipo 33/2B 1968 |
| ROCHER | F | PORSCHE 906 1966 |
| MERLIN | F | LOLA T70 MKIIIB 1969 |
| LAWRENCE/SZYKOWSKI BALDWIN | GB/F/GB | DEEP SANDERSON 302 1968 |
| LAWRENCE/MORGAN/BALDWIN | GB/GB/GB | DEEP SANDERSON 301 1962 |
| COLL/CRUVELIER | F/F | PORSCHE 911 1966 |
| BARBOT/BAKER | P/GB | LOLA T70 MKIIIB 1969 |
Grid 6 1972 - 1978
| | | |
| --- | --- | --- |
| Driver(s) | Nationality | Car |
| TITFORD/RAVEN | GB/GB | FORD Capri 2600 RS 1972 |
| BESSADE/LAURENT/MAGNIN | F/F/F | MATRA MS 670 1972 |
| LUCO | F | PORSCHE 936 1978 |
| MORTIER | B | BMW 3.0 CSL 1977 |
| KNAPFIEL | GB | FERRARI 365 GTB/4 Comp 1973 |
| LECOURT | F | PORSCHE 911 RSR 2.8 1973 |
| THEVENET | F | PORSCHE 911 RS 1974 |
Editor's note; I greatly enjoyed the Le Mans Classic 2002 and can thoroughly recomend a visit in 2004. We are indebted to Classic Driver's regular contributing photographer Alexander Davidis for permission to use his 2002 shots. He has produced a short 'art-film' DVD of the event, and examples of other work that has been featured on Classic Driver include -

AMOC Silverstone 2003 Photo-gallery

2002 Le Mans Classic photo-gallery

More great shots from Le Mans 2002

Original photos