Lamborghini Quetzal: The Great Unknown


Only true Lamborghini tifosi know about the Quetzal. Why? Because this model was never conceived for the road, but rather built for offshore racing. We've dug deep into the archives and found extraordinary pictures of the first ever Lamborghini boat.

Lamborghini started its Marini Lamborghini programme while under the guidance of the Swiss brothers Patrick and Jean-Claude Mimran, who tried to breathe new life into the bankrupt car company in the early 80s. Named the Axxes Quetzal, the first Lamborghini powerboat was launched in 1984. The craft was powered by two modified carburetted Lamborghini V12 engines lifted from the marque's all-terrain vehicle LM002. Increased to a displacement of eight litres, the two engines had an output of 550HP each, catapulting the 39-foot Axxes Quetzal to a top speed of 65 knots (75mph).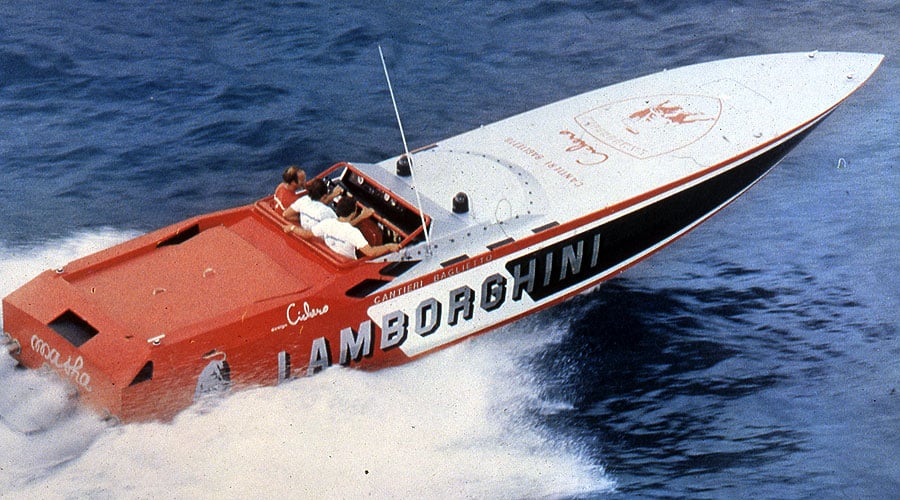 In creating the Lamborghini watercraft, the Mimran brothers fulfilled a dream of founder Ferruccio Lamborghini who had always wanted a boat flaunting the famous emblem of the bull. Lamborghini had actually ordered an Aquarama from his friend Carlo Riva in 1968, fitted with two Espada V12 engines and carrying (despite being a Riva) the name Lamborghini. While designer Aldo Cichero created the Lamborghini Axxes Quetzal as an eighties-style 'fun boat' complete with lavish interior, pantry and bath, the Masha Quetzal sported the looks of a purebred race boat. The purist racer with its aluminium body - as opposed to the Axxes Quetzal's glassfibre hull - marks the successful debut of the Marini Lamborghini endeavour in the Class 1 offshore racing series. The two fuel-injected Lamborghini V12s delivered 1,440HP, powering this bull over the waves at a maximum speed of up to 80 knots (around 93mph).

Until 2008, the big 12-cylinder racing engines from Marini Lamborghini featured heavily in the offshore Formula One series. But for economic reasons, it became necessary to close down the marine engines division.


Text: J. Philip Rathgen
Photos: Mathias Pfannmueller / Aldo Cichero