Krug by Omas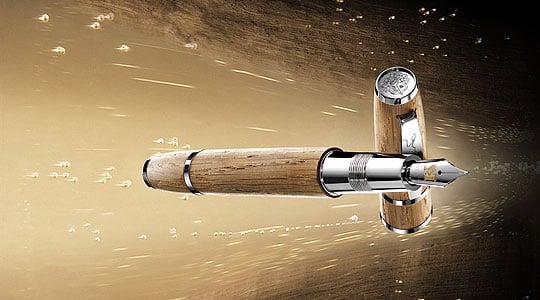 "The memory of time" is what Rémi Krug, the President of Champagne Krug, said when Omas told him about the idea of creating a fountain pen using wood from the small oak wood barrels in which Krug prepares his fine wine.
Krug's extraordinary champagne is made from the combination of grapes coming from 21 different vineyards and from 6 to 10 different vintages, one of which dates back to the start of the 1970s. The skills of the Krug family, handed down from father to son for six generations, and of their winemakers, capture the personality of each wine and recreate, vintage after vintage, the essence of Krug.

Omas, a family-run company (now part of the LVMH luxury group) in Bologna since 1925, is used to making hand-made bespoke writing equipment from materials including gold, silver, rare woods, titanium and resin. The concept of blending the two companies products to make a super-exclusive fountain pen can be described as a marriage made in heaven. The Limited Edition "Krug by Omas" is a harmony of the senses, harmony created by wood and silver, harmony developed by two passionate Houses: to celebrate the art of Blending and the art of Writing.
The "Krug by Omas" is limited to a run of 843 fountain pens and 843 ball points. For more information visit www.omas.com.
Text/Photos: Omas
---
ClassicInside - The Classic Driver Newsletter
Free Subscription!