Jaguar XJ Sport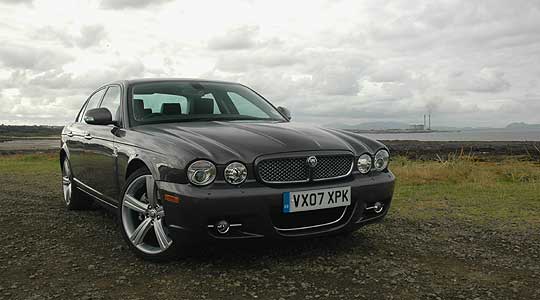 Now in the fourth year of its life, and having received some facelifting this spring to bring it into line with Jaguar's latest XK and forthcoming XF, the XJ is still something of a rarity on British roads. Which is a pity, as the car I took to Scotland and back recently is one of the most impressive I've driven, and deserves a larger audience as a credible alternative to luxury saloons from BMW, Mercedes and Audi...

Perhaps it's the retro looks, or an image more at home at the 19th hole than St Moritz that's a barrier to purchase, but I bet if Jaguar could get more prospective buyers behind the wheel over an extended period it would be a more familiar sight cruising the motorways of Europe.

Buyers can choose from two wheelbases, with different levels of trim, and an engine line-up that includes a supercharged V8, normally aspirated V8, 3.0litre petrol and 2.7litre V6 diesel. The choice of a Sport may not surprise Classic Driver readers, however the fact that our Pearl Grey metallic car's propulsion was provided by the diesel rather than full-on blown V8 with its 5.3 seconds 0-62mph capability may raise eyebrows.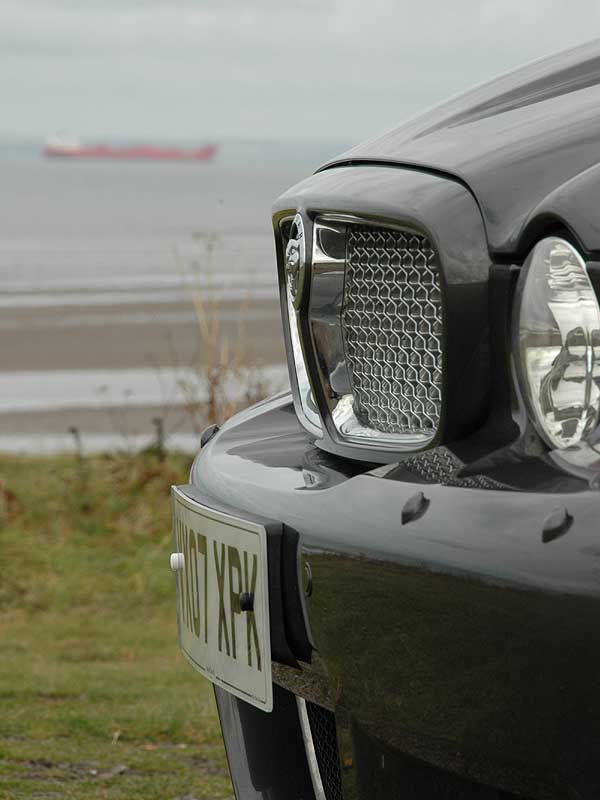 The key to the car's success is an all-aluminium monocoque that keeps the weight significantly lower than the opposition (1,659kg vs 1,955kg for the Mercedes-Benz S 320 CDI, and 1,975kg for BMW's 730d for example), so the big car feels very light on its feet – in true Jaguar tradition - without losing anything in terms of feel or poise.

The twin-turbo V6 diesel is mounted on electronically controlled active engine mounts that cancel 90% of engine vibration at idle. So you can forget about any 'early morning rattle', and once under way, the highly rated engine that debuted in the S-Type powers the big car in a manner that's more large-capacity petrol V8 than modest 'oiler'. With noise further reduced (and I would be tempted to say 'eliminated'...) courtesy of the XJ family's Integrated Acoustic Damping System, acoustic laminated glass and Computer Active Technology Suspension (CATS), its smooth progression through the atmosphere belies its slightly retrospective styling.

Like other Ford Premium Automotive Group brands (and I'm particularly thinking of Range Rover and Volvo) the seats match up to the ride, with a generous range of adjustment - and three-position memory too - that, coupled with moving pedals (would you believe it!?) and steering wheel means all but the most misshapen can be accommodated.

Rear space, in particular headroom, has always been a beef in XJs, and while the latest version is better than its predecessors, I think you'd want to splash out a little more on the long wheelbase for frequent trips with passengers in the back. That said, again the seats are very comfortable and relaxing on a long haul.

The 'long haul' in point was a round trip to Edinburgh that comprised some 1,000 miles of motorway and city centre bustle, testing the XJ Sport's ability both as a long-distance mile-coverer, and sporting saloon on the many fine roads to the east of Scotland's capital city.

The CATS set-up works very well. You have the option of a 'Sport' setting that firms things up a little, but to be honest, if you want the ultimate in back-road performance you wouldn't have chosen a car in this category. Considering the standard 20" 'Cremona' 9J alloy wheels and low-profile tyres the ride is just remarkable, with mile after mile of indifferent British motorway negotiated with ease, while the cobblestones of The Old Town may cause a little trembling and murmur, but surely less than the equivalent German executive saloon in 'Sport' guise.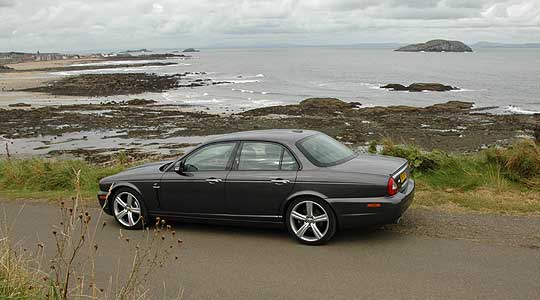 The car tested, a Sport Premium, comes with a raft of standard features such as the 7-inch Touch-screen (or JaguarVoice) controlled navigation and entertainment system with DAB radio, and was additionally fitted with the optional Adaptive Cruise Control, Premium Sound System and Rear Multi-Media system comprising two 6.5" screens with DVD player. While I'd probably pass on the DVD player, the Premium Sound (£820.00) would get my money, as would, at £995.00, the Adaptive Cruise Control. This is the system that maintains a gap between you and the car in front, and makes 'cruise' a viable tool on a busy British road network.

Apart from the DAB radio refusing to work outside the greater London area, and significant swathes of not-so-new motorway invisible to the sat-nav, on a long trip the cabin ambience couldn't really be bettered – although the large door mirrors do take a bit of getting used to.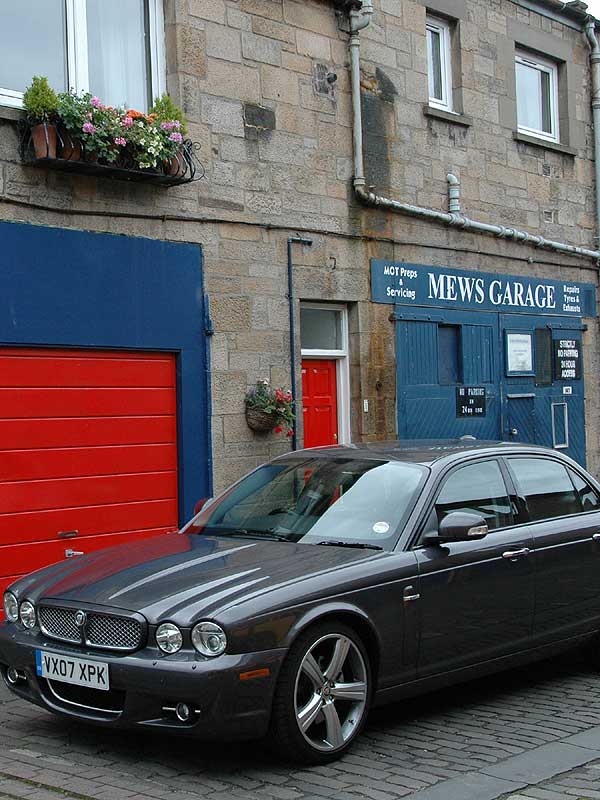 The 2.7 diesel is so brilliant that I would only consider the supercharged car with its 400hp (and 408Nm torque, although the diesel has 321Nm, much more than the V6 petrol, and a slightly better figure than the normally aspirated V8...) and 155mph capability as an alternative. All the cars have the same superb 6-speed ZF automatic gearbox. Oh, and over the 1,000 or so miles the car averaged around 31mpg, that's about 9.0l/100km - not bad for a 7.8 secs 0-60mph, 141mph luxury five-seater.

Make no mistake, this is a terrific car that Jaguar should be truly proud of. If the new XF is as good, and Jaguar can steer a fickle car-buying public its way, they will quite rightly deserve a hit.

For those in the market for a big saloon for some serious mile-covering, give the XJ a try – and make sure you drive the diesel. I think you'll be surprised.

The car tested was a Jaguar XJ 2.7L Diesel Sport Premium, available at an 'on the road price' in the UK of £51,542.00. Fitted options to this car included: Vented Heated/Cooled Front Seats, Premium Sound, Tyre Pressure Monitoring System, Rear Multi Media Controls, Adaptive Cruise Control, Electric Rear Sunblind, Rear Screens 6.5 with DVD Player.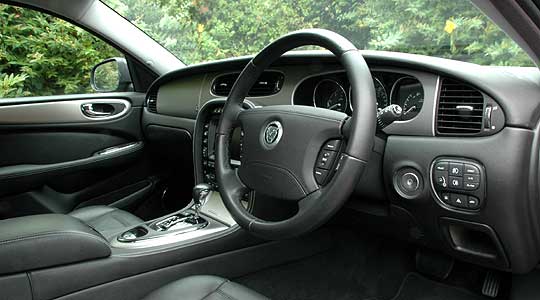 Editor's Note: The eagle-eyed among you will notice the location for the in-town photos was none other than Merchiston Mews, Edinburgh home to the famous Ecurie Ecosse. 2007 is the fiftieth anniversary of the team's superb 1-2 at Le Mans with the D-type Jaguar. Probably its finest hour, it repeated the team's success of 1956 and was the year when five D-types finished in the top six, with Lotus winning the 1,100cc and 750cc classes, the Team Prize and the Index of Performance. A truly British triumph.

Text: Steve Wakefield
Photos: Classic Driver

---
ClassicInside - The Classic Driver Newsletter
Free Subscription!