Jaguar announces X-Type Estate for Frankfurt debut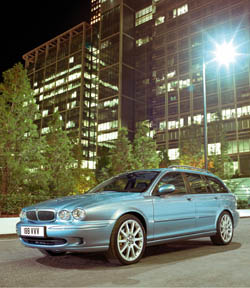 Jaguar today (15th Aug) issues the first pictures of the stylish new X-TYPE Estate, which will make its public debut at the Frankfurt Motor Show on 9 September 2003. Agile driving dynamics and a sporting yet comfortable ride and handling balance – attributes already proven in the X-TYPE saloon – ensure this new addition to the Jaguar range is as rewarding to drive as it is versatile.
And with more than a third of estate car buyers citing style as the number one consideration in making a purchase decision, the new X-TYPE Estate is perfectly positioned to capture sales from customers who have not previously enjoyed the option of a Jaguar estate.
Mirroring the X-TYPE saloon, the availability of permanent all-wheel drive allied to a choice of powerful V6 petrol engines is complemented by the new 2.0 litre diesel engine announced in June. In all cases the new Estate builds on the craftsmanship, style and technological leadership of the X-TYPE saloon with exclusive detailing and numerous intelligent features including integral roof rails and a rear screen that opens independently of the tailgate.
Further details of the new X-TYPE Estate, which will be on sale in spring 2004, will be released coincident with its public debut in early September.
Text/Photos - Jaguar Cars