It's been a long time since they rock and rolled...


It'd be a tall order to expect a driver to return to the track and win outright after 27 years in retirement, but that's pretty much what Led Zeppelin achieved at London's O2 Arena on Monday night.

It wasn't quite a faultless performance. Either the engineers needed more time to properly set-up the sound, or maybe the venue's acoustics are just too boomy, but Page, Plant, Jones and Jason Bonham (son of John) delivered everything that could have been expected and more, and not one of the 25,000 present could possibly have gone home feeling anything other than completely satiated.

True, Plant can't sing at 19,000rpm any more – his limiter now kicks in at about 12,000 – but as they opened the set with Good Times Bad Times (first track from their first album), and then swiftly served up superb renditions of Ramble On and Black Dog, we were all forcibly reminded why Led Zep was the biggest rock act on earth.

The band was practiced, punchy, tight, disciplined, subtle, heavy, mystical, confident, vigorous and loud. And I mean LOUD, with the volume starting at 11 and increasing from there. Lord knows where Health & Safety were. Bound and gagged in the basement, I shouldn't wonder.

We weren't treated to any new material, but For Your Life was performed live for the first time, as was Ramble On (if Wikipedia is to be believed).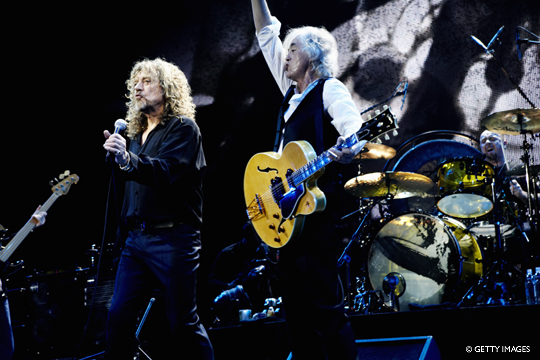 It's hard to describe any part of the gig as a 'lull', but Dazed And Confused seemed to inject an even greater level of excitement into the proceedings as Page's Les Paul wailed, wah-wah'd and harmonically screamed in a way not heard for decades.

Meanwhile there was smoke and lasers, and the 'Lad Zeppelin' attacked his kit with the kind of power, precision and artistry that would've made his father proud. Jones was utterly masterful on both bass and keyboards and Plant wailed in perfect pitch while 'propellering' his old-style, hard-wired mike.

All of which led us inexorably into the anthemic Stairway To Heaven, which raised the sense of occasion still further, and then two songs later, the thundering Kashmir.

Then came the encores of Whole Lotta Love and Rock And Roll – all momentous, epic stuff. If the rumour holds true that Zeppelin are to tour, then I'm up for more of the same.

Set list:

* Good Times Bad Times
* Ramble On (live debut, according to Wikipedia…)
* Black Dog
* In My Time Of Dying
* For Your Life (live debut)
* Trampled Under Foot
* Nobody's Fault But Mine
* No Quarter
* Since I've Been Loving You
* Dazed and Confused
* Stairway To Heaven
* The Song Remains The Same
* Misty Mountain Hop
* Kashmir
---------
* Whole Lotta Love
* Rock And Roll
Text - Tom Stewart
Photos - GETTY IMAGES - Strictly Copyright
---
ClassicInside - The Classic Driver Newsletter
Free Subscription!