Historic Matra Le Mans Car to be Sold by Artcurial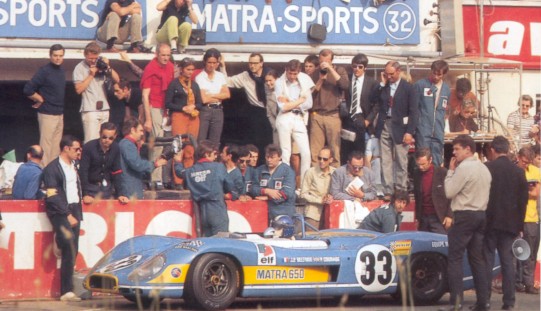 Artcurial will sell the very first Matra MS650 at its forthcoming Paris sale. Driven by some of the great names of the period (including Beltoise, Pescarolo, Rodriguez, Cevert, Brabham and Courage), it's the first of a long line of Matra V12 sports-racing prototypes that were to dominate at Le Mans in the early '70s.
In 1969, Matra, having left the experienced Ken Tyrrell in charge of its MS80 Ford-Cosworth F1 cars, was to concentrate solely on pursuing La Gloire in long-distance events with a combination of three converted and developed cars from 1968 (MS630, MS640 and MS630/650), plus an all-new MS650. Powered by the Vélizy company's wailing, 400+bhp V12, the multi-tubular space-frame took full advantage of the latest sporting regulations by having just a vestigial 'windscreen' and minimal internal space for one, offset seat. Running for the first time at Le Mans in 1969, the car was to be Matra's mainstay until the monocoque MS660 was introduced in June 1970.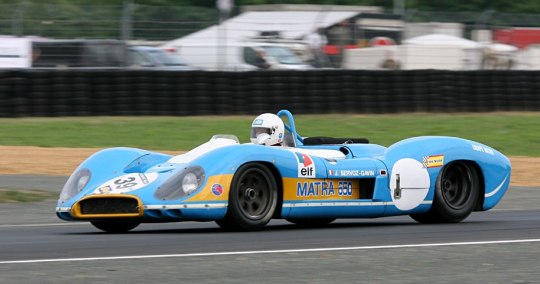 It was painted blue, powered by a French engine, sponsored by the state oil company Elf and driven - in the main - by top-class French nationals. Jean-Pierre Beltoise and British brewing heir Piers Courage (well, he sounds French...) were entrusted with the new car at Le Mans in June 1969 and finished a fine 4th overall. Later that year, chassis MS650-01 ran well in the USA (Watkins Glen Sports Car World Championship and Can Am), retired in Austria, but scored a superb victory at Monthléry, just outside Paris, in October.

At the Paris 1000km, Beltoise/Pescarolo headed the MS630/650 of Rodriguez/Redman for a Matra one-two. The following year, the same chassis was up against the sternest possible opposition in the form of 5-litre Porsches and Ferraris and did not fair quite so well - a notable exception being the 5th overall at Sebring in the hands of Servoz-Gavin/Pescarolo.

An ideal car for the Le Mans Classic and World Sports Car Masters, the exciting car can be seen being put through its paces on a video on Artcurial's website. Allez les bleues!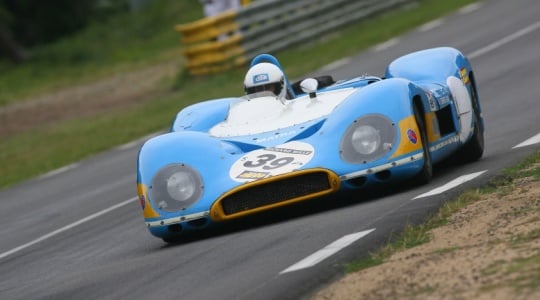 Race history of Matra MS650-01:

14 - 15 June 1969, 24 Heures du Mans. N° 33. Beltoise/Courage. 4th.
12 July 1969, Watkins Glen 6 Hours. N°9. Servoz-Gavin/Rodriguez. 4th.
13 July 1969, Watkins Glen Can Am. N° 9. Servoz-Gavin/Rodriguez. 8th.
10 August 1969, 1000km Austria. N° 42. Servoz-Gavin/Rodriguez. Retired.
12 October 1969, 1000km Paris. N° 8. Beltoise/Pescarolo. 1st.
31 January - 1 February 1970, Daytona 24 Hours. N° 33. Brabham/Cevert. 10th.
21 March 1970, Sebring 12 Hours. N° 34. Servoz-Gavin/Pescarolo. 5th.
1 April 1970, Brands Hatch 1000km. N° 52. Beltoise/Brabham. 12th.

Please click HERE to see a full lotlist.
Sale:
Sunday 8 February 2009
Palais des Congrès, 2 place de la Porte Maillot, 75017 Paris.

For information:
Wilfrid Leroy-Prost, head of the automobile department
Tél. +33 (0)1 42 99 16 32. Mobile +33 (0)6 62 02 97 60.
Email : [email protected]

Specialist:
Marc Souverain
Tél. :+33 (0)1 42 99 16 37 / Portable +33 (0)6 07 09 09 07.

Director:
François Melcion
Tel. +33 (0)1 42 99 16 31
Email : [email protected]
Artcurial
Briest-Poulain-F.Tajan
7 Rond-Point des Champs Elysées
75008 Paris
France

Tél: +33 (0)1 42 99 20 20
Fax: +33 (0)1 42 99 20 21

Text: Classic Driver
Photos: Artcurial

---
ClassicInside - The Classic Driver Newsletter
Free Subscription!