H&H at The Centaur, Cheltenham Racecourse Feb 28 - Mar 1 2007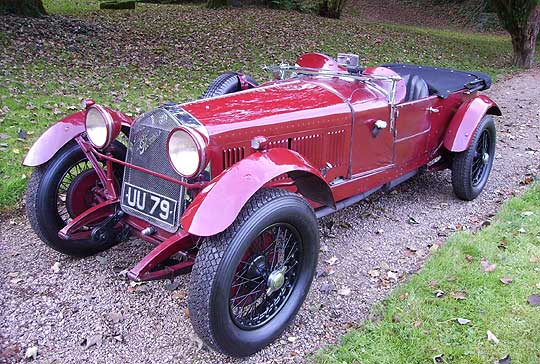 H&H's first 2007 auction is a bumper edition with large entries of automobilia, bicycles, motorcycles and of course collectors' motor cars, the highlight of which must be the 1929 Alfa Romeo 1750 Super Sport, the 1929 Irish GP-winner, estimated at £400,000 - 450,000.

The subject of much pre-sale publicity, the 6C 1750 Super Sport 3rd Series Supercharged Alfa Romeo enjoyed an illustrious start in life, winning the 1929 Irish Grand Prix Eireann Cup at Phoenix Park in the hands of former Russian Imperial Guard officer Boris Ivanowski.

The current owners – renowned Alfa Romeo collectors and racers – acquired the car some four decades ago. Since then they have had to replace the crankshaft and sundry other engine internals, but have left the bodywork and trim as untouched as possible in order to preserve the car's unique provenance.

UU 79 has been a regular competitor at all manner of events both at home and abroad for the past 30-plus years, and is an exceptionally original road racer in 'time warp condition'.


| | |
| --- | --- |
| 1977 MASERATI MERAK SS - £10000 - 12000 | 1940 LAGONDA V12 DROPHEAD COUPE - £45000 - 50000 |
Other competition cars in the sale include a
1936 Supercharged MG PB
with period Brooklands and Goodwood racing history (estimate: £68,000-75,000), a
1969 Sturdgess SL1/3
sports racer, one of just three such cars commissioned (estimate: £28,000-34,000), a
1963 Merlyn MK4A Sports Racer
(estimate: £65,000-70,000), and an
1957 Elva MK2 Spider Sports Racer
, expected to fetch £45,000-50,000.
The other significant racing car entered is of course the
ex-Jim Clark Lotus 25
.
Clark drove the 1962 single-seater, Chassis No.R5, to victory in the Pau and Imola Grands Prix of 1963, en route to his first World Championship. His team-mate Trevor Taylor then took sixth position in the Monaco GP before crashing R5 heavily in the ensuing Belgian event. Cedric Selzer, who had been Clark's Lotus mechanic throughout 1963, then rebuilt it in the '80s. It's estimated at £300,000-400,000.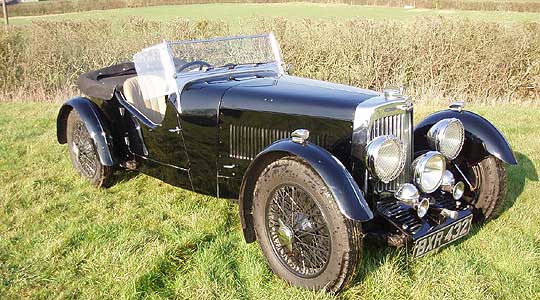 The
1935 1.5-litre Aston Martin MKII
(£64,000-68,000) is a relatively late entry and – like the Alfa 6C – is another very original car.
Over recent years H&H have carved a niche for themselves selling high-value pre-War Lagondas and in Cheltenham two such are entered, the
1940 Lagonda V12 Drophead Coupe
, at £45,000 – 50,000 and the
1938 Lagonda V12 Saloon De Ville
for £24,000 – 28,000
| | |
| --- | --- |
| 1980 FERRARI 308 GTS - £18000 - 20000 | 1957 ELVA MK II SPIDER SPORTS RACING CAR - £48000 - 55000 |
Road cars of interest to Classic Driver readers will be several Ferraris that include an ex-BRM GP driver Chris Irwin's
1969 Ferrari 365 GT 2+2
, £30,000 – 34,000, and a surprisingly attractive white
1980 Ferrari 308 GTS
for a reasonable £18,000 – 20,000. There's also a nice (catalogued as 'scruffy'!)
1936 Bentley 4.25 Litre Sports Saloon
for £24000 – 28000, and what looks like a well made
1965 Shelby Hertz GT350
racing 'clone' for £28,000 – 32,000.
H&H will also be selling over 800 items of automobilia on Wednesday 28th February, as well as rare and collectors bicycles and motorcycles on Thursday 1st March.
H&H to debut on line bidding at 2007 Cheltenham Sale
H&H Classic Auctions has teamed up with
www.the-saleroom.com
to allow buyers to view their auction catalogues on line, and bid live from their home, office or wherever their computer can talk to the internet.
Said H&H's Managing Director Simon Hope, "This innovative facility not only allows buyers to view the sales in real time, but hear them as well. Most bidders will still attend sales if they can, as it allows them to inspect the vehicles before the sale and accurately judge the mood of the room once the action begins. Others are happy to bid by phone and now they have another option. Our aim is simple, to make buying as easy and enjoyable for as many people as possible."
The Sale will be held at:
The Centaur,
Cheltenham Racecourse
Cheltenham
Gloucestershire GL50 4SH
Sale Times:
28-02-2007 12pm - Automobilia
01-03-2007 From 11am - Bicycles
01-03-2007 Immediately following the bicycles - Motorcycles
01-03-2007 2pm - Motor Cars
Entry List

You can click on the entries to see full details, with photos, on the H&H website.
Text - Steve Wakefield
Photos - H&H
---
ClassicInside - The Classic Driver Newsletter
Free Subscription!