Hennessey Venom GT Spyder with 1200bhp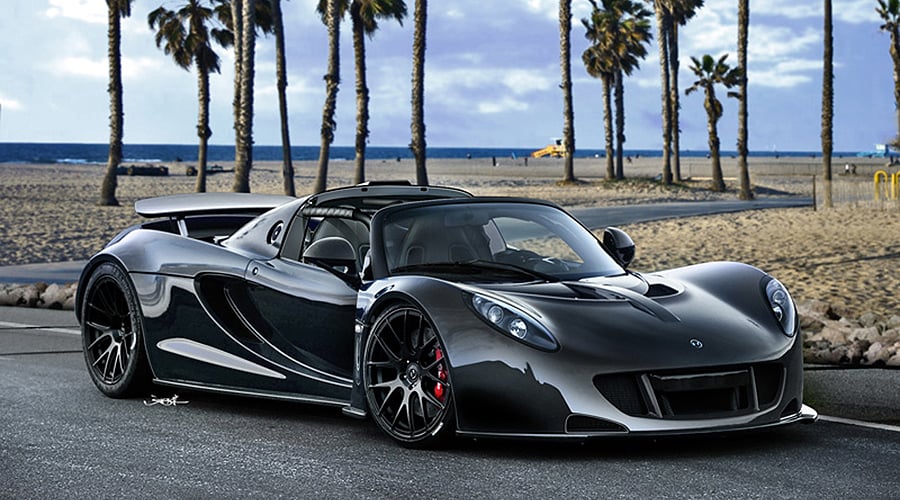 Hennessey Performance Engineering has announced a convertible version of its ultra-lightweight supercar, the Venom GT.
With an asking price of a cool 1.1m US Dollars (£700,000), the Venom GT Spyder and its removable roof panel costs an additional $150,000 (£95,000) over the 'normal' coupé. Don Goldman, CEO of John Hennessey's firm, believes the price is justified not only by the additional fresh air, but also by the extra aural value offered by the convertible: "With the hardtop removed, the wind and the growl of the twin-turbo V8 will offer our clients an even greater driving sensation."
Oh, and that twin-turbo V8 he talks about produces a Veyron Supersports-matching 1200bhp – in a 1200kg body that began life as a Lotus Exige. Crikey.
This, according to the Texas-based firm, equates to "the best power-to-weight ratio available on the market".
Further details on the Venom GT Spyder are yet to be disclosed, apart from the fact that just five will be built per year. Two of the first year's quota (a 2013 model year but likely to be delivered in 2012) have already found homes, and we wouldn't be surprised if HPE found a further three customers for whom the price is a minor hindrance in the quest for 1200bhp, open-air thrills.
Text: Joe Breeze
Photos: Hennessey Performance