The Hamilton Tour 2004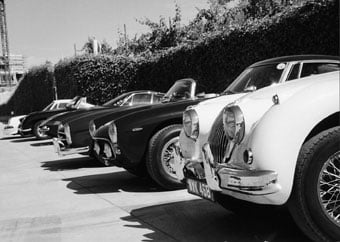 The December 2004 issue of the recently re-designed 'Cars for the Connoisseur' magazine contains Frazer-Nash Le Mans Replica driver Andrew Fletcher's impressions ofthe September 2004 tour organised by Adrian Hamilton of Duncan Hamilton & Co. Adrian had gathered together an impressive collection of interesting and historic automobiles from a Ferrari 250 GTO via a red Alfa Romeo Giulietta to a new silver Porsche Carrera GT.

The Editor, Charles Harbord, has generously offered subscribers of Classic Driver a FREE sample of the December Issue, see below for details.
"All drivers and their cars were geared up for three days of hard driving in Northern Spain. The cars were accompanied by an equally interesting collection of mainly historic drivers, much less historic wives, girlfriends and others, including Superfrog, known as Jean Berchon of Moët et Chandon, associate of the tour. The tour celebrated the participants' love of fascinating and interesting motors, challenging roads, luxury hotels, good company, excellent food and fine wines.

"A previously unseen blue AC Cobra arrived with Willie Tuckett for its first tour following a long and late rebuild. Two ancient Ferraris arrived, a 290MM and a 166 Barchetta, one driven by Ronald and Suzy Stern and the second by stylish racing duo Dudley and Sally Mason-Styron. John and Ellie Coombs brought their recently acquired early Porsche Speedster. Unfortunately, this car suffered carburation troubles on day one and failed to complete the tour, while Jools Holland and Christabel looked extremely comfortable in a Jaguar D-Type. As well as providing the opportunity to drive like mad attempting to exploit the limited road-holding of these early motors, an intrinsic aspect of this tour was an opportunity to enjoy the sight, sound and company of other historic cars. It is exhilarating to follow a Jaguar D-Type, to be pursued by a red Ferrari 250SWB and to overtake a Mercedes 300SL all at the same time.



"The tour this year was based in Hotel Landa Palace, Burgos, in Northern Spain some 125 miles north of Madrid. Burgos is famous for its magnificent cathedral and for the walk 'The Camino de Santiago de Compostela', known as 'The Camino' which runs between Santiago on the Atlantic coast and Roncesuafles on the French border. Adrian Hamilton confidently made no provision for walking on this tour…
"Participants gathered on Monday evening for a Moët et Chandon champagne reception and dinner, and on Tuesday morning the tour set off for the hills with the Spanish sun warming up nicely. The 124-mile route to lunch at the Parador de Fuente, high in the Cantabrlca Cordillera surrounded by magnificent scenery, was reached along fine roads offering great driving opportunities. Lunch was excellent and followed by a lovely scenic drive, via Aguilar, returning to the Landa Palace. A short time was available for all to recover before champagne time and dinner.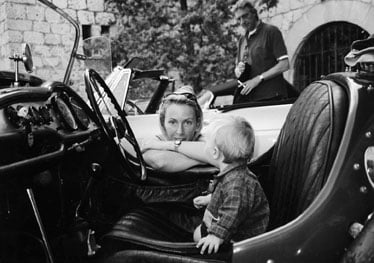 "Wednesday (day two) began with a leisurely start even for eighteen-month old Jago Boultbee Brooks, son of Steve and Jo, who enjoyed the extravagance of having a baby seat specially fitted into his parents' Porsche 911RS. Young Jago seemed totally unfazed by the arrangement and enjoyed his day's tour. The route provided further scenic views and magnificent roads which included 'Wild West' scenery and the great plains of Embalse de Encinas.
"Lunch was taken at Posada Fuente de Lacena Hotel following a visit to Penafiel Castle wine museum. All cars eventually returning to base via the small town of Lorna - although some navigators inadvertently chose alternative routes and consequently became lost! Following the now traditional champagne, dinner was served in Burgos which offered 'El Cid' the opportunity to make an appearance, for we were dining at Meson d' El Cid.
"On day three, Adrian Hamilton's son, Dominic, and his wife Ali abandoned their blue AC Cobra because of gear box problems and took over the family Jaguar C-Type. (The car that won Le Mans in 1953 driven by Dominic's grandfather, Duncan Hamilton). The morning's route included a section around an extremely large and beautiful reservoir. The roads were most spectacular, being surrounded by steep rocky outcrops that created sharp corners, and local truck and tractor drivers were surprised when confronted by our fast moving motor museum. Certain drivers were involved in frantic manoeuvres to avoid
Crash! Bang! Wallop!
"Following a wine-tasting a delicious lunch was provided by the Marques de Riscal winery in their delightful dining room. Marques de Riscal is one of the best regarded of all the Rioja and currently being refurbished by the architect Frank Gehry - famed for his design of the Guggenheim Museum in Bilbao. We had the opportunity before and during lunch to savour some of the best Spanish wines.
"Several hours later we were back at base with cases of fine wine from the winery shop having completed about 260 kms that day. The final evening included a Moët et Chandon reception followed by a gala dinner during which Adrian Hamilton was roundly praised along with his delightful and most capable assistant, Jenny Smith. Everyone cheered them wildly for organising such an excellent tour that was greatly enjoyed by all participants. The cabaret was provided by Willie Tuckett who sang it 'His Way'."
Man of the Tour;
Colin Crabbe for driving his lovely two-toned blue, two-seater convertible BMW 327/80 all the way from Grantham to Spain, completing the tour and then driving the car home again. This car, built in 1938, was bought from new by Colin's father. Colin would not have won this award without the presence of his wife, Fiona, who accompanied him on the long and winding roads of England, France and Spain.
Car of the Tour;
The lovely pale green, two seater convertible Lancia Aurelia complete with an early American style wrap around windscreen. This car is owned and was driven by Anthony and Anna Maclean.
Woman of the Tour;
All of them!
---
Editor's Notes -
Andrew's car is the one in which Roy Salvadori had his near-fatal accident at Silverstone in 1951, as witnessed by Neville Hay and described in an earlier issue of Cars for the Connoisseur. It was rebuilt by Tony Crook and amazingly Roy was back behind the wheel within a couple of months.
The Hamilton C-Type by Adrian Hamilton
"In 1984, after three years-worth of gentle badgering, Briggs Cunningham - who had my father's 1953 Le Mans winning C-Type in his magnificent museum in Costa Mesa, California - finally succumbed and allowed me to purchase the car. At the time the C Type was on display in the museum without a body (which had been retained separately) - Briggs always wanted the car to either come to the Hamilton family or to Jaguar Cars themselves, but I guess I got there first!

"Once returned, the restoration work was given to David Cottingham at DK Engineering and in order for the car to survive the rigours of modern motoring I commissioned Bob Smith at RS Panels to make a new 16-gauge body, whilst the original 18-gauge body I have and retain for originality purposes. Once the splendid restoration had been carried out by DK Engineering the maiden voyage for the car was to compete in the 1986 Mille Miglia with my co-pilot HRH Prince Michael of Kent.

"Thereafter, I have competed in the car all over the world from the Colorado Grand in the United States to the Adelaide Classic in Australia; each and every Festival of Speed at Goodwood and in more recent years the Goodwood Revival meeting where the car was entrusted to Gary Pearson, who always drives well and has won the Freddie March Trophy on two of the three outings.

"Sir Stirling Moss also drove the car at the Le Mans Legend in 2003, an event run prior to the 24-hour endurance race where he very comfortably won the class and thoroughly enjoyed the outing. It goes without saying that the car has not only a very significant history by winning Le Mans in 1953, but is also the only works Le Mans-winning Jaguar in existence. The 1951 winning C Type was broken up, the 1955 winning Jaguar D Type was broken up, and the two D Types that won Le Mans in 1956 and 1957 respectively, were entered by Ecurie Ecosse and were not works cars. Suffice to say that having owned the car now for twenty years and having covered more than 20,000 very enjoyable miles in the car, it is not for sale and remains my pride and joy!"
For a full stocklisting of cars from Duncan Hamilton & Co Ltd on the Classic Driver car database please CLICK HERE
The Editor, Charles Harbord, has generously offered subscribers of Classic Driver a FREE sample of the December Issue. Those interested should telephone his 24 hour hotline : +44(0)1747 830 755

Or e-mail him at: [email protected] - mentioning classicdriver.com.

For further details on how to subscribe to 'Cars for the Connoisseur' please CLICK HERE
All text and photographs - STRICTLY COPYRIGHT
---
ClassicInside - The Classic Driver Newsletter
Free Subscription!