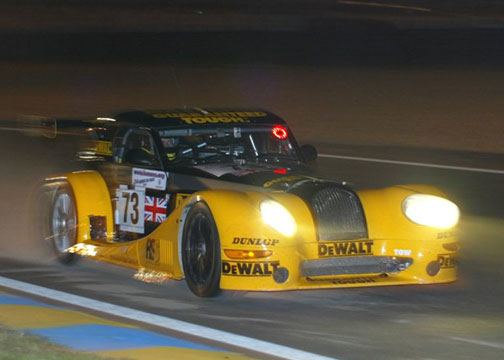 Morgan is offering its fans worldwide the unique opportunity to be part of the true spirit of Le Mans next year. For a membership fee of £1000, one thousand people will become Official Morgan Team Partners, supporting the marque's return to La Sarthe for the 2003 Le Mans 24-hour.
Members will receive an exclusive club package – designed to make them feel really involved in one of the world's most exciting motorsport events – which will include circuit entrance and reserved grandstand seating, name on the Morgan Le Mans role of honour, private access to the team and limited edition clothing and memorabilia. Not only that but all members will be automatically entered into a free prize draw to win either a unique Aero 8 road car – finished in the official Morgan Le Mans livery – or a unique, one-off special edition Le Mans '62 commemorative Plus 8 model.
Morgan will this year take up the Le Mans challenge with a fully-fledged 'works' team. Significant sponsorship from several corporate partners has already been secured. However, to help fund the campaign fully and give the team the most competitive chance of success, the idea for the 'Official Team Partners Club' was conceived.
"At last year's race, the Morgan marque captured the hearts of thousands both at the circuit and those watching via the TV networks and our exclusive web cam. The level of their support was endemic to the team's heroic effort," comments Charles Morgan, Managing Director, Morgan Motor Company.
"This year, we wanted to be able to give something back to our loyal supporters. By offering these exclusive club packages, we hope to make some people's dreams come true by making them a part of the racing legend that is Morgan, whilst also raising funds to ensure that our works team achieves even greater success."
How to apply:

Pay by credit card via Morgan's secure online booking service: www.morgan-motor.co.uk.

Email enquiries should be sent to: [email protected]

Or send your payment by a cheque payable in sterling to Aero Racing Ltd, and drawn on a UK bank account, to:
Official Morgan Le Mans Team Partners Club,
c/o Aero Racing Ltd,
Pickersleigh Road,
Malvern Link,
WR14 2LL, UK.

Please remember to include your full address, telephone number and email.
Membership will be strictly limited to 1000 and applications will be treated on a strictly first-come first-served basis.