Goodwood Revival 2006 - Review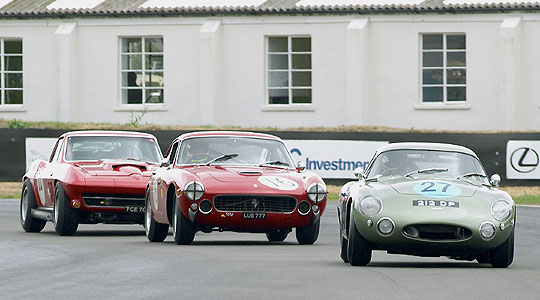 Once again Lord March and the doughty Goodwood Events team staged the world's finest historic motor racing event. Even seasonal showers on the Saturday didn't dampen the period-clad spectator's enthusiasm for wheel-to-wheel action of the very highest order.
Keeping wisely to the format used in the last couple of years of ticket-only admission, with practice just on Friday (plus Saturday for the RAC TT Celebration entries) and all-day racing over the weekend proper, the event proved yet another star-studded spectacular with some stunning individual performances still fresh in the memory.

Each year the organisers change the grids subtly so that the event is always 'fresh'. This time the St Mary's Trophy race was for the 'oldies' so we saw the unlikely sight of Grant Williams and Justin Law throwing their Mk I Jaguars around the circuit as if their lives depended on it, never quite being able to shake off the cheeky Austin A35 driven mercilessly by Rae Davis/Tony Jardine, and the Austin Westminsters of the brilliant John Young and vastly experienced John Fitzpatrick. Davis in particular is worthy of mention as on Sunday it was his turn to drive and despite appearing to only just be able to see over the top of the dashboard he always kept the grey Jaguar in his sights, finishing just 1.4 secs behind him at the death.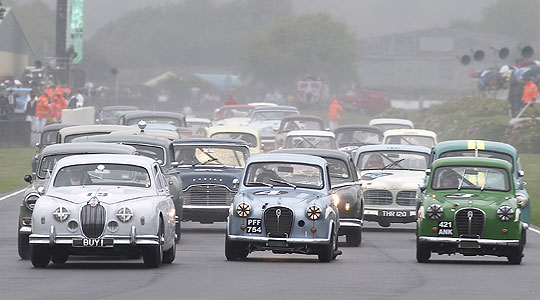 This was not quite enough to beat the Williams/Bell Jaguar that took overall honours, the first time the multiple Le Mans winner Derek Bell had won a race at Goodwood for 40 years and it was his scrap with Tony Jardine, John Fitzpatrick and Justin Law on the Saturday that still had the spectators talking 24 hours later. As someone said to me on Sunday "When it rains, that's when you can see these really great drivers show the rest how it's done".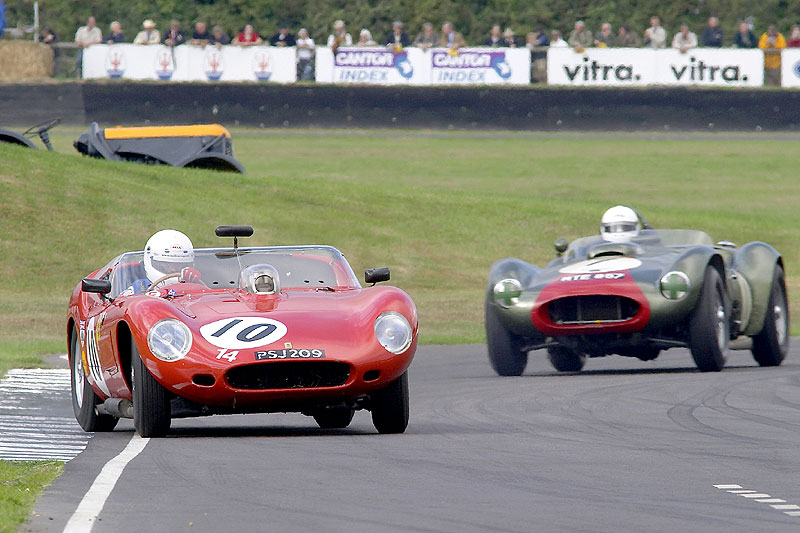 The event is now almost as well known for its air displays as it is the motor racing so it was a moving sight that the spectators beheld when a solitary Spitfire opened Friday's and Saturday's events as mark of respect to the late Ray Hanna, the celebrated Red Arrows pilot who died at the end of last year. Throughout the weekend the skies were filled with P-51 Mustangs and at one point no less than eight Spitfires. An extraordinary spectacle that was further enlivened by one Spitfire taxiing along the pit straight as Lord March read a tribute to Hanna. A moving moment.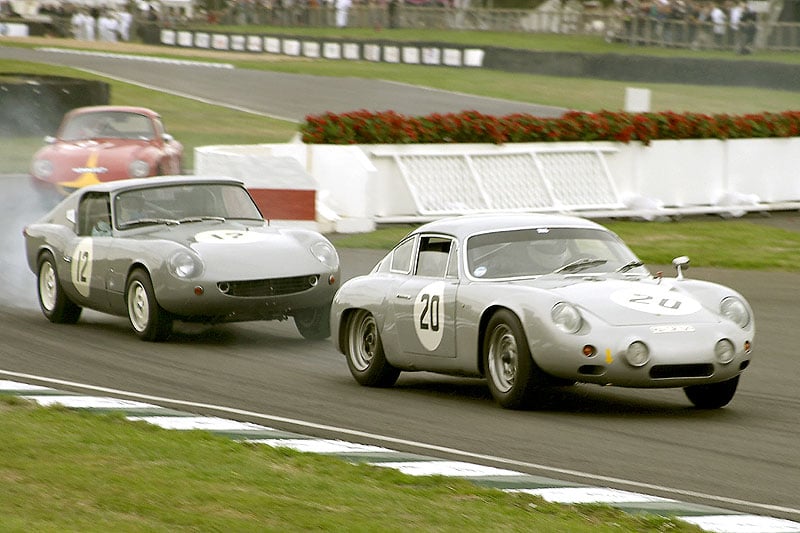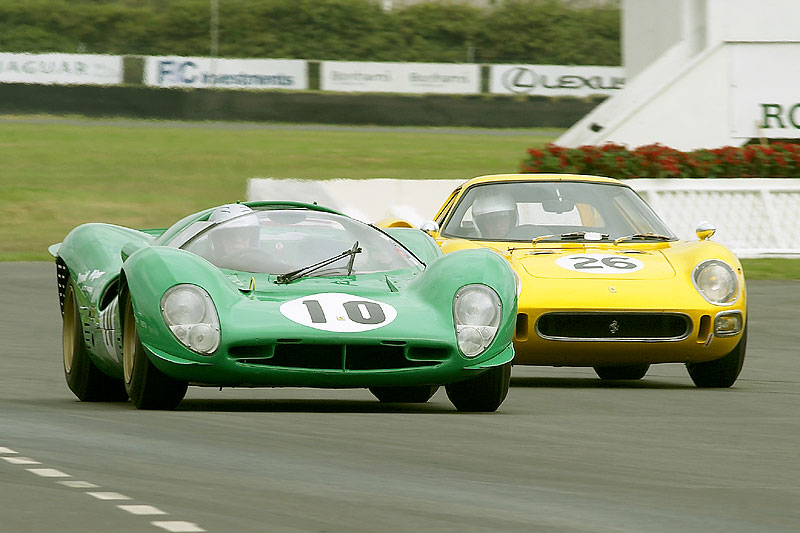 Back to on-track action and the Royal Automobile Club Tourist Trophy Celebration proved to be one of the greats. On pole in the DK Engineering-prepared, ex-Peter Sutcliffe Lightweight E-Type Jaguar was the Dutch Le Mans driver Michael Vergers, sharing the car with its owner Juan Barazi. When the flag dropped (and it really did, all starts at the Revival are by Union Flag) Vergers did one of those laps favoured by the late Gerry Marshall. He simply annihilated the rest of the field and, watching from the Richmond Lawn Pavilion grandstand, the car could be seen on the very limit of adhesion all through Woodcote and into the chicane. A brilliant performance that saw the fastest lap of the race on lap 2 (1 min 26.581 secs) and put the dark green car into an unassailable lead that Barazi inherited some 20 minutes before the end, driving very fast but sensibly to cross the line in first place.

Behind the E-Type all manner of action prevailed with a horde of Cobras, E-Types, Corvettes and Ferraris keeping up the chase. One of the Revival crowd's favourites, Peter Hardman, was paired with Nicolas Minassian in the Sporting & Historic Cars Ferrari 330 LMB and they were the meat in a Cobra sandwich as lap after lap the Bendall/Manning and Hitchens/Schryver ACs tried to gain on the leading Jaguar as well as the flying big-engined Ferrari. Truly wonderful stuff coupled with battles all the way down the field, and when you have Sam Hancock and Jean-Marc Gounon teamed together in the Bamford family Ferrari 250 GTO '64 finishing 7th, you can tell how fast was the pace of the front-runners.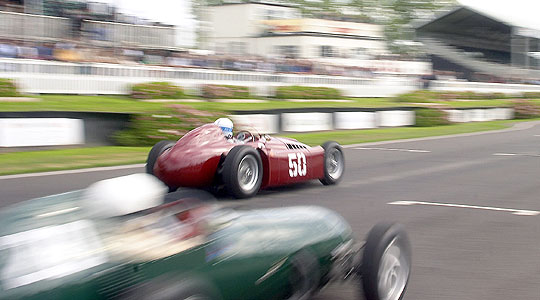 The silverware duly handed over, the next race on Sunday was another firm favourite - The Sussex Trophy for World Championship sports cars of a type that raced between 1955 and 1960. Gary Pearson in a D-Type Jaguar had this one in the bag relatively easily from the fighting 2nd, 3rd and 4th place men on the grid but it was Sir Anthony Bamford's 1957 Aston Martin DBR2 in the hands of Jean-Marc Gounon that was the sensation of the race.

Starting from the back of the grid after practice travails he was half way up the field after one lap, and well on his way to a win when the chequer came down after fifteen, just 1.992 seconds behind Pearson enjoying his second win of the day and on his way to the Rolex Driver of the Meeting award.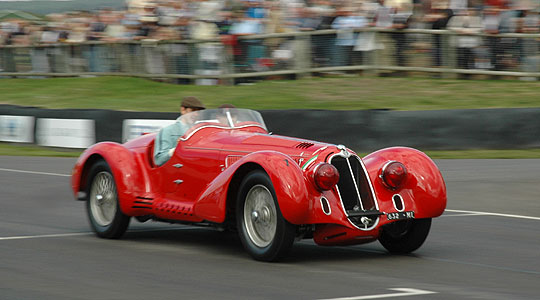 Mesmerising driving in the manner of Salvadori, Moss et al. And talking of past greats it has now become a tradition at the Revival to hold a special parade of cars at lunchtime and this year it was for the great American, Phil Hill, Lord March himself driving the Chaparral 2F, the big white bird with its movable wing that was Hill's last winning car at Brands Hatch in 1967.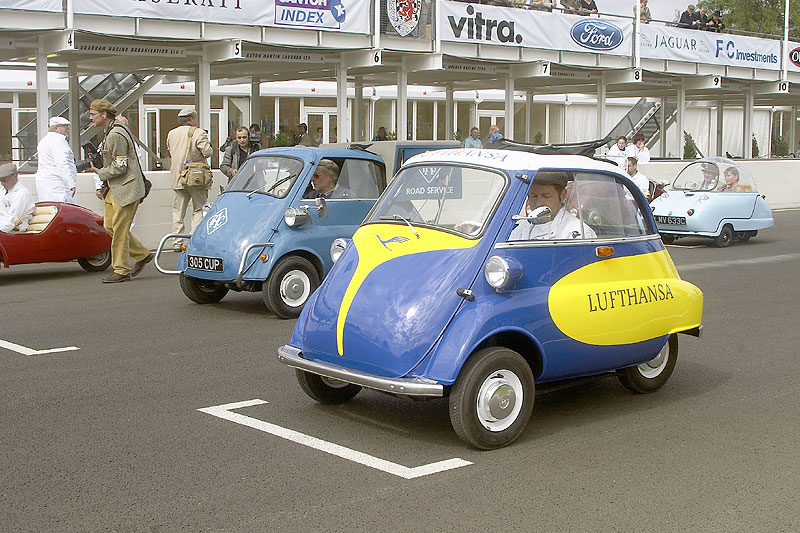 On the Friday, Bonhams held their customary auction that you can read a review of elsewhere, while the quality trade stands were busier than ever in the Expo area just inside the circuit the whole weekend.

So that was the Revival for another year, and I understand the organising team under Lord March will give themselves a short break before work commences on the 2007 version.

Congratulations to all of them and here's looking forward to another 'Glorious Goodwood' in 2007.

Come late summer, it's the only place to be and I can only concur with our subtitle, a quote from Patrick Tambay, the ex-Scuderia driver present at the Revival in magnificent shape driving Adrian Hamilton's Ferrari 246 Dino F1 car in the Richmond Trophy.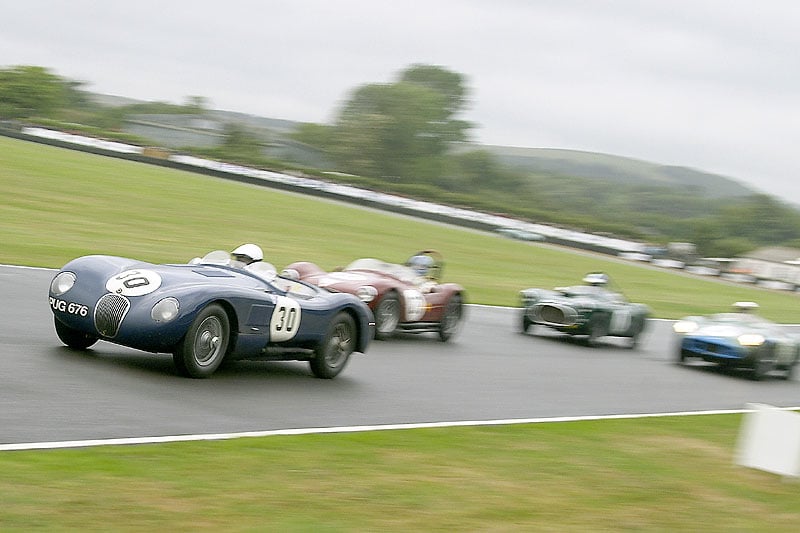 Results -

Rolex Driver of the Meeting:
GARY PEARSON

Goodwood Supporters' Association Spirit of Goodwood Trophy:
Presented by the Goodwood Supporters' Association
PETER BROCK, PHIL MUNDAY AND TEAM

Best Presented Team:
Presented by Penfolds
RICHARD MEINES AND TEAM

Will Hoy Memorial Trophy:
For the greatest drive in the St. Mary's Trophy race
JOHN FITZPATRICK

Fastest Lap of the Meeting:
Presented by Unisys
SIMON HADFIELD – ELVA BMW MK 8 – 1.24.250

Fastest Lap by a Lady Driver:
Presented by Bank Sarasin
EUNI PARK – LOTUS-FORD 23B – 1.33.427

Goodwood Trophy
1 Stefan SCHOLLWOECK - Maserati 6CM - 1:37.854
2 Mark GILLIES - Maserati 4CL - 1:37.423
3 Julian MAJZUB - Alfa Romeo 308C - 1:39.077

Chichester Cup
1 Robin LONGDON - Lola-Ford Mk2 - 1:41.487
2 Stuart ROACH - Alexis-Ford Mk2 - 1:40.826
3 Derek WALKER - Terrier-Ford T4 - 1:43.823

Fordwater Trophy
1 Keith AHLERS - Morgan Plus 4 SLR - 1:46.002
2 Adrian VAN DER KROFT - Morgan Plus 4 SLR - 1:48.103
3 Trevor GROOM - Jaguar XK140 Lightweight C -1:47.264

Barry Sheene Memorial Trophy Race 3 (First Race)
1 Wayne GARDNER - Matchless G50 - 1:35.112
2 Duncan FITCHETT - Manx Norton 500 - 1:37.958
3 Tim JACKSON - Manx Norton 500 - 1:39.925

Barry Sheene Memorial Trophy Race 9 (Second Race)
1 Wayne GARDNER - Matchless G50 - 1:34.100
2 Duncan FITCHETT - Manx Norton 500 - 1:35.650
3 Tim JACKSON - Matchless G50 - 1:36.697

Barry Sheene Memorial Trophy –Final Aggregate Result
1 Wayne GARDNER - Matchless G50 - 1:34.100
2 Duncan FITCHETT - Manx Norton 500 - 1:35.650
3 Tim JACKSON - Matchless G50 - 1:36.697

Whitsun Trophy:
1 Frank SYTNER - Lola-Chevrolet T70 Spyder - 1:35.004
2 Nick WHALE - McLaren-Chevrolet M1b - 1:34.147
3 Ray BELLM - Ford GT40 - 1:36.408

St. Mary's Trophy (Part 1)
1 Derek BELL - Jaguar Mk1 - 1:47.854
2 Tony JARDINE – Austin - 1:48.655
3 John FITZPATRICK - Austin A105 Westminster - 1:48.311

St. Mary's Trophy (Part 2)
1 Grant WILLIAMS - Jaguar Mk1 - 1:40.753
2 Rae DAVIS - Austin A35 - 1:40.840
3 Shaun RAINFORD - Austin A40 - 1:42.765

St. Mary's Trophy - Final Aggregate Result
1 Williams/Bell - Jaguar Mk1 - 1:40.753
2 Davis/Jardine - Austin A35 - 1:40.840
3 Woodley/Fitzpatrick - Austin A105 Westminster - 1:45.302

Glover Trophy: 1 Duncan DAYTON - Brabham-Climax BT11 - 1:37.167
2 Bobby RAHAL - Brabham-Climax BT11 - 1:37.467
3 Richard ATTWOOD - BRM P261 - 1:39.358

Freddie March Memorial Trophy
1 Derek HILL - Alfa Romeo 3000 CM - 1:42.466
2 Nigel WEBB - Jaguar C-Type - 1:42.592
3 Jochen MASS - Lancia D24 - 1:42.348

Brooklands Trophy:
1 Mark HALES - Bugatti Type 35B – 1.47.126
2 Andrew BELL - Aston Martin Speed Model - 1:49.441
3 Mark PIERCY - MG R-Type - 1:51.230

Richmond Trophy:
1 Gary PEARSON - BRM Type 25 - 1:35.236
2 Gregor FISKEN - Ferrari 246 Dino - 1:35.712
3 Barrie WILLIAMS - Ferguson-Climax Project 99 - 1:35.926

The Royal Automobile Club TT Celebration Result
1 Barazi/Vergers - Jaguar E-Type Lightweight - 1:26.581
2 Bendall/Manning - AC Cobra - 1:28.285
3 Hardman/Minassian - Ferrari 330 LMB - 1:28.633

Sussex Trophy:
1 Gary Pearson - Jaguar 'D' long nose - 1:27.406
2 Jean-Marc Gounon – Aston Martin DBR2 – 1:27..152
3 Shaun Lynn – Lister-Jaguar 'Knobbly'- 1:27.096

Madgwick Cup:
1 Simon Hadfield – Elva BMW Mk 8 – 1.24.250
2 Anthony Hancock – Lotus-Ford 23B – 1:25.620
3 Danny Wright – Cooper-Climax T49 'Monaco' – 1:25.705
Words - Steve Wakefield
Photos - Roger Dixon / Classic Driver - all strictly copyright
---
ClassicInside - The Classic Driver Newsletter
Free Subscription!