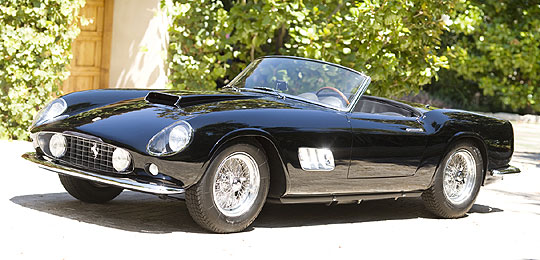 As the official Pebble Beach Auction at the annual Pebble Beach Concours d'Elegance it behoves David Gooding and the rest of the team to come up with a suitable catalogue. Most people would agree that this year's two-day sale fits the bill, with one of the best entries being the 1959 Ferrari 250 GT LWB California Spyder estimated 'By Request' but nevertheless expected to sell for between $3.2 - $4 million.

An original Luigi Chinetti-delivered US car, the multiple concours winner (including a first at Pebble) is finished in high gloss black with black leather interior and is catalogued as 'A Car Fit For A King'. You'd need the veritable Royal ransom to buy it but what a car!

Spread, as it is, over the weekend, the Gooding sale can distribute its bounty evenly, and on the Saturday the first of two collections will be sold, the cars owned by the late private collector and well-known television producer Greg Garrison, who is best known for his work as the director of the The Dean Martin Show from 1965 to 1974. Seven of these are one-of-a-kind Ferraris and include the 1957 Ferrari 410 Superamerica Coupe at $900,000 - $1,300,000, the 1958 Ferrari 250 GT Coupé Speciale for $800,000 - $1,200,000 and the very last 1973 Ferrari 365 GTS/4 Daytona Spyder built, which Mr Garrison ordered new.

This car has less than 80 miles on its odometer and is estimated at $1,100,000 - $1,500,000. It is also, like the other Garrison cars, to be sold 'Without Reserve'.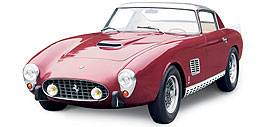 On the Sunday, the other group of cars is that of Richard J. Solove, and comprises the only known collection of Rolls-Royce's first series 40/50hp Silver Ghost, with models from every year of the series' production, which ran from 1907 through to 1915. The proceeds of the sale (estimated at $8 - $10 million in total) will be donated to charity.

There will also be the remaining cars of the E. Ann Klein Estate – a collection that numbered nearly 50 cars at one point. On Sunday Gooding & Company will be offering entries that include a 1931 Bentley 4 1/2 Litre Blower with original boat tail coachwork by Gurney Nutting.

Other cars in the two-day event include the "oldest running car in the world," a 1884 De Dion Bouton et Trépardoux steamer ('Estimate By Request'), a 1962 Aston Martin DB4 GT ($900,000 - $1,100,000), a 1956 Mercedes Benz 300 SL Gullwing ($525,000 - $600,000) and a 1974 Porsche 911 Carrera 3.0 RSR ($900,000 - $1,100,000), the famous 'Brumos' Daytona 24 Hours-winner in 1975.




The sale will be held at:

The Gooding Tent
Pebble Beach Concors d'Elegance
3247 Stevenson Drive, Pebble Beach, California 93953

SALE:
August 18, 2007 6:00 PM
August 19, 2007 6:00 PM

VIEWING:
August 16, 2007 9:00 AM - 6:00 PM
August 17, 2007 9:00 AM - 5:00 PM
August 18, 2007 9:00 AM - 5:00 PM

ADMISSION:
$30.00 - admits one, or $100.00 for set of catalogues and admits two.

To see the complete lotlisting of the Gooding Pebble Beach sale please click HERE.

For further information please visit www.goodingco.com.

Text - Steve Wakefield
Photos - Gooding & Company
---
ClassicInside - The Classic Driver Newsletter
Free Subscription!