Ford GT70 at Goodwood 2002
A rare Ford GT70 rally car – one of only six built and developed at Goodwood in the 1970s – has been fully restored and will perform on the Goodwood hillclimb at the Festival of Speed in July. This will be the car's first competitive outing since 1973.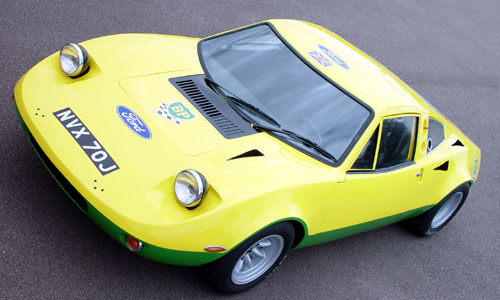 Restoration began early in 2002 at Sporting and Historic Car Engineers' premises in Poundon, Oxfordshire. Fortunately, most of the competition components including the ventilated disc brakes with four-pot calipers, driving lights, instruments and Minilite wheels were kept with the car. Standard Ford parts were used to replace other components on the vehicle.
The car has been repainted in BP livery and has again been fitted with a 200 bhp 2-litre BDA engine from Ford racing engine supplier, Terry Hoyle, plus a Hewland gearbox. The car accurately represents its final stage of development in 1973. Additional parts include a stronger roll-cage to meet current safety standards, an updated handbrake system to conform to MoT testing regulations and new seats.

History

The GT70 was conceived in 1970 by Stuart Turner – the then Ford competitions director – and Ford rally driver, Roger Clark, on a return trip from an unsuccessful Monte Carlo Rally. They acknowledged that the Ford Escort rally car in its current format was not competitive with the dominant Porsches and Renaults of the rally circuit at that time
Turner and Clark, with the endorsement of Walter Hayes, vice president of Ford Public Affairs, decided the best option for rally and race success was a light and simple mid-engined, two-seater designed to take a variety of power units. It would use as many components as possible from existing Ford models, Hayes having calculated that if the car was sufficiently successful in competition to merit volume production this idea would later deliver major production cost benefits.
Len Bailey, one of the Ford GT40 design team, was given a brief to design a car strong enough to win rallies and light enough to win races. Roger Clark, Hannu Mikkola, Timo Makinen and other drivers contributed ides for the interior layout. Just six chassis were produced. One was fitted with a special body by Ghia, Ford's in-house Italian design studio, and exhibited at the Turin Auto Show in 1971, another as a press demonstrator, and a third was used for race development at Goodwood by saloon car ace, Gerry Birrell.
The first Ford GT70s were fitted with V6 engines, ZF gearboxes and glass fibre bodes, with Roger Clark taking the hot seat for the car's rally debut at the Ronde Cevenole Rally in France in 1971. Teething troubles kept Roger out of the points on that occasion. Another V6 GT70 completed an impressive drive by Francois Mazet – partnered by one Jean Todt, now Ferrari sporting director – on the Tour de France in the same year. Unfortunately their Tour, and the GT70, came to an end against a bridge parapet in the Alps.
World Rally Championship rule changes and other influences curtailed any planned development of the GT70. The focus of the company's international rallying endeavours swung firmly back to the Ford Escort, which had been rejuvenated by the new four-cylinder BDA engine in a partnership which was to excel in national and international rallying throughout the 1970s.
Ford France took over one of the remaining GT70s for Guy Chasseuil to drive in BP livery in the French tarmac championships of 1972 and 1973. In its final configuration it, too, was fitted with a BDA engine and mated to a five-speed Hewland gearbox in place of the original ZF. Though this new configuration transformed the car in terms of speed and handling, minor problems prevented it from achieving its full potential.
At the end of the French programme, the car returned to England for storage. The engine and gearbox were removed and sold and apart from a brief tour of duty demonstrating Ford's CVG engine, it remained undisturbed for more than 25 years until the current restoration began earlier this year.
Story and photo: Ford Media
The 2002 Goodwood Festival of Speed is from 12th July to 14th July. For further details please see www.goodwood.co.uk