First Drive: Abarth 500C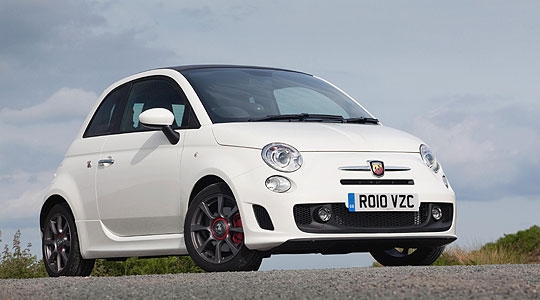 You don't have to actually buy anything in Harrods, Fortnums or any of those lovely establishments in Bond Street. Just being there produces a mysterious, calm magic. There is something powerfully pleasing to be sensed in such places.
Likewise, while any number of well-organised dealers across suburbia could sell you an excellent new car, ticking every box on your personal list and giving satisfaction for thousands of happy miles, it's not quite the same as nipping down to H R Owen in South Ken to buy a new Ferrari.
Not all of us, of course, are in that wealth bracket. Which is a shame. But which brings us to the new Abarth 500C, a little gem of a thing that inspires that same sense of sublime pleasure at a fraction of the price. If the makers of this exquisite bundle of Italian automotive fun have got their research right, most Abarth 500C buyers will already have the latest new Ferrari anyway, not to mention the Cayenne, the Mulsanne and one or two other useful new cars tucked away at home.
But whether it's the only car you own, or a small-scale addition to a well-stocked stable, this diminutive cabriolet has got that certain something – because Abarth, a stand-alone division of Fiat, is getting things right. The new Abarths do have all the right fancy bits tacked on to tempt us but there's much more to the recent resurgence of the Abarth name than that. Forget your cynical, if understandable, suspicion that the marketing men thought it would be a good idea to tweak some Fiats and use the Abarth name to palm them off on us. No, the real engineers are behind these new Abarths, which makes them the real deal.
Using the same 1.4-litre, 1368cc turbo petrol engine as the Abarth 500 hatchback, the cabriolet has a revised ECU, raising the power by 5HP to 140HP, giving a top speed of 128mph and 0-62mph in 8.1sec. Fully Euro 5 compliant, it emits a mere 151g/km of CO2, a figure that is just a little more green than the best top-end, high-performance cars these days. The combined cycle fuel consumption of 43.5mpg is attractive to anybody, too.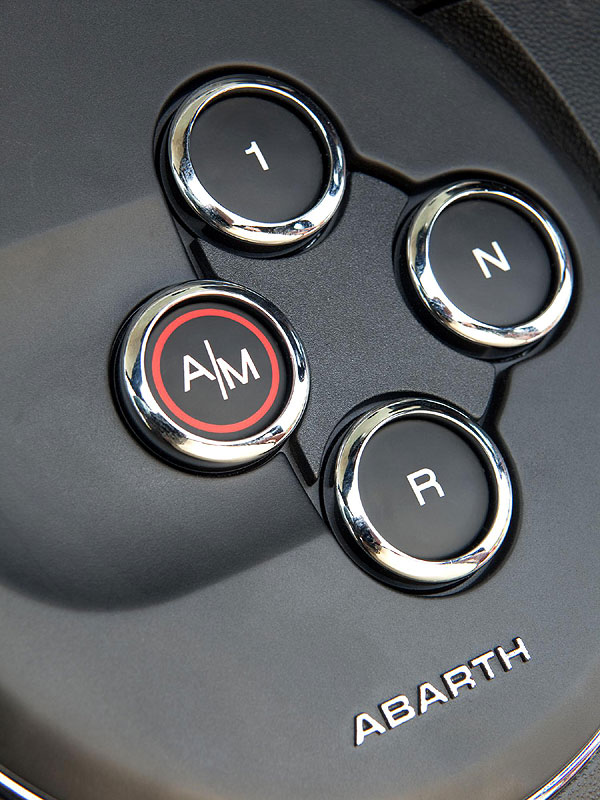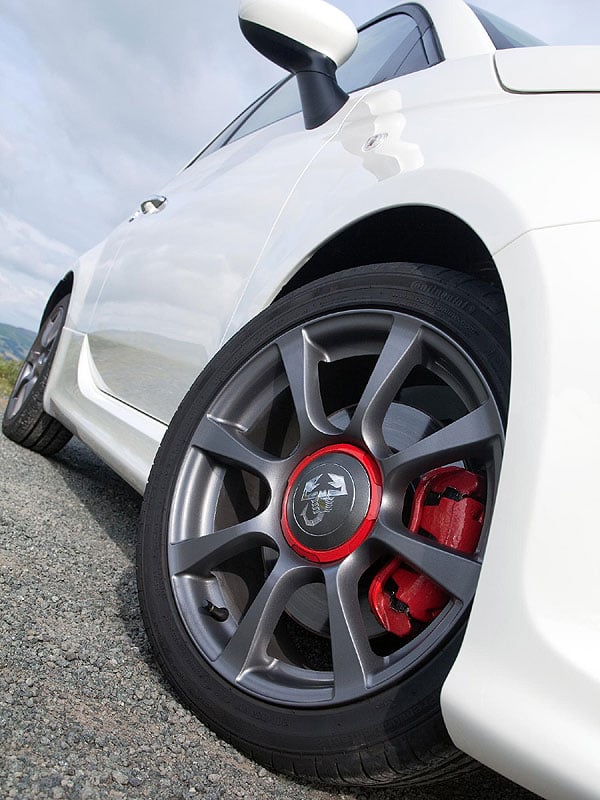 The Abarth Competizione gearbox adds to the fun of driving this car. In essence, it's an absolutely normal manual box, but it has robotic control so that it can be driven as a normal automatic if you hit heavy traffic and can't be bothered to use the shift-paddles mounted behind the steering wheel.
With electric power-steering, very little performance is stolen from the engine. Press the 'Sport' button and the steering feels slightly heavier while the overboost comes into play, giving a significant rise in torque and throttle response.
The brakes are excellent, discs all round and big, ventilated jobs at the front with conspicuous red calipers. There's ESP, of course, plus a Torque Transfer Control (TTC) that uses part of the ESP system to mimic a limited-slip differential. This can be switched off and there's endless entertainment to be had, working out when it's best to have TTC turned on or off.
We had a good session on a test track during this first drive experience, as well as a long tour through North Yorkshire, and I got the feeling that it's quicker to leave TTC turned on most of the time. You can certainly feel the difference when you switch it off but the handling remains faultless either way.
What a neat little car; it's fun to drive, suitably trimmed with luxurious style inside, open to the elements at the touch of a button (up to 37mph) and it looks just great. You can arrive anywhere in an Abarth 500C, and park next to your friends' Astons, Bentleys and Ferraris.
Guess which car they'll be talking about? Exactly: your new Abarth 500C, which is on sale now from £17,500 OTR. Brush up on just a little Abarth history so that you can bung in the odd fact, and you'll leave them standing.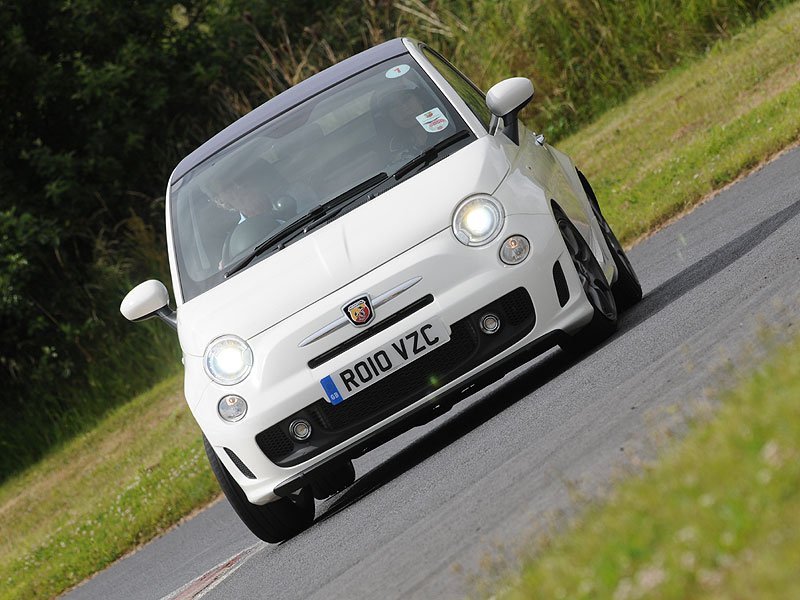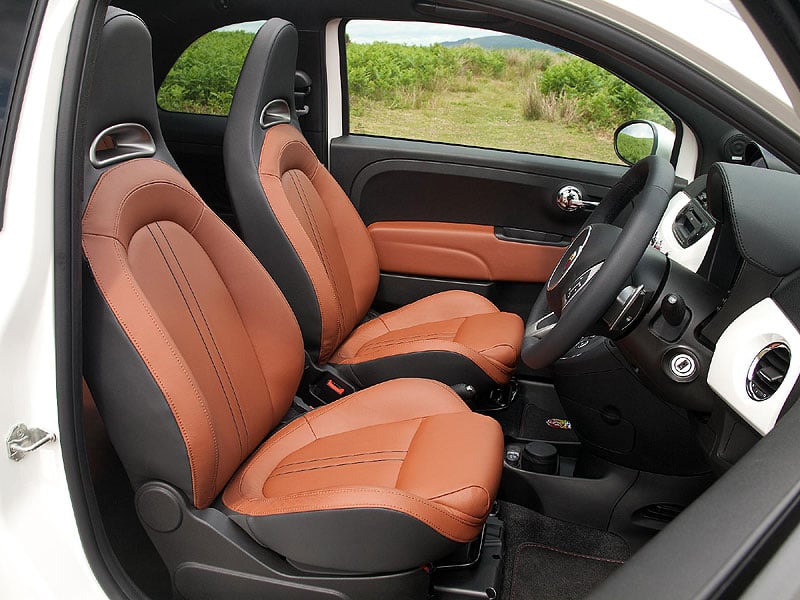 As an aside, you might care to mention the bigger, new Abarth Punto Evo, from only £16,500 OTR, which we also drove during this test. With the proper Abarth treatment given to it, as well as to the 500C, the Punto Evo surprised us all by being a real driver's car. Tell them about that by all means, while giving them the low-down on the small gem that is your 500C.
Text: Tony Dron
Photos: Michael Ward / Abarth
---
ClassicInside - The Classic Driver Newsletter
Free Subscription!