Ferrari show early design sketches of new for 2004 2 + 2 GT car
Following the extremely positive response to the release of the first design sketches by Pininfarina of the new 2+2 model, Ferrari SpA in Italy has revealed a little more information about its forthcoming 2004 Supercar.
The drawings are strongly influenced by the mechanical layout and technical specification of the new car. The weight distribution is improved by moving the engine back, behind the front axle line and by mounting the gearbox and differential in unit with the rear axle. This layout also leaves substantial space available for the 2+2 cabin, which will comfortably accommodate four occupants, who can enjoy the quiet and refined delights of the interior. Luggage capacity will be significantly larger than the current Ferrari 2+2 model – the 456M.
The sophisticated V12 engine will produce a maximum 540 bhp, powering the sleek Ferrari to a top speed in excess of 300 kph (180 mph).
The chassis frame and body panels of the 2+2 will be entirely made of aluminium. Ferrari has successfully adopted this material for the 360 Modena and its high strength with low weight offer many advantages for the larger 2+2 model, including enhanced acceleration, braking, handling, safety and stability.
The Ferrari 2+2 will make its World Debut at the Detroit Motor Show in January 2004.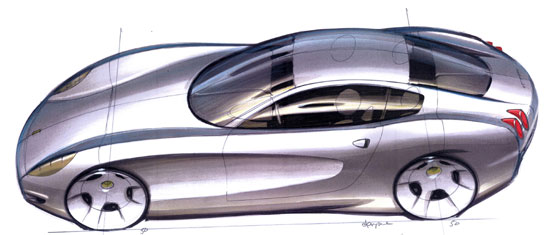 Text and all images - copyright Ferrari SPA