The Ferrari Panamerican 20,000 - the journey begins
24th August 2006. In front of 4,000 Brazilian Fiat staff and a host of local dignitaries the Ferrari Panamerican 20,000 set off from the country's Belo Horinzonte Fiat plant. The route that followed was designed to test the 620 HP supercars to the full.

The 32,000 km route is divided into 15 stages and the first stage left from Belo Horizonte and then on through Rio De Janeiro, Sao Paolo and Curitiba.

Rio de Janeiro, 25th August 2006. Enjoying the fascinating city situated on the Atlantic Ocean, the expedition also took the chance to visit famous sites such as Corcovado, the Pan di Zucchero and the beaches at Ipanema and Copa Cabana.

In order to celebrate the passage of the Panamerican convoy, the schools organised an August carnival that saw over forty amazing musicians parade through the Sambadrome.




San Paolo, 26th August 2006. The cars took the motorway that links the two cities which lie some 400 kilometres apart, but sadly no visit to the Interlagos circuit. It is on this track that the last race of the 2006 Formula 1 calendar will be held.

Curitiba, 28th August 2006. The city is one of the richest in Brazil. The convoy arrived in the city to be greeted by the unusual sight of rain and fog. The 599s were able to sample the famous 'Gracious Road': the highway (thirty kilometres of paving stones, breathtaking curves and lush vegetation) considered by the locals to be one of the most scenic in Brazil.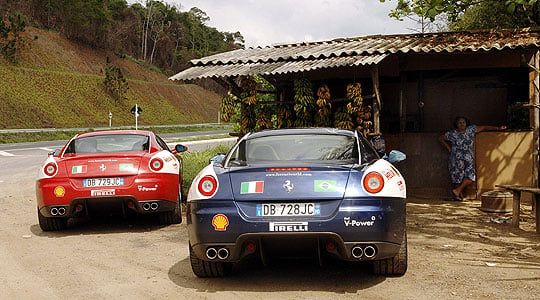 Foz du Iguaçu, 29th August 2006. The final day of the Brazilian section of the tour. The day began at eight in the morning from the beautiful city of Curitiba. The destination was Foz du Iguaçu, famous for its stunning waterfalls. They are the widest in the world at some two kilometres in width. The other characteristic of this city is that it is situated on the border of Argentina and Paraguay.

After yesterday's cold and rain, the sun shone splendidly this morning. The clear skies meant that the cars proceeded in pleasant temperatures though there were big differences between the day and the night-time temperatures. The chilly climate meant that the team wore heavy clothing in the early hours of the day, but today's route was ideal for exploiting the 620 bhp of the 599 GTB Fioranos. The excellent road surfaces, long straights and satisfying curves meant that the journalists got the most out of the drive - the two 599s often cruised at over 140km/h through scenery that could have been Tuscany.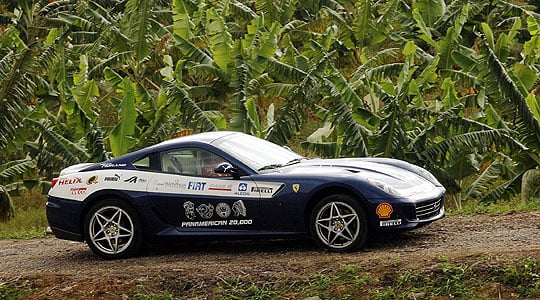 Story: Classic Driver
Photos: Ferrari SpA - Strictly Copyright
---
ClassicInside - The Classic Driver Newsletter
Free Subscription!