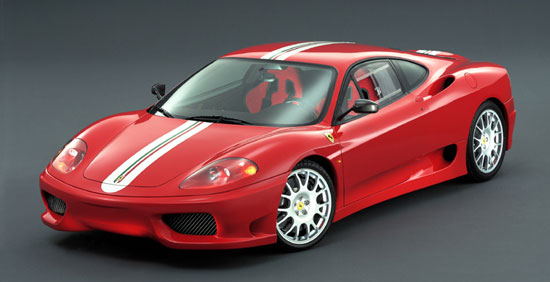 Maranello, 16 January 2003 - The new Ferrari, which will be unveiled at the Geneva Motorshow in March, will be called the 'Challenge Stradale'. It joins the 360 Modena and the 360 Spider in the Ferrari 8 cylinder range of road cars.
The Challenge Stradale derives from the latest interpretation of the pure Ferrari tradition of making road cars directly derived from the race cars. With the Challenge Stradale the racing expertise comes from the Ferrari Challenge International Championships and the FIA GT races, where the 360 Challenge and 360 GT models are top protagonists, both in Europe and in the United States.
The strong links of the Challenge Stradale road car to racing are underlined by a significant weight reduction, obtained also through a sporty set up and additional aerodynamic contents, enhanced braking performance and F1-style gearbox.
The engine is the 3,586cc V8, with five valves per cylinder and titanium conrods, which secured a worldwide success for the 360 Modena and the 360 Spider. The all aluminium body and chassis are the ones designed and produced by Ferrari for the 360 Modena.
The colour of the car on the Ferrari stand in Geneva will be the new 'Rosso Scuderia', the same red of the Formula 1 cars, with decorations recalling Ferraris used in customer races of the past.
Report and photo: Ferrari Media