The face of a legend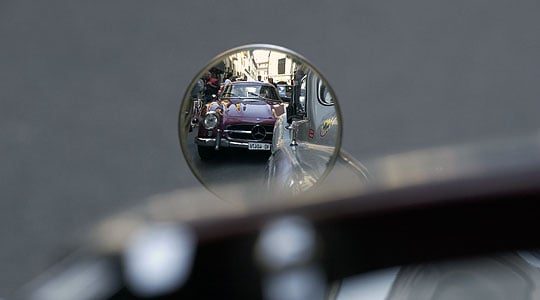 "I look for the joy in driving, the deafening noise, the force of the wind that takes my breath away" - so says Andrea Burani, managing Director of the Mariella Burani Fashion Group - sponsors of this year's Mille Miglia - sitting in the cockpit of his 1954 Ferrari 750 Monza. "A face blackened by exhaust fumes and oil doesn't worry me - so I don't need to wear a helmet."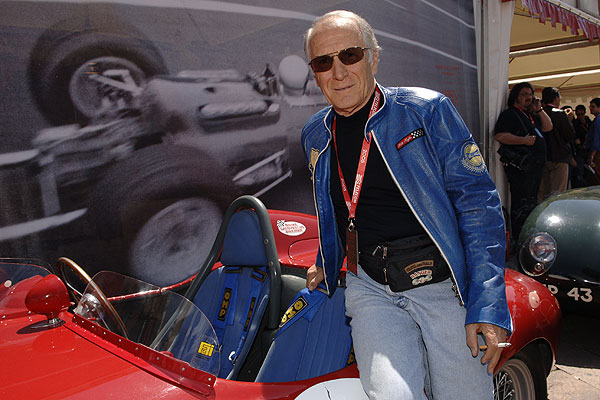 The race has inspired the fashion entrepreneurs to produce a fashion label '1000 Miglia', and they equipped all the front-running drivers and passengers with drivers kits including caps, jackets and an umbrella (useful for those driving open cars...) on checking in at the control at Piazza Vittorio in Brescia. The white '1000 Miglia' leather jackets in the 'Vintage Look' (Summer collection 2005), were given away to prominent entries as well as genuine racers. Only Prince Leopold of Bavaria, who accompanied BMW designer Chris Bangle in the 1937 BMW 328 MM, tried to exchange his jacket for a blue one - obviously without success (see picture)...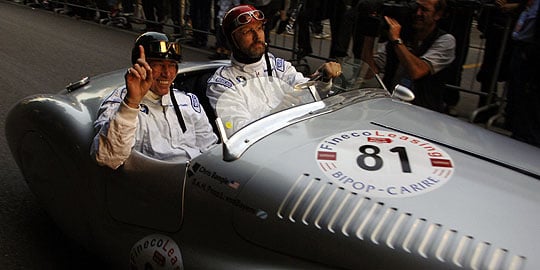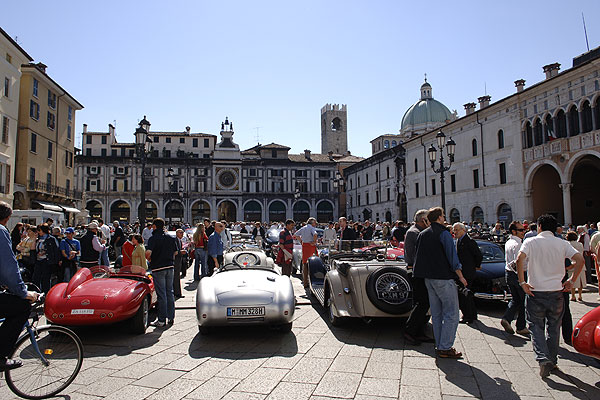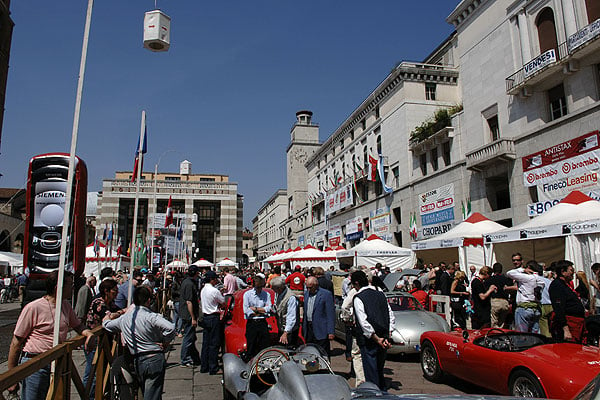 Leading competitors were also given the very latest Chopard watch, as well as the sponsor's special Siemens SK 65 Mille Miglia mobile 'phone. Sports racing driving legend Jacky Ickx was co-driving with event-sponsor Karl Friedrich Scheufele (Chopard) in the latter's 1930 Alfa Romeo 6C 1750 GS. Ickx is happy to relinquish the driver's seat as he enjoys "concentrating on the view of the beautiful girls!". Bella Italia.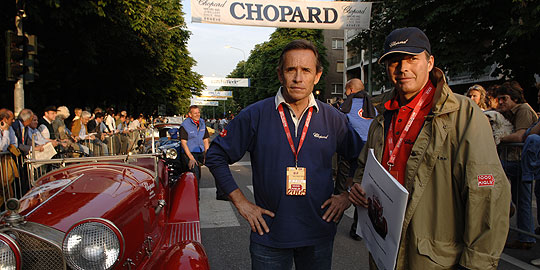 One such was the Brazilian Model Fernanda Lessa, dressed of course in an outfit by Burani, and ready to inspect the cars in the Piazza, where you couldn't find two more famous drivers than Sir Stirling Moss and Jochen Mass, sharing the Mercedes-Benz 300SLR that Moss drove to victory in the 1955 race. The myth lives on.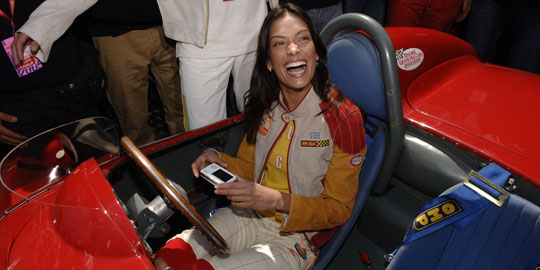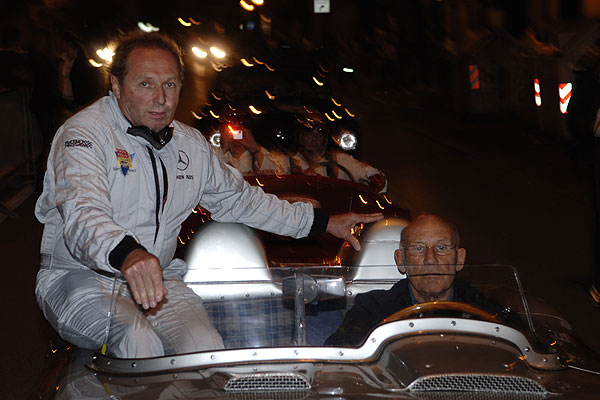 Other notable competitors included: Karl Friedrich Scheufele and Albert Carreras, Wolfgang Schrempp, Klaus Wildbolz and Alexander Boller in the Bentley 4.5 Le Mans, Rudolph Lamprecht (Siemens board-member) and Arndt Bahlmann (Bertelsmann board-member) in another Bentley, Richard Gaul (BMW marketing board-member) in the 1938 BMW 327 Cabrio, Professor Dr. Burkhardt Goeschel in a 1939 BMW 328 MM Coupe, Franz Josef Paefgen (Bentley board-member) and Herbert Völker in yet another 4.5 litre Bentley. Anton and Valerie Lichtenstein in the Bugatti T 35 B, Christoph Walther in the Mercedes 300 SL Prototype, Alessandro Zanardi and M. Saltalamacchia, Alessandro Bianchi (Pegaso Textil) and Jakob Winkler, Michael Wilms, Erwin Bach, Christine Scheufele, Max and Inge Dietl, Helmut Becker, Saskia Dohrn (Burani), Kristian Ghedinat and Fredericke Balestriere, Francesca Piccinini, Barbara Vitali.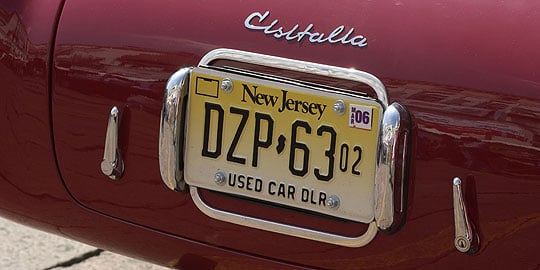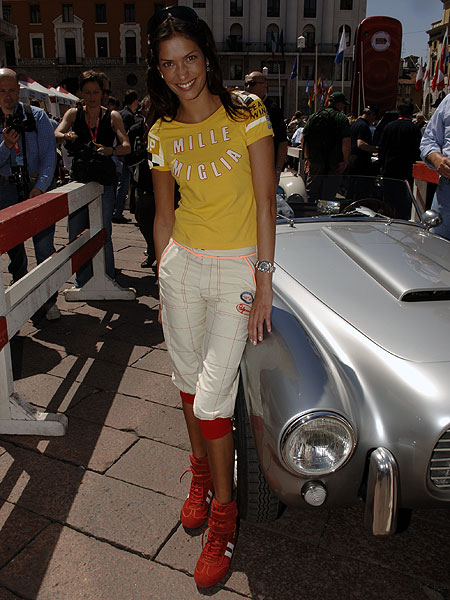 The collection - trendy, sporty and sexy

1000 Miglia, the new Italian fashion label from the house Mariella Burani, offers up to the minute sporty fashion with a classic look, and is licensed by the organisers of the Italian road race; Mille Miglia.

The highlights of the collection are leather jackets in the 'racing driver look', that are available in strong colours such as red, blue and yellow, as well as sporty racing driver overalls. For more information visit www.mariellaburani.com und www.pegasotextil.de.


Text & Photos: Michael Tinnefeld
---
ClassicInside - The Classic Driver Newsletter
Free Subscription!