Editor's Christmas Choice: 1952 Crosley Hook & Ladder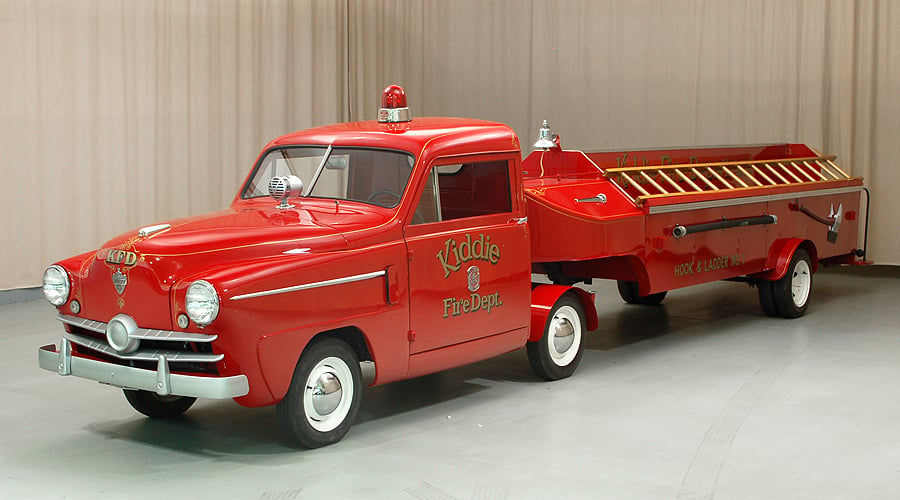 You don't need to be a small boy to love this Crosley 'Hook & Ladder' fire engine from 1952 – but someone planning to plant this life-size toy under the Christmas tree should perhaps source some larger perennial timber.
While young boys nowadays seem more inclined to beg Santa for a PlayStation (probably via email, too), the inner children of previous generations will view this little treat with great sentimentality. Past decades saw 'bright red fire engine' requests top many a list to Father Christmas; and now Classic Driver dealer Hyman Ltd. Classic Cars in St. Louis, Montana, can fulfil that dream, as it currently has a full-size example for sale. The Crosley pickup with ladder truck wasn't built to actively fight fires, but rather to serve as an attraction for American amusement parks – it could transport up to thirty children, all harnessed into the small seats concealed behind the trailer-mounted ladders. This example has undergone a full renovation, which included the addition of hoses, axes, bells and hose reels. Price: $69,500.
For a direct link to the advert, click here. You can find the rest of Hyman Ltd. Classic Cars' inventory by visiting the Classic Driver Marketplace.
Text: Classic Driver
Photos: Hyman Ltd. Classic Cars