Easy travelling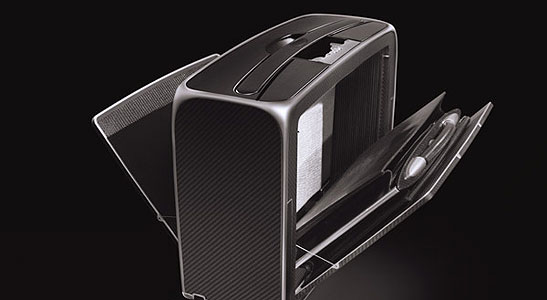 You know what it's like when travelling. Delays, too many other people, the scramble for the overhead locker or luggage carousel. Help is at hand. You need HENK (it has no indefinite article), probably the world's most desirable (and expensive) piece of hand luggage.
HENK was devised to meets the needs of frustrated travellers everywhere. Originally created as a one-off bespoke model for a frequent flyer with millions of miles under his belt, the design was developed and productionised by Hartmut Esslinger, founder and Co-CEO of frog design inc., Sunnyvale, California. HENK must be the first object of its size (55x40x20cm) that doesn't look like a large box. It has no edges, and seems to have been designed to be more of an aesthetic experience than simply as a thing to pack things into.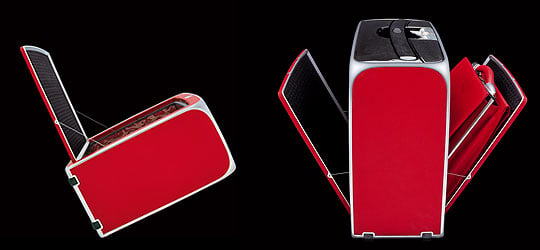 Its high-performance, lightweight carbon-fibre composite shell is baked in the same way as the cockpit of a high-performance Formula 1 racing car. That's why HENK is super light and super strong. HENK uses for its functional decorativeness the same quality aluminium that is used in the construction of high-performance aircraft. The wheel brackets in the suspension system are made of titanium. HENK complies with all the IATA standards defining the maximum dimensions for on-board luggage.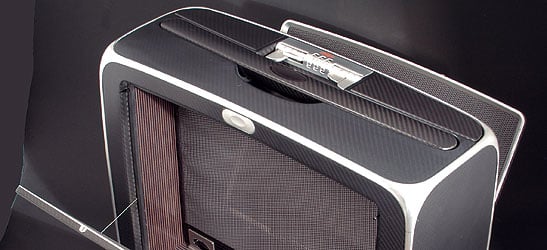 Pull a handle and the two large-diameter main wheels appear out of the carbon-fibre shell like the miniature landing gear of an airplane. Wheels with a diameter of 16cm, brackets of titanium and polyurethane tyres are the secrets of HENK's noiselessness. Concealed in every HENK there is an integrated, detachable attaché case, for personal or business papers and laptop. When necessary the attaché case can be taken out, and inside HENK is a removable partition which divides HENK into two compartments: "Office" and "Private".

To tell it apart from all the other HENKs, it can be clothed in leather, colour-coated, in matt or in gloss, or even remain completely untreated in order to show the unique technical structure of the carbon-fibre surface. The customer decides, and inside HENK there's an interior which uses the finest Italian wood veneer in combination with fine horsehair or woven high-tech-materials. The construction is also strong enough for it to be used as an impromptu seat at busy departure lounges.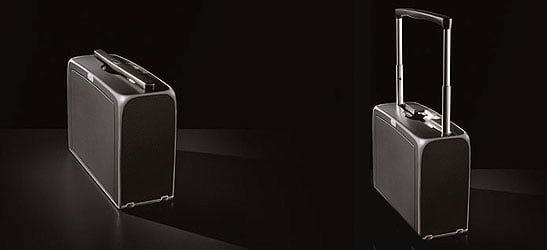 In carbon-fibre finish HENK costs in the region of 15,000 Euro, a leather skin will add another 1,000 Euro. Production is limited to 3.000 pieces a year.
For more information please visit www.henk.com.
Text: Classic Driver
Photos: Henk
---
ClassicInside - The Classic Driver Newsletter
Free Subscription!