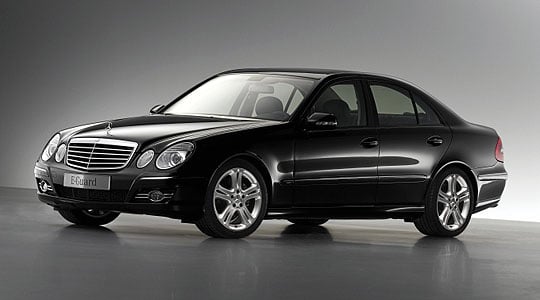 The Mercedes-Benz E-Guard E 320 CDI is the world's first diesel model to feature high protection ex factory. It, and other new-model E-Class cars, can be specified with the ballistic protection package.
Thanks to the protective features integrated on the high-security production line, the new E-Class models provide protection against day-to-day criminality while ensuring a quality of security which is not achievable with retrofitted armouring. Experienced specialists build each vehicle from the ground up: specifically this means that the doors, rear wall, sides, roof and firewall of the passenger cell are fitted with effective protective components of steel and aramid – including areas which are afterwards no longer accessible. In addition, the basic structure of the vehicle body is reinforced to account for the greater weight. This ensures that in all respects, the E-Guard models exhibit the same, typical Mercedes quality as all the standard production models.
This means that in normal road traffic the new-generation E-Guard models are incognito, for there is no external indication that their protective cell is able to stop bullets right up to the mighty .44 Magnum, and has therefore been officially certificated to meet the stringent requirements of protection category B4.

The new E-Guard models, which are only supplied in the Avantgarde version, are available in three engine variants - E320 CDi, E350 and E500. All the new-generation E-Guard models are equipped with MOExtended run-flat tyres by Michelin in conjunction with a pressure loss warning system. Their maximum speed is limited to 240 km/h / 149 mph.
Text: Classic Driver
Potos: DaimlerChrysler

---
ClassicInside - The Classic Driver Newsletter
Free Subscription!