Driven: Volkswagen Scirocco R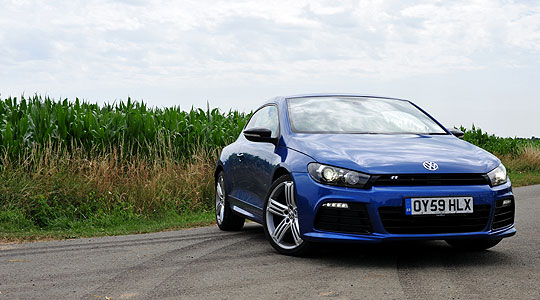 This wasn't at all what I was expecting. Tune VW's four-cylinder turbo engine to 265PS, feed the result through the front wheels and you'll have a lumpy, track-day-only homologation special, surely? Absolutely not, as a trip to the Le Mans Classic was to prove.
It didn't help my perceptions that Volkswagen chose to debut the hottest Scirocco yet at last year's Nürburgring 24 Hours, where two closely related GT24 Sciroccos scored class wins, one of them finishing 11th overall out of 200 starters. Impressive stuff from the VAG empire, which generally leaves racing to Audi and Seat. But, as we know, a hefty budget and top-class preparation can make many a 'standard' car into a race-winner.
When the Rising Blue four-seat coupé arrived a few days prior to the planned French foray, it was giving little away of its 155mph potential. Beastie Boys apart, most things carrying the world-famous circular chrome badge exude taste and quality, the 'R' version being no exception.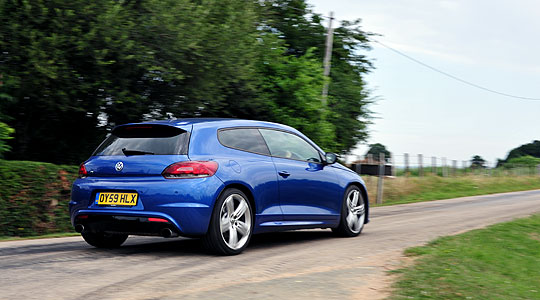 There are many visual changes from standard, though: new front and rear bumpers; a new front grille; side skirts; wing mirrors; 5-spoke 'Talladega' wheels; rear diffuser; rear wing and exhaust. That sounds a lot. However, in practice, the additions and changes are effortlessly integrated and enhance an already attractive design. Le Mans might be its destination, but it doesn't confuse the High St with Les Hunaudières, if you know what I mean.
Having eased myself into Scirocco R motoring gently, with a visit to McLaren and Aston Martin earlier that week, come Friday it was time to set the alarm clock for another early start.
The Eurotunnel beckoned, with a crossing booked for 07:00. Round trips to Gaydon and Woking had given me an introduction to motoring Scirocco R-style (fast, with a firm ride, impeccable build quality and superb sports seats). Six or so hours in the saddle on peerless French autoroutes, with a few twisty D-roads too, would reveal the car's true mettle.
For starters, it's quick. And, as I revealed in the opening paragraph, the delivery from the blown, EA113-series engine is creamily smooth, with peak torque of 350Nm (258lb ft) available from 2500 - 5000rpm. At 6000pm you'll get the full 265PS – but, such is its flexibility, that from 2500rpm onwards the car can be coaxed or caned (depending on your mood) all the way to half-decent, three-figure speeds.
Motorway cruising at licence-safe averages in sixth (in our DSG-gearbox-equipped car) reminds me of much more expensive, bigger-engined multi-cylinder cars; you can set a handy pace, bowling along on a wave of torque, knowing that gaps in forward or rearward traffic can be increased/decreased at will. That's my sort of car.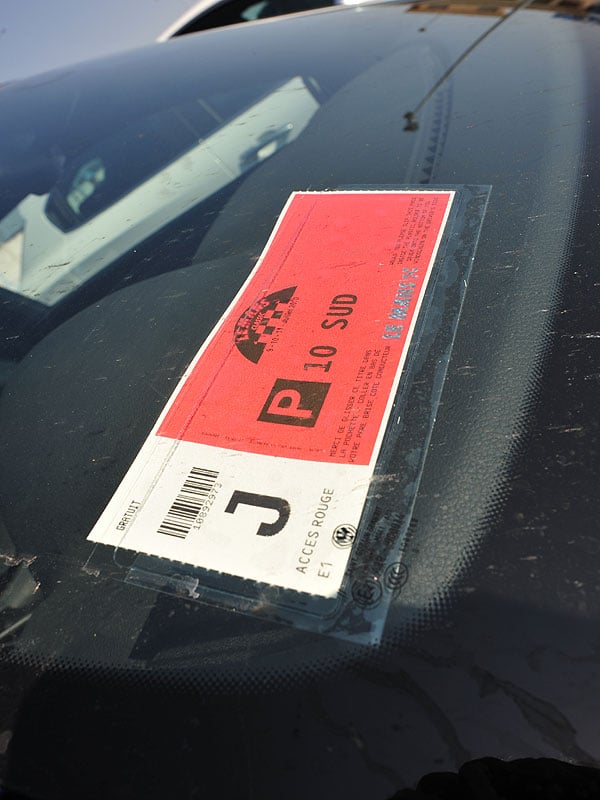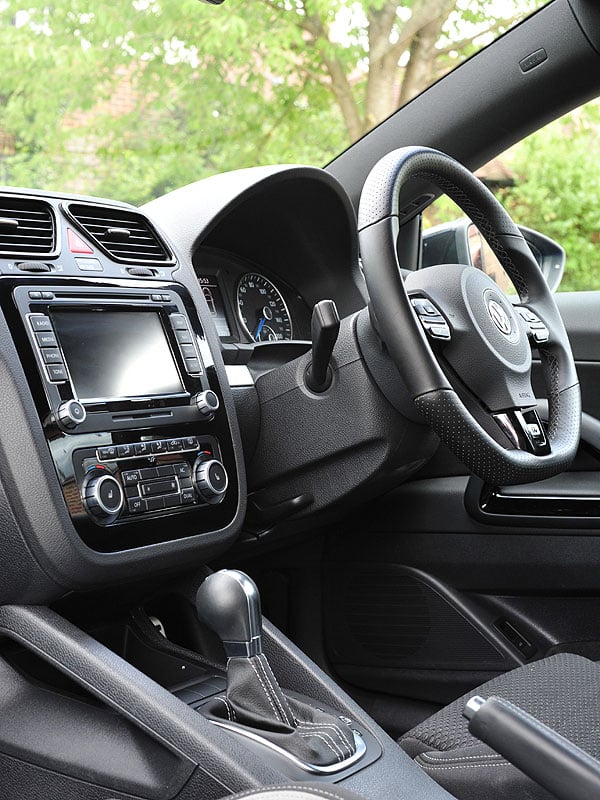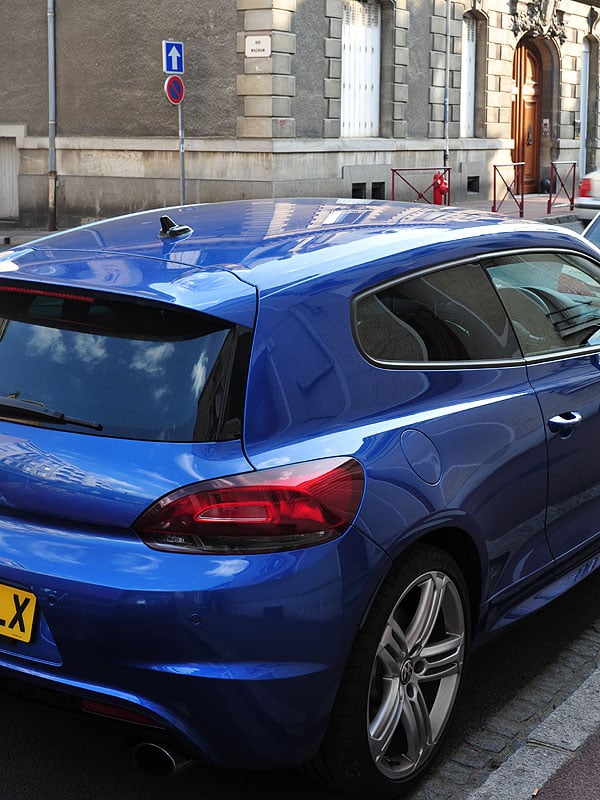 And let me say at this point that on reasonable Tarmac it rolls along nicely with little road noise. I would venture – and another owner has concurred – that the R rides more smoothly than the standard 2.0TSI we tested last year. And this is on the biggest-possible, 19in wheels and 235/35 R19 tyres. Weird.
The standard-for-bigger-engined-Sciroccos ACC (Adaptive Chassis Control) has been tuned again for the R, so maybe it's that. More responsive steering apart, I found it difficult to tell an awful lot from the different (Normal, Comfort, Sport) settings and found Normal did the job perfectly well.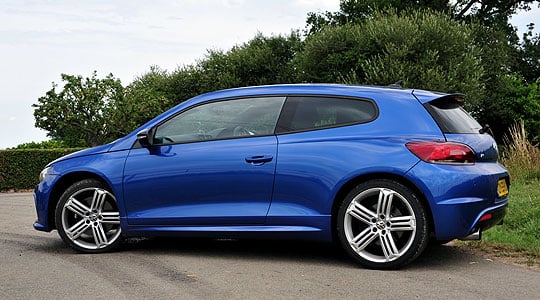 Venture off the autoroute and the car's a strong performer. You will be bumped around a bit, but the R's standard-fit electronic cross-axle traction control (XDS) and EDL (electronic limited-slip differential) knocks out any impression of understeer from the powerful fwd coupé. I had the traction control light on a few times, mainly from bumpy roads causing wheels to leave the road – never from a surfeit of power.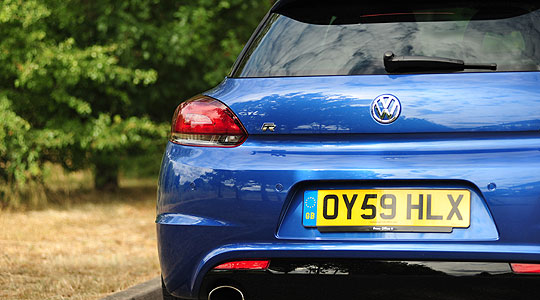 If there is ever such a thing as an open, really smooth twisting road, the Scirocco R would be a joy, and well able to keep up with much more powerful opposition. Please don't take this as a criticism; it's just that haring along rural B-roads at breakneck speed will soon have you and your passenger thrown around the cabin. Or – perhaps deservedly – behind bars.
No, with their discreet good looks, surprisingly practical cabin for four adults and generous boot, all Sciroccos have a lot going for them. Add the irresistible charms of the mighty R-spec engine and you have a genuine mini, 'mini-supercar'.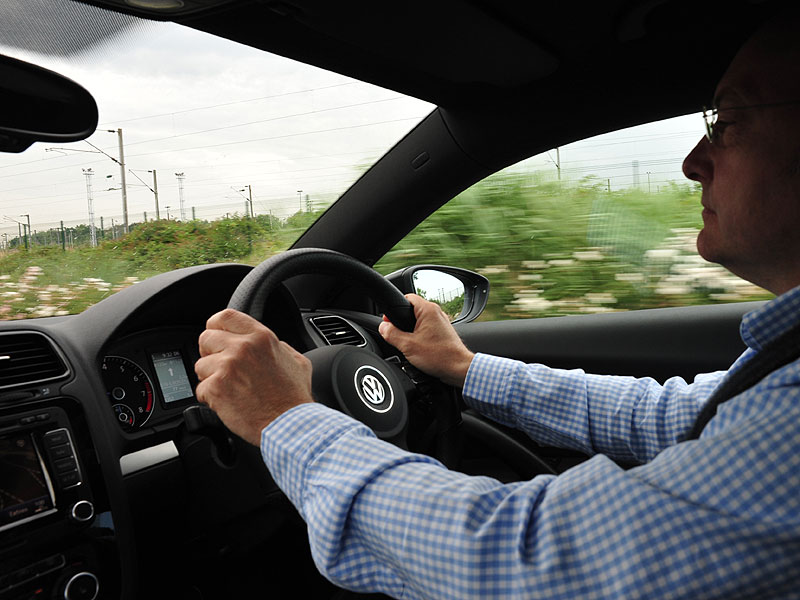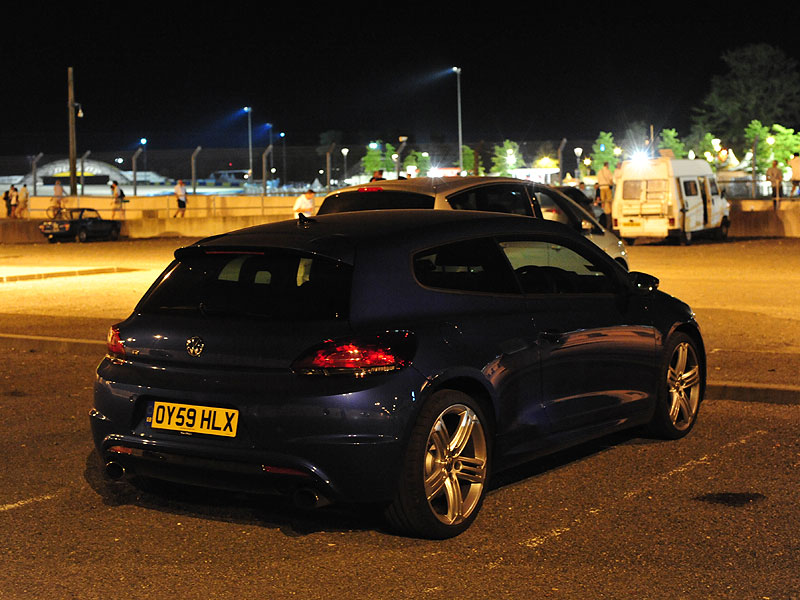 I liked it a lot and can now see that the light at the end of the tunnel, far from signalling an oncoming train powered by weedy, small-capacity turbocharged engines, is a beacon of hope for the future. State-of-the-art, well-engineered, tuned 'fours' can really perform – and none more so than that in the Scirocco R.
The car tested was a Volkswagen Scirocco R 2.0-litre TSI DSG in Rising Blue metallic with 'Kyalami' cloth upholstery in Titan Black and 'San Remo' Alcantara side bolsters in Crystal Grey. The UK basic 'on the road' price is £29,805. Optional extras fitted to this car included: RNS 510 DVD touch-screen navigation/radio/MP3 system with 6.5in colour screen and 30GB hard drive (£1295), alternative 'Talledega' 19in alloy wheels (£540), rear parking sensors (£355) and metallic paint (£430).

Over nearly 1000 miles, the car averaged 26.7mpg (10.7l/100km).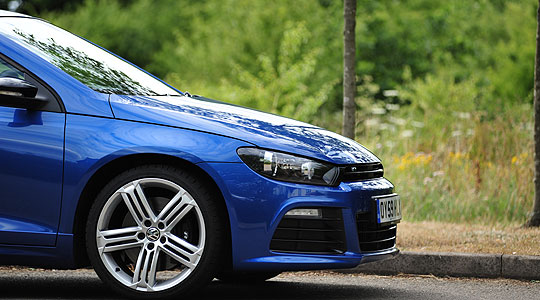 Text: Steve Wakefield
Photos: Classic Driver
---
ClassicInside - The Classic Driver Newsletter
Free Subscription!