Driven: 1938 Delahaye 135 MS Competition Cabriolet by Figoni & Falaschi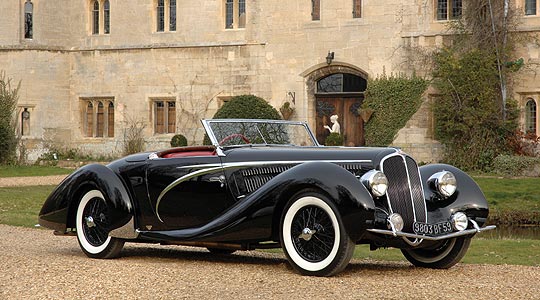 The expression 'a car that has it all' is the auction cataloguer's equivalent to a modern motoring PR's '...looks as though it's moving, even when it's standing still'. Natural cynicism aside, in the pantheon of pre-War cars, a Figoni & Falaschi Delahaye is as desirable as they come.
Add in a splash of period competition, a 'Pebble Beach-standard' restoration, flowing lines on the tasteful side of 'flamboyant' and a bespoke red leather interior by Hermès of Paris, and yes, you've guessed it: this 1938 cabriolet is as 'comprehensively equipped' as any.
With the black roadster in the UK for pre-Monaco sale photography, I had the opportunity of taking a closer look at the Delahaye (one of four of the French marque's cars in the auction), and experiencing a big-engined, French pre-War roadster de luxe from behind the wheel.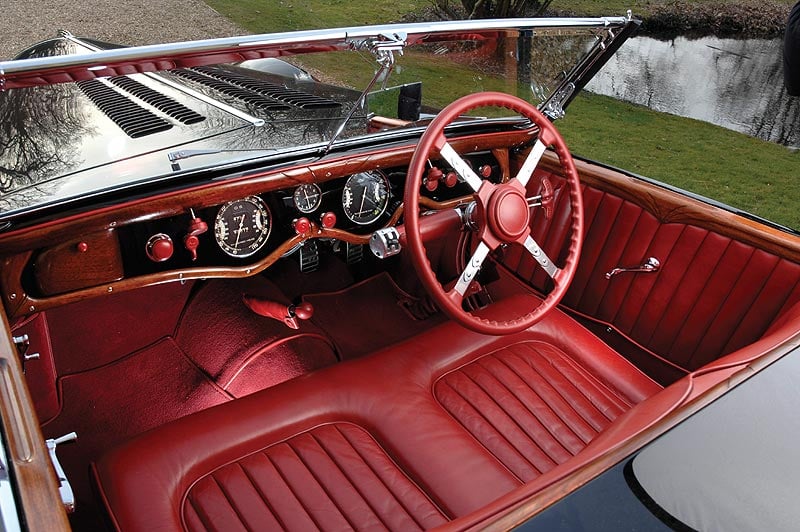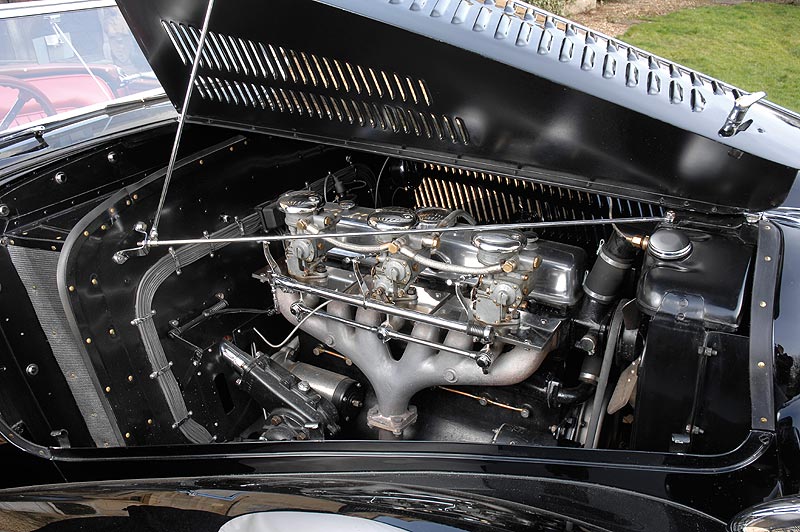 I'll hold my hand up here: I've never driven a Cotal pre-selector gearbox car, so this was a first. Like most cars from the 'earlies' right up to the mid-sixties, the massive steering wheel dominates the driver's side of the cabin and is the first obstacle to be negotiated. Once your left leg is comfortably under the wheel and slightly splayed out, the right can be hoisted onboard and the small door, with its beautifully chromed hinges, can be clicked shut.
It's definitely a car that 'clicks', rather than 'slams' or 'thunks'. Taking stock of the situation, as the big engine imperceptibly idles away, I look down. Okay, there's a clutch, brake and accelerator. All pretty familiar stuff. In place of a conventional floor-mounted gearlever, there's a similar-looking leather-covered metal wand that governs the direction of travel: 'up' is forward and 'down' is reverse. Right... I'm with it so far. To the left of the steering column sits an exquisitely detailed miniature gate complete with a Hermès-trimmed 'football-style' ball. This controls the Cotal pre-selector gearbox.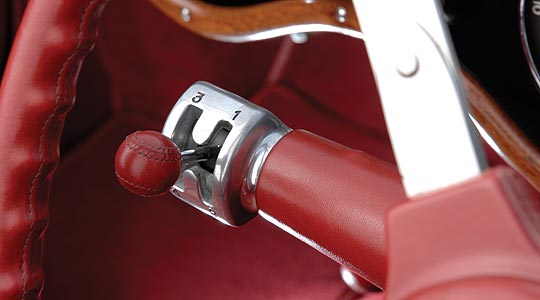 So, to set off, the procedure is as follows: depress clutch, select 'forward', select first on the steering-column 'gate', release handbrake to driver's right, release clutch – with a whiff of throttle, it's got tremendous torque – and off you go. So far so good. By the way, you have four reverse (as well as forward) gears available to you, but third is usually selected when backing-up.
The next phase is changing to a higher gear, and the great thing from now onwards is that you don't need the clutch. Once underway in first, simply move the miniature lever to 'second' and by a process of electro-mechanical trickery (okay, let's call it witchcraft) the next gear is selected pretty well exactly when you need it. And so on, with the opposite procedure adopted when slowing down - a mere hesitation of throttle and slowing of pace results in a lower gear selected just when required.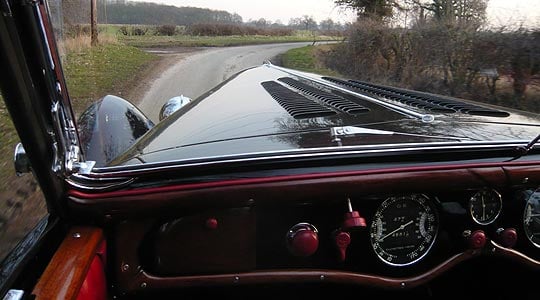 We have become accustomed to semi-automatic 'boxes from Aston Martin, Ferrari and the others for many years now. I would be interested in the feedback from engineers (not to mention marketing departments...) involved with these systems, if ever they drove a then-55-year-old, Cotal-equipped car. I was surprised and impressed in equal measures.
The 3557cc, six-cylinder engine is to 'MS' specification, producing around 160bhp. That's more than enough, at 2000rpm – 3900rpm, to pull the gracious cabriolet along at comfortable, 21st Century cruising speeds. In its day, a top speed of 135km/h was attainable. The ride is comfortable and the brakes do the job; just bear in mind they are cable-operated, and definitely not on a par with a Ferrari 355's.
A rakishly swept screen as fitted to this cabriolet looks great in profile, but does mean any tallish driver will have his eyes over, rather than under, screen-level. That's a price worth paying for traffic-stopping looks that would grace any concours lawn.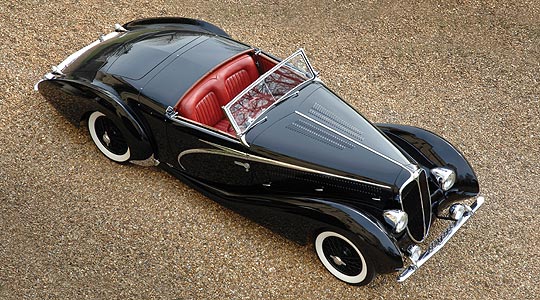 Its full history can be read elsewhere. However, one of the Delahaye's main features is the gorgeous red leatherwork by Hermès. Well done to the car's first owner, Mrs Chandler, for having the taste (and wherewithal) to specify such a luxurious treatment, pairing it with matching luggage. The original interior had been almost completely destroyed during a period when the car was in storage - although the original Hermès-trimmed racing bucket seats, and spare post-War 135 MS engine, are included in the sale (for collection from the USA at the buyer's expense).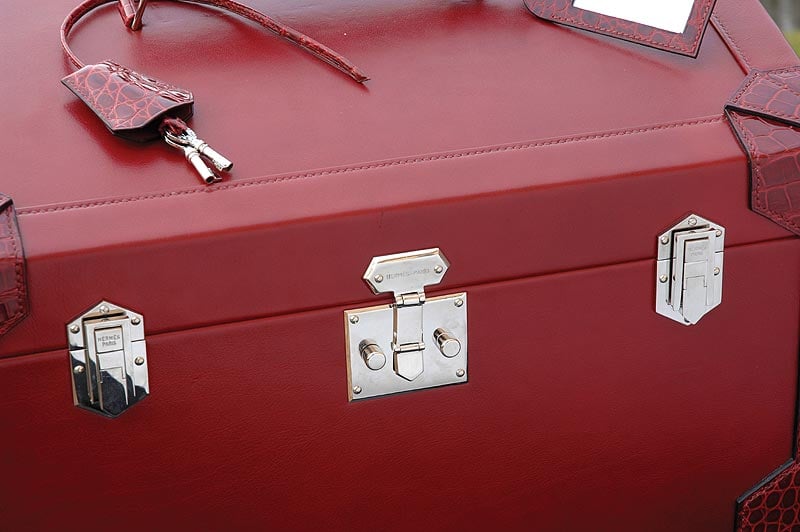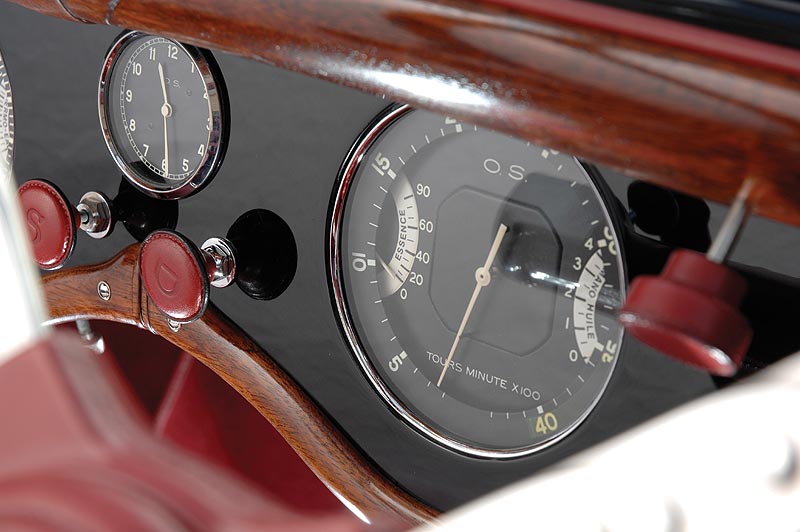 The great Parisian saddler being what it is, when the car was last restored, Hermès was able to consult its records and supply a completely new interior, complete with matching leather/crocodile skin luggage as the 1938 original. This was the very first car interior undertaken by Hermès since pre-WW2 days, and Hermès scoured its own archives to find new, old-stock, period-correct latches and hinges.
The high-quality photographs you see here only tell half the story. The looks – and driving experience – are even better in the metal and leather. Does it 'have it all'? From a pre-War perspective I think so and, if you do too, you'd better be at RM's first Monaco sale on 1 May.
You can see full details of the 1938 Delahaye 135 MS Competition Cabriolet by Figoni & Falaschi in the Classic Driver car database. CLICK HERE to see all the cars in the RM Auctions - 'Sporting Classics of Monaco' sale, 1 May 2010.
Text: Steve Wakefield
Photos: Tom Wood/RM Auctions, Classic Driver


---
ClassicInside - The Classic Driver Newsletter
Free Subscription!