Donington 'Sees Red'
Andrea Bertolini 'lighting them up' on the startline
The Vintage Sports Car Club's flagship meeting for the season took place at Donington Park last weekend, under the title SEERED
It was a celebration of Italy's contribution to motor sport over the years, and the VSCC had worked very hard to give Donington an Italian flavour for the weekend. They had even imported some of Monza's weather, but despite some clouds and the odd shower it was a great success
Part of the infield area was given over to an Italian Village, with displays by the Alfa Romeo and Ferrari Owners clubs. On Sunday the Ferrari owners amassed over 100 of their cars for the public to drool over. In Donington's hospitality building there was a huge TV screen showing both the F1 qualifying and race live from Monza, surrounded by a display of Ferraris old and new.
On the track there were four rounds of the Shell Ferrari Maserati Historic Challenge, and seven other races in various VSCC series all sporting a selection of Ferraris, Maseratis and Alfas.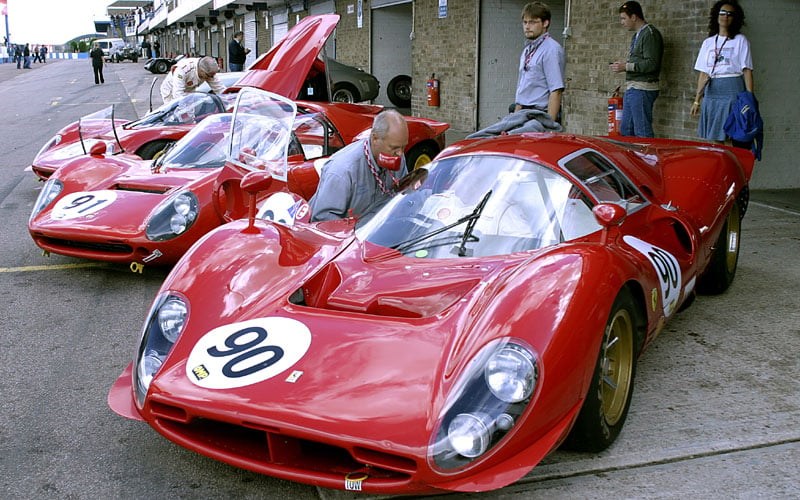 In Saturday's race for drum-braked cars dating from the '30s to the '50s, victory went to the 1937 Maserati 6CM of Stefan Schollwöck, ahead of the 1952 Ferrari 625 F1 of Alexander Boswell and the 1958 Ferrari Testa Rossa of Carlos Monteverde. Also on Saturday, in the disc brake category for sports prototype and GT cars, the 1980 Ferrari 512 BB LM of Paul Knapfield crossed the line ahead of Massimo Sordi in a 1981 512 BB LM, and the 1964 Dino 206 SP of Peter Hardman.
The following day, first across the line in the race for older cars was the 1937 Maserati 6CM of Willie Green, beating Schollwöck and Boswell. In the Sports Prototype and GT Class for disc brake cars, victory went to the 1966 Ferrari 412P of Peter Hardman, who won from Paul Knapfield and Massimo Sordi.
One race that did not submit to the Latin invasion marked the 70th anniversary of the ERA (English Racing Automobiles). This proved a great event with 15 ERAs on the grid, Ludovic Lindsay winning after a most exciting battle with Mark Gillies.
Probably for most of the spectators the highlight of the weekend came with F1 Ferrari demos by F1 Corse Clienti and Scuderia Ferrari - Andrea Bertolini, the company's test driver, was on hand to lap Donington in the 2002 model. There were five other versions available for the fans ranging in year from 1991 to 2001. Andrea finished off the last display with a succession of doughnuts around the circuit.
The VSCC is hoping to stage a similar event next year, so if Italian cars are your passion - look out for the 2005 dates on
www.vscc.co.uk
.
Text/Photos - Roger Dixon

All Strictly Copyright