The Donington Classic - this weekend!
UK-based readers looking for some Bank Holiday historic motor racing action should consider a visit to the two-day event at the recently refurbished Midlands circuit. The latest entry list features drivers of the calibre of Jackie Oliver, Richard Attwood and Tony Dron driving cars such as Lola T70s, AC Cobras, Aston Martins and Ford GT40s.

Sunday kicks off with a 1 ¼ Hour Endurance Race for Cloth Cap pre-'66 cars. Entries for this include the father and son Bryant team in the family's AC Cobra, as well as David Clark/Wolfgang Friedrichs in the latter's Aston Martin P214, and Andy Jenkinson/Henry Pearman in the meticulously-recreated lightweight E-Type Jaguar.

And there's non other than formula one designer Adrian Newey driving his Ford GT40, battling with similarly-mounted Ray Bellm.

Next on the bill is the first of two Pre-War Sports Car races organised by Duncan Wiltshire's Motor Racing Legends organisation. Duncan himself is sharing his 1925 Bentley 3 Litre with Tony Dron, and other cars in the race include examples of Invicta, Bentley, Stutz, Frazer Nash, Talbot, Aston Martin and Lagonda.

The Lurani Formula Junior cars are followed by the Sebring Salute, for pre-'74 Sports GT and Touring Cars. The Aston Martin Project Car is out again, as are the Bryants (this time in a Morgan +8), as well as some 'big banger' prototypes in the form of three Lola T70s and another GT40.

The COYS Trophy for 1950s Sportscars finishes the day off, and expect to see a likely winner from the Bryants (again!) in their Lotus 15 or Adrian Van der Kroft in his Cooper Bobtail.

COYS Auction at The Donington Grand Prix Collection

COYS will be holding an auction at the superb Donington Grand Prix Collection alongside the circuit, on Sunday 30th April with Automobilia & Collectors' Items commencing at 13.00, the Motor Cars at 14.30.

You can read a full preview in our Auction section, the headlining lot being a 1982 Ex-works 'Rothmans' Porsche 956, but there are other entries as varied as a 1962 Jaguar E-Type S1 3.8 'Low Drag Coupe Style' at £65,000-75,000 and a 1993 Porsche 964 Speedster at £24,000-28,000 a car on which COYS report a lot of interest. Visit the COYS website, www.coys.co.uk, for further information.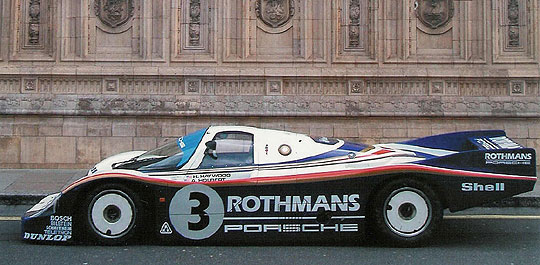 Monday's racing starts at 12.25 (qualifying in the morning) with the Top Hat Sir John Whitmore Trophy for pre-'66 Touring Cars. These races are always very popular with the spectators, and you can expect to see some seriously close dicing between several Ford Mustangs, a Plymouth Barracuda and a Ford Falcon Sprint, all being hounded by a pack of smaller-capacity Lotus Cortinas, Alfa GTAs and Minis. Great stuff, and a highly entertaining 1 ¼ hours.




The next race, The Best of British, is followed by another Pre-War Sports Car feature, and then it's another favourite, the Oldies but Goldies.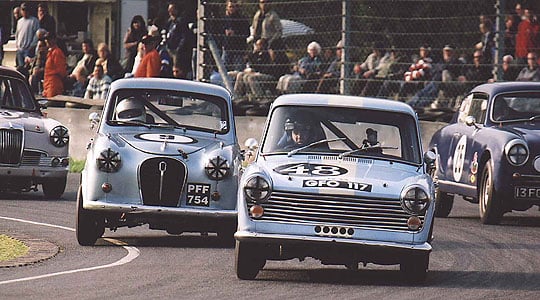 Driving for the Jack Sears Trophy, the over-subscribed grid includes many of the cars familiar to regulars at the Goodwood Revival, and at Donington there seems to be more small-capacity cars than ever. Rae Davis will be driving an Austin A35, while at the other end of the scale, one of motor racing's tallest drivers, Tony Dron, will be behind the wheel of a Ford Zodiac.

When the dust has settled on that one, there's an all-AC race that will feature not one but two ex-GP drivers (Richard Attwood and Jackie Oliver in Cobras) and finishing off the meeting the Groovy Baby! 30 minute race for 1970s saloons, dedicated to the memory of the late, truly great Gerry Marshall.

Provisional Event Timetable

SUNDAY 30th APRIL

Cloth Cap - Pre-'66 Sportscars - 1 1/4 Hour Enduro
Motor Racing Legends - Pre War Sportscars Part 1- 45 mins
Lurani Formula Junior - 30 mins
Sebring Salute Sportsracing & GTs - 1 1/4 Hour Enduro
COYS '50s Sportcars - 45 mins

MONDAY 1st MAY

Top Hat - Pre-'66 Touring Cars - 1 1/4 Hour Enduro
Best of British - Pre-'71 Classic Sportscars - 45 mins
Motor Racing Legends - Pre War Sportscars Part 2 - 45 mins
Oldies but Goldies - Pre-'60 Saloons & GTs - 45 mins
AC Race - Aces, Cobras and Acecas - 45 mins
Groovy Baby! - '70s Saloons - 30 mins

Followers of (and potential competitors in) the various Top Hat series should visit www.tophatracing.co.uk or contact Julius Thurgood at the following address -

Top Hat,
Grove House,
80 Clarendon Street,
Leamington Spa,
Warwickshire CV32 4PE.
Tel/Fax. +44(0)1926 885835
Email. [email protected]


Text - Classic Driver
Photos - Top Hat
---
ClassicInside - The Classic Driver Newsletter
Free Subscription!