Earlier this year, Maserati in the USA teamed up with Architectural Digest magazine to run a competition to design the perfect garage for a Maserati. The competition was split into two sections – Existing and Concept. Overall, some 125 entries were received and the winners have now been picked.
Victory in the Existing category (i.e. a garage that has already been built) went to Holger Schubert's property in Los Angeles. It was designed with two clear objectives in mind: first, to create a pure, minimalist environment that displays the car as a piece of art and, secondly, to create the ultimate experience for the driver when he arrives home. With the atmosphere of an art gallery, Schubert's garage is on the upper floor of a hillside extension to a 1953 ranch-style home, overlooking western Los Angeles. Access is via a bridge, while the 1200-square-foot space not only houses the car, but also contains a large open area for a sofa, slide-away TV and built-in bookshelf in front of a large storage room, along with a small kitchen, bathroom and library.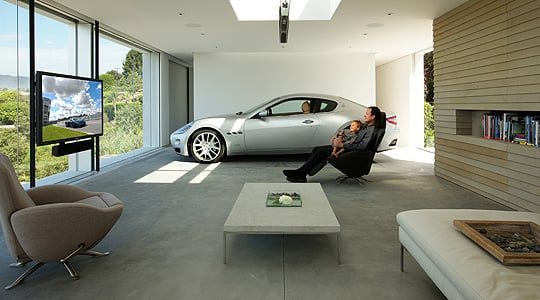 Sustainable building products were used where possible, such as the 47 solar panels on the roof and the natural cotton-fibre wall insulation.
Meanwhile, Chris Altman, of Stubbs Muldrow Herin Architects of South Carolina, won the Concept category of the competition. All the entries can be viewed at www.designdriven.us.
Text: Charis Whitcombe
Photos: Maserati

---
ClassicInside - The Classic Driver Newsletter
Free Subscription!