Coys at The Royal Horticultural Halls 2nd Oct 2003 - Toys & Models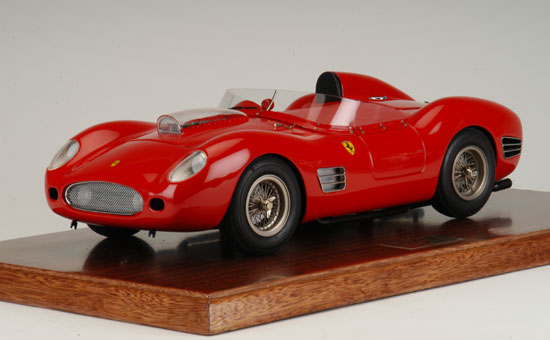 The next Collectors Sale to include Toys & Models will be held on the 2nd October 2003 at the Royal Horticultural Hall, London. Included will be a large selection of die cast, tin plate, engineered, Pylon cars & boats and hand built & scratchbuilt toys and models, covering Formula 1 & Racing, prototypes, Land and Water Speed attempts and luxury cars.
Private collections in the sale include a one owner Ferrari model collection of 1:43rd scale hand built BBR Ferraris, covering racing and performance cars at Le Mans, the Mille Miglia, the Tour de France, Francorchamps, Daytona, Targa Florio and Panamerican races, Also encompassing Ferrari town cars, including a 'Police' 250 GT and Liliana di Rethy's bespoke 330 GTC, the full size version having recently been sold.
There will also be a one off scratch built 1:10th scale 1959 Ferrari Testa Rossa by Maurizio Conti. A Terzo Dalia limited edition 1:3rd scale scratchbuilt Ferrari 250 GT engine, using the same materials as the original engine has. A Ralph First, Ugo Fadie same materials as the original carni, Historic Replicars, Javan Smith and others.
Die cast lots include Charbens, Dinky, Matchbox, Shackleton, Vitesse, Replicars, BBR, Solido, Box, Vangaurd, Sapporo, Best, BP Promotional in conjunction with Corgi and more.
The Toy & Model section will be held within a sale of full size racing, sports, prototype and luxury cars, Automobilia and Formula One & racing sale.
For further information, please contact Oliver Strebel-Ritter.
+44 (0)207 589 2252
[email protected]