A great show on four wheels for over four hundred kilometres: this was the first historic revival of the Coppa Milano-Sanremo, organized by MAC Events and Meet National Point under the auspice of the Automobile Club of Milan, the first organizer of this event from 1906 until 1973. Divided into "regularity trials" and "tourist" categories, 180 vintage cars, many of them pre-war, took part from 10th to 13th April. These included a large number of enthusiasts from Germany, Belgium, Switzerland, Great Britain, Holland, Turkey and Japan - altogether a great celebration for world motoring.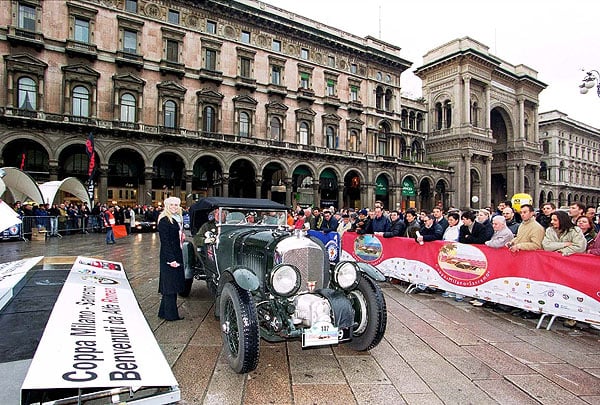 After starting at the Monza Circuit, the competitors left the Cathedral Square in Milan on Friday morning, paraded through the Ducale Square in Vigevano and went through the Lomellina district to Pavia and Cascina Scova. From here they drove on through the Gavi Country, Voltaggio, over the Bocchetta Pass to Genoa, to the Porto Antico and Matteotti Square where they were presented to the public in front of the imposing Ducal Palace.

The next day, 12 April, the cars immediately tackled the Turchino and Faiallo passes, the latter being even harder going because it had started to snow. The crews finally managed to enjoy a bit of spring sunshine from Albissola on until they arrived in Sanremo, after going through Savona, FinalBorgo, Albenga, Laigueglia, and Imperia. The Mantua crew Lui – Sassi in a Triumph TR3 was the first to cross the finishing line, second place went to Barvas - Grossi in an Alfa Romeo Giulietta Sprint Veloce Alleggerita, third to Berzero - Mazza in a Triumph TR2, fourth to Sartori-Danese in a Mercedes-Benz 300 SL and, fifth, to the Japanese crew Hisatomi-Hisatomi in an Alfa Romeo Giulietta Sprint. 107 out of the 132 registered crews finished the race.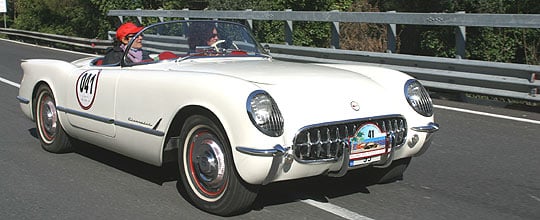 There was considerable spectator enthusiasm, both for the successful competitors as well as for the elegant and historic cars. Amongst the 27 Alfa Romeo cars taking part there was a 1932 A. R. 6C 2500 1750 Cesare Sala, a 1937 A. R. 6C 2300 Pescara Cabrio Glaser, a 1950 A. R. 6C 2500 S Freccia d'Oro, a 1951 A. R. 6C 2500 Villa d'Este and an A. R. 6C 2500 SS Touring Superleggera (Conte Trossi). There were splendid Ferrari's such as a 1949 166 Inter Coupé Touring, a 1954 250 Monza Barchetta Scaglietti and wonderful English cars such as a 1927 Bentley 4.5 Le Mans, a 1930 Bentley Blower Le Mans and a 1936 Jaguar SS100. There were also many Mercedes-Benz including a 1954 300 B Cabriolet D Adenauer and a 1956 300 SL Gullwing. Many Lancia cars also attracted a lot of attention as the Aurelia B20 given to Fausto Coppi by Lancia after becoming world cycling champion in 1953. Cars from many other well-known makers were also there and you can see them on the website www.milano-sanremo.it The caravan of vintage publicity vehicles organized by Pressing, added its colourful contribution full of nostalgic memories to the event.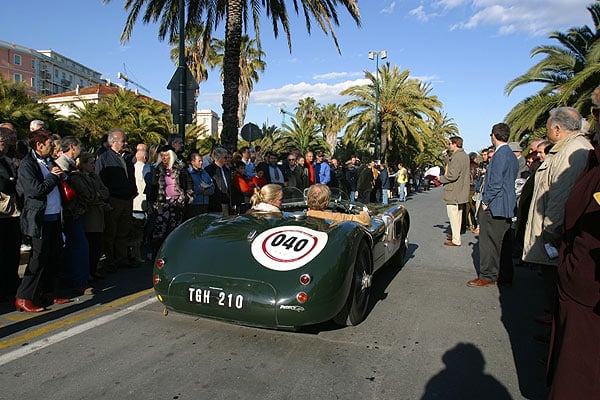 The organisers would like to thank: Autodrome of Monza, ACI Global, Alfa Romeo, Anas, Autostrade (Motorways Company), Carige Bank, Sanremo Casino, Sanremo Town Council, DoxaWatches, Elsag, Enel, Fila, Isnardi, Martini, Region of Liguria, Siemens Mobile and TNT for their valuable contribution towards the realization of this first historic revival of the Coppa Milano-Sanremo.
Results -
1° Lui-Sassi (Triumph TR3 1958) – 44
2°Barvas-Grossi (Alfa Romeo Giulietta Sprint Veloce 1957) – 105
3°Berzero-Mazza (TR2 Sport Pre-serie 1954) – 139
4°Sartori-Danese (Mercedes-Benz 300SL Roadster 1958) – 140
5°Hisatomi-Hisatomi (Alfa Romeo Giulietta Sprint 1° serie 1955) – 149