Timewalkers, 1957: Fangio fights back at the 'Ring
It's August 1957, and at qualifying for the Nürburgring Grand Prix, Juan Manuel Fangio — now 46 years old and fondly referred to as the "Old Man"— has set the quickest time in his factory Maserati 250F, smashing his lap record from a year ago by 16 seconds and taking pole position for the race…
As a four-time World Champion already, Fangio seems to have entered the race in a very calculated state of mind. Off the start line, the Ferraris of Mike Hawthorn and Peter Collins begin to battle it out for lead position, leaving Fangio with the opportunity to study their driving techniques from 3rd. After the race, Fangio recalled: "I was surprised at the way they kept passing each other instead of working together as a team. Instead of thinking how to get out in front together, they were playing around for the lead."
Fight or flight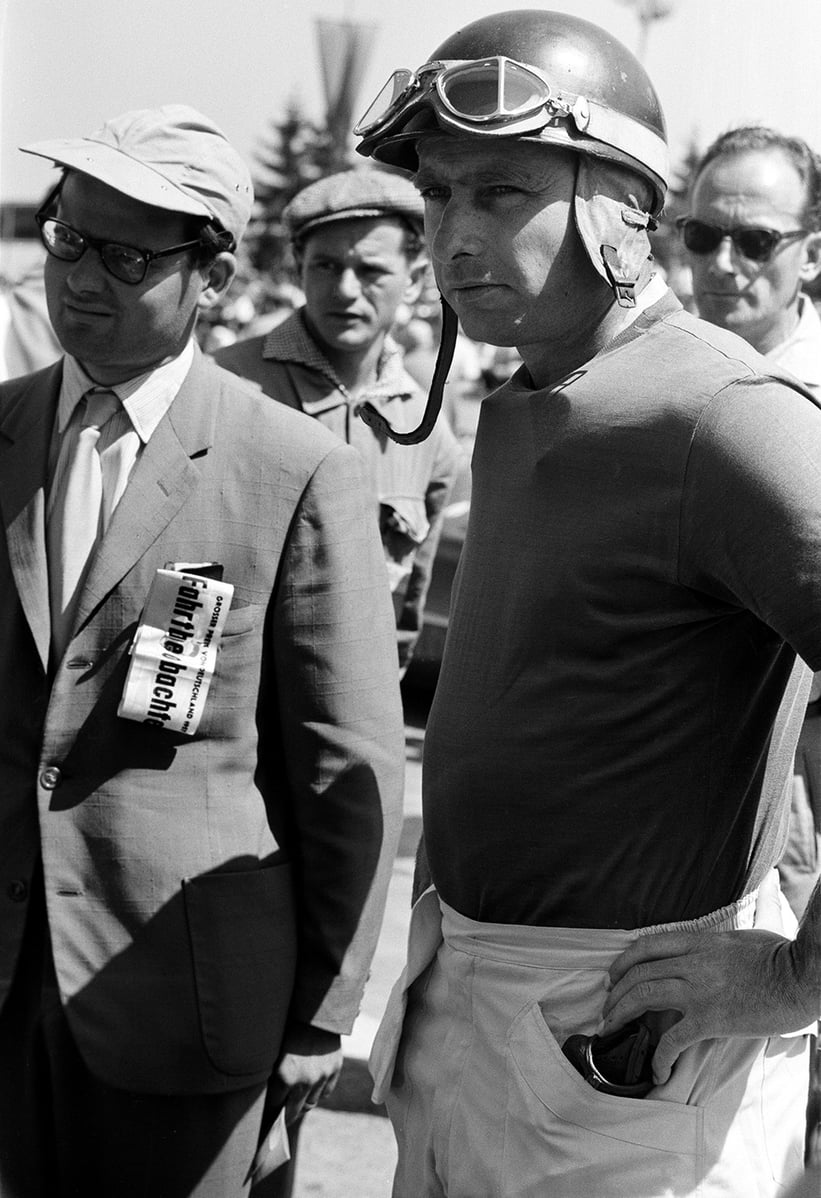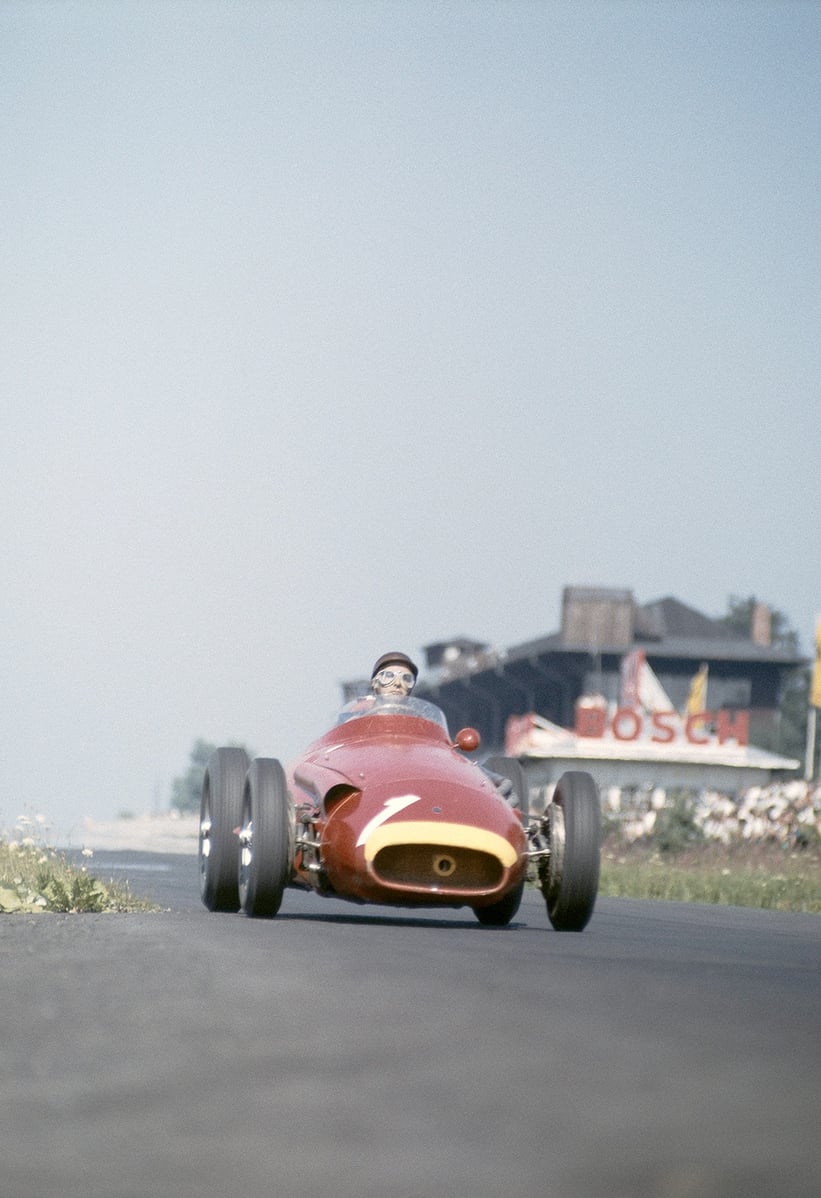 Approaching the third lap, he has seen all he needs to and passes the Ferraris, increasing his lead by seven seconds a lap until lap 12. Unlike the Ferraris, which were heavily fuelled and hadn't made any plans to stop over the 22-lap race, Fangio has gone for the 'sprint strategy', thus requiring a pit stop. And what a disaster. Many watched in Fremdscham, as a mechanic began to remove the rear left wheel and let the wheel nut roll under the car without noticing — taking nearly half a minute to find once realising it was gone.
Finally, Fangio is able to re-join the race, but at this point, he's 48 seconds behind the Ferraris and there are just 10 laps left to go. To the crowds' astonishment, Fangio pushes the limits of his Maserati and goes on to smash lap record after lap record. "I began to use higher gears. It wasn't very comfortable, feeling the lack of grip as the car went round, but after all, I had to win."
One chance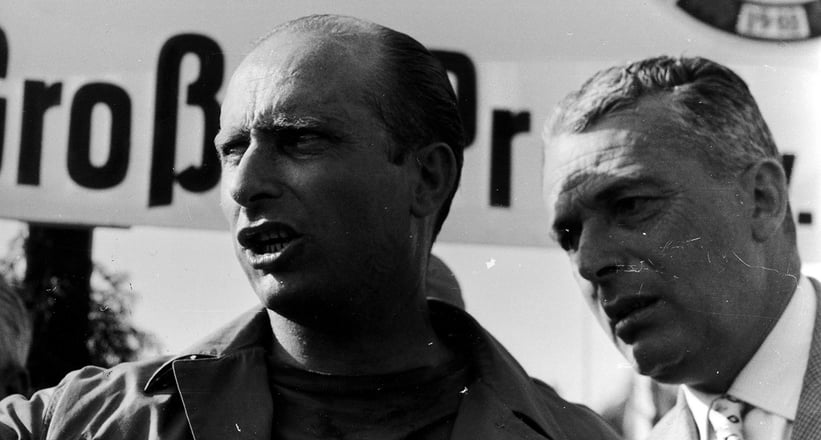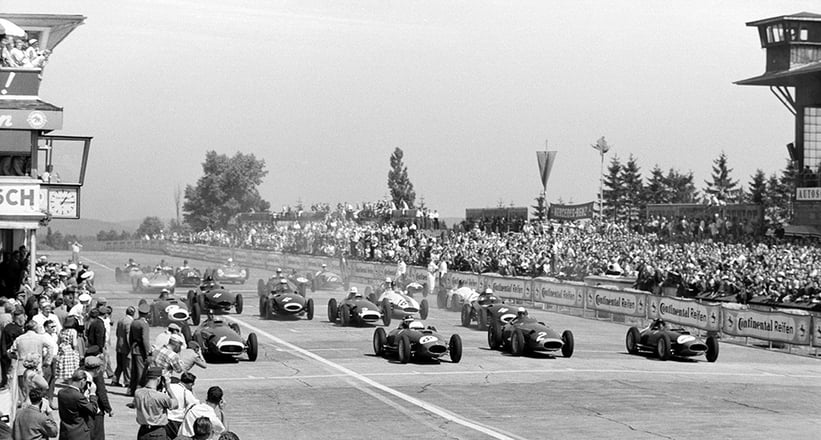 Coming up to the penultimate lap, Fangio passes Collins and comes up close behind Hawthorne. "I started tailing him and was beginning to work out how many chances I had left to overtake him, when the opportunity suddenly presented itself. After that series of curves came a short straight, which ended in a 90-degree turn to the left, followed by an equally sharp turn to the right. On the straight stretch, Hawthorn pulled to the right to get his angle. I saw my chance and cut in on his inside."
The manoeuvre proves advantageous for Fangio, as he takes over 1st and will hold on to the position for the last lap, resulting in one of the most famous comeback stories in motorsport history. "The Nürburgring, you know, was always my favourite circuit, without any doubt. I loved it, all of it, and I think that day I conquered it. On another day, it might have conquered me, who knows? But I believe that day I took myself and the car to the limit — and perhaps a little bit more. I had never driven like that before, and I knew I never would again."
Photos: Maserati / Getty Images
The 'Timewalkers' series on Classic Driver, in which we celebrate motorsport's most daring drivers and their fastest laps, is kindly supported by Montblanc. You can find more information about Montblanc's new TimeWalker range here.