Classic Driver Tour Auto 2002 Quiz Results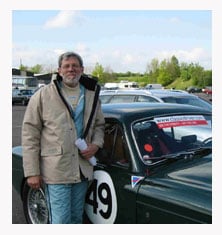 This year's Classic Driver Tour Auto Quiz proved to be in keeping with the real event - difficult and demanding. But there were those who stayed the distance and won the prizes.
Pictured to the left is one of the winners, John Gross, wearing his TDF jacket and standing next to his original Aston Martin DB2 Mk III. John is no stranger to competition, being an active member of the AMOC and frequent competitor on the Tour Auto. John was the leading light behind the recent 'Team Car' race at Brands Hatch, doing stirling work for not only the AMOC, but also for sponsor Alexander Forbes.
Congratulations to John, and our other 4 UK language winners as follows -
Fraser Barton-Hilton, Pinner, UK
Vicente de la Fuente, Santander, Spain
Hendrik Nuyens, Tilburg, Holland
Ian Beeby, Matlock, UK
To put you out of your misery here are the correct answers -
1. Which French daily sports Newspaper jointly sponsored the TDF? L'Equipe
2. In which years did Stirling Moss drive a Mercedes 300SL Gullwing in the TDF? 1956 and 1957
3. What was the nationality of Olivier Gendebien? Belgian
4. The Italian team S.S.R. often entered Ferraris in the TDF. What do the initials S.S.R. stand for? Scuderia Serenissima Reppublica di Venezia
5. Which lady racing driver won the Monza race of the 1964 Tour in a 1964 Ferrari GTO? Annie Soisbault de Montaigu
Thank you to everyone for entering the Quiz, we enjoyed researching the questions, we hope you enjoyed playing. Watch this space for more events.