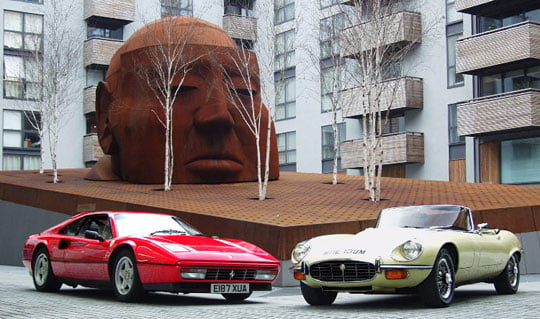 For those looking to maximise the time actually spent driving classic cars (as opposed to sitting-out the long winter lay-off, and periods of regular remedial work) The Classic Car Club offers a way of 'ownership' that means there could be an interesting vehicle waiting for you just about any time you want it. And all for the sort of 'running costs' involved with owning a reasonably-interesting classic.
Of course that moment of opening the garage door to see your very own 'pride and joy' sitting under a dustsheet is absent, but so are the inevitable ups and downs of ownership that see many people actually using their cars very little.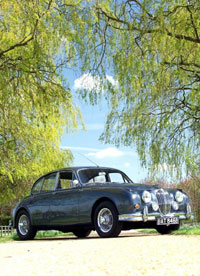 If the Club's modus operandi (on paying a joining-fee, an annual subscription entitles you to so many days motoring, the days/car-category proportion determined by a points system) sounds familiar, it's because the company - now in its 10th year of trading - virtually invented the principle and have it refined to a fine art. Playing your points carefully can mean a year of driving varied classics from a selection that includes an Aston Martin Virage, Bentley Eight, Ferrari 308GTSi (choice of two), Jaguar E-Type series III Roadster (choice of three), Porsche 911 RS Carrera Replica and Rolls Royce Mulliner Park Ward. Choosing an open Ferrari to go to the Goodwood Festival in June is going to cost, but choosing lower-banded (but still interesting) cars like the Lancia Fulvia for these days and sneaking in a mid-week autumnal run in an Aston or Porsche will give you a varied driving experience over 12 months - just add petrol and go, all the tax, insurance and running costs are taken care of by the Club.

Talking to the company's marketing manager Piers Brown the other day, at the their HQ in London, you get the impression that they do try and make it a genuine 'club'. Monthly members' meetings are held in the first floor offices just round the corner from celebrity superchef (and occasional visitor) Jamie Oliver's '15' Restaurant. In fact Oliver's Porsche-engined VW Camper has been on display in a spacious club-house packed with books, posters and automobilia. The Club's email newsletter keeps members very much in the loop to take advantage of last-minute bookings and new additions to a regularly updated fleet. Never one to miss an opportunity, Brown reminds members this week that Valentines Day presents the ideal opportunity for a romantic trip in the Club's latest Rolls-Royce. Clever marketing by a long-established company that knows what its members want, a mixture of a real owners club and traditional car rental.

Being close to the City of London, many of the London branch's members work in the Square Mile and make use of not only the older 'classic' cars but by joining the 'City Car Club' (a club-within-a-club if you like) drivers can choose from models like the Mercedes-Benz E55 AMG. For someone living in London it almost makes sense to forego car-ownership altogether, just using taxis and public transport around town, with weekends away in one of the Club's fleet.

The Classic Car Club has branches throughout the UK and, in addition, it's embarking on a global expansion scheme through franchising, looking for potential franchisees throughout Europe and the USA - contact the Club for more details.

Members' nights are held on the second Tuesday of each month, and for further information about Corporate or Private membership visit www.classiccarclub.co.uk or telephone +44 (0) 207 490 9090, email: [email protected]. Non-members can also sign up for the Club's Newsletter by clicking HERE.

The Classic Car Club Ltd.
101-108 Britannia Walk
London, N1 7LU
Text: Steve Wakefield
Photos: The Classic Car Club
---
ClassicInside - The Classic Driver Newsletter
Free Subscription!