Christie's at Rétromobile 11th Feb 2006 - Preview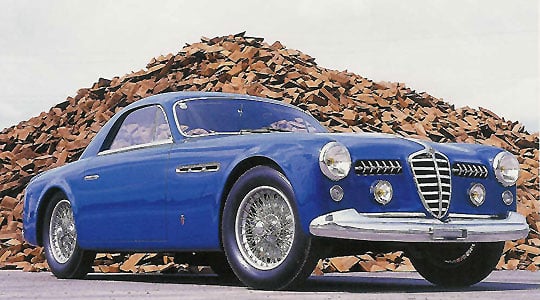 Three significant 1950s Jaguars highlight Christie's Parisian sale, but there are also some important veteran cars, a supercharged pre-war Mercedes, an R-Type Bentley Continental and a rare 1950 Alfa Romeo 6C 2500 SS 'Tubolare' with coachwork by Ghia.

Ghia bodied three cars on standard Alfa Romeo chassis that year, and a fourth on a more advanced tubular structure manufacture by Gilco of Milan. The company's name was derived from its owner, the celebrated Ferrari engineer Gilberto Colombo. Powered by the twin-Weber 'SS' six-cylinder engine it was an elegant, sporting GT car of the early post-war period. Christie's estimate this car at EURO 160.000 - 220.000, and it's a car that can be both entered at prestige concours d'elegance like Villa d'Este (it came second overall in 2001) and touring events alike.

The Jaguars are all from the early 1950s and all three carry logos from the 2006 Le Mans Classic at the foot of their catalogue descriptions - so you know what event they'll be eligible for. The most celebrated is the 1952 Jaguar C-Type, Ex-Ian Stewart/Ecurie Ecosse, estimated at EURO 1.200.000 - 1.500.000. RM sold a C-type in Arizona last week for $1,512,500, so Christie's are pitching theirs in at a little over this, but then it does sport the famous Flag Blue metallic paint. The other two cars are XK120s, the 1951 car ran at Le Mans that year, finishing in eleventh place overall as a works-prepared entry that scored the highest place finish for an XK120. It's estimated at EURO 300.000 - 375.000, a price that reflects not only its illustrious career but the tremendous level of restoration and race-preparation (to the tune of £75,000) lavished on it. The 1949 XK120 is one of only a handful of cars built to the rare, almost hand-made, specification of ash frame, all-aluminium bodywork, steel disc wheels and spats over the rear wheelarches. Like the ex-Le Mans car it presents itself superbly in the catalogue. EURO 175.000 - 220.000 is the estimate, a lovely car.


| | |
| --- | --- |
| 1949 Jaguar XK 120 Alloy-bodied Roadster | 1951 Jaguar XK120 ex-Le Mans 1951 - Photo: Octane Magazine/Michael Baillie |
Moving on to racing in the 1970s, who can forget the site of the BMW Procar circus supporting the GPs of the time? Real fender-bending stuff that included many F1 drivers actually racing the same day, Niki Lauda winning the title in 1979 and Nelson Picquet in 1980. This 'Denim'
1979 BMW M1 Procar
is ex-de Angelis/Giacomelli and after the Procar series was raced extensively in the US (by - amongst others - Juan-Pablo Montoya's father). It's estimated at EURO 285.000 - 345.000, and is ready to go in today's historic events.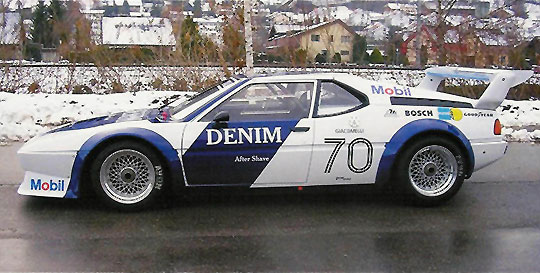 If the name
Automobiles Charron, Girardot et Voigt
doesn't exactly trip off the tongue than I am sure the excellent products of Louis Roederer, Reims will. It was one of the famous champagne family's members that purchased the
1904 Model H1 6¼-litre Side-Entrance Phaeton
when new, and only someone with similarly expensive tastes will be able to afford the EURO 380.000 - 580.000 asking price in 2006. Moving on a little, there are entries from the 1920s that include a
1926 Mercedes-Benz 630K Sports Torpedo
, EURO 300.000 - 400.000, a
1925 Minerva 30CV Roadster
, EURO 300.000 - 350.000, and a
1923 Rolls-Royce 20 H.P. Landaulette
, EURO 80.000 - 100.000.
| | |
| --- | --- |
| 1955 Aston Martin DB2 2/4 Mk I Cabriolet - Formerly the property of Sir Peter Ustinov | 1960 Bentley S2 Continental Drophead Coupe |
Of the other motor cars, civilised British motoring available to the moneyed classes in the late 1950s and early '60s doesn't come much better than models from
Aston Martin
and
Bentley
. Christie's have a
1955 DB2 2/4 Mk I Cabriolet
, formerly the property of Sir Peter Ustinov, for EURO 75.000 - 125.000, as well as two highly desirable
Bentleys
, a
1955 R Type Continental
for EURO 160.000 - 220.000, and a
1960 S2 Continental Drophead Coupe
for EURO 95.000 - 125.000.
And finally what else could we end on for a Parisian sale preview than the
1973 Citroen DS 23 IE Cabriolet
at EURO 100.000 - 140.000? Quintessentially Gallic, it's one of the last
'Décapotables'
built and one of the rarest with its DS 23IE underpinnings and desirable 141 bhp fuel-injected motor. Originally ordered from coachbuilders Henri Chapron by an eminent Parisian over thirty years ago, the car looks as modern now as it did then.
Christie's will auctioning some 50 lots of automobilia prior to the motor cars. The sale commences at 19.30.
For the full lotlist, please
CLICK HERE
. All cars are, as usual, included in the Classic Driver car database and can be seen by clicking
HERE
.
Auction:
Exceptional Motor Cars at Rétromobile
Porte de Versailles, Parc des Expositions, Hall 7 - 3, 75015 Paris, France
Saturday, February 11th at 19.30
Viewing:
Friday, February 10th from 12.00 - 22.00
Saturday, February 11th from 10.00 - 19.00
Christie's International Motor Cars Ltd
The Jack Barclay Showroom
2-4 Ponton Rd
Nine Elms
London SW8 5BA

Rupert Banner
Tel: + 44(0)20 7389 2851
From February 8th:
+33 (0)1 57 25 49 05
Fax: + 44(0)20 7627 8917
From February 8th:
+33 (0)1 57 25 48 02


[email protected]



Philip Kantor
Tel: + 32(0)476 87 94 71
From February 8th:
+33 (0)1 57 25 49 05
Fax: + 32(0)2 513 32 79
From February 8th:
+33 (0)1 57 25 48 02


[email protected]
Text: Steve Wakefield
Photos: Christie's
---
ClassicInside - The Classic Driver Newsletter
Free Subscription!