Ceramic brakes for the 12-cylinder Audi A8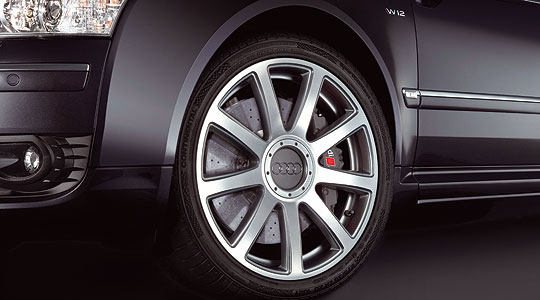 Audi is presenting a new braking technology destined for its series production debut. The brand's flagship model, the 12-cylinder A8, will in future be available with ceramic brakes as an option.
As well as quadrupling brake service life compared to conventional steel discs, the new brakes also offer outstanding braking power, even when the car is being driven to its limit, as well as supreme resistance to fading. The far lower weight also heralds benefits in terms of ride comfort and handling characteristics by reducing the unsprung masses.
The ceramic material's composite structure is made up firstly of silicon carbide, an extremely hard and abrasion-resistant base material with a crystal structure similar to that of diamond. The high-strength carbon fibres which are then embedded in this base material are able to absorb the stresses that occur in it.

The high abrasion resistance of the ceramic discs means a service life of up to 300,000 kilometres under standard day-to-day operating conditions, four times greater than that expected of a steel disc. Plus, the degree of wear over the brake's service life is a mere 0.5 millimetres.

Ceramic discs with a diameter of 380 millimetres are fitted at the front to partner 19-inch wheels. The discs at the rear measure 356 millimetres across. The new ceramic brake will be available to order as an option for the A8 W12 and A8 L W12 quattro 12-cylinder models from July2005.
Text/Photos: Audi
---
ClassicInside - The Classic Driver Newsletter
Free Subscription!