It's probably the least famous of the Lotus Bond cars, but the 'Copper Fire' Esprit Turbo not only survived filming without being blown up or driven into the sea; it also kept a smile on Roger Moore's face between takes.
There was the legendary white 'submarine' Esprit S1 from The Spy Who Loved Me; then the white Esprit Turbo which spontaneously combusted when an inquisitive hoodlum tripped its slightly excessive security system in For Your Eyes Only. But the Q Branch's vehicle pool must have been well-prepared for such eventualities in the early Eighties, for Bond was back behind the wheel of another Esprit Turbo later in the film – this time a 'Copper Fire Metallic' example, complete with Gold 'Lattice' BBS wheels and bespoke ski racks.
The car in question – registration OPW 678W – began life as a white Esprit Turbo prototype (in fact it was the first Turbo off the production line), and was used by Colin Chapman as a daily driver. Subsequently, it was one of two that Lotus initially delivered for use in the film; it was only after the first had been blown up that the producers realised that Bond's replacement car wouldn't contrast well enough with the snowy backdrop for the scene at the Italian ski resort. Consequently, the car was sent back to Lotus for the new paint scheme, as well as the addition of the ski racks.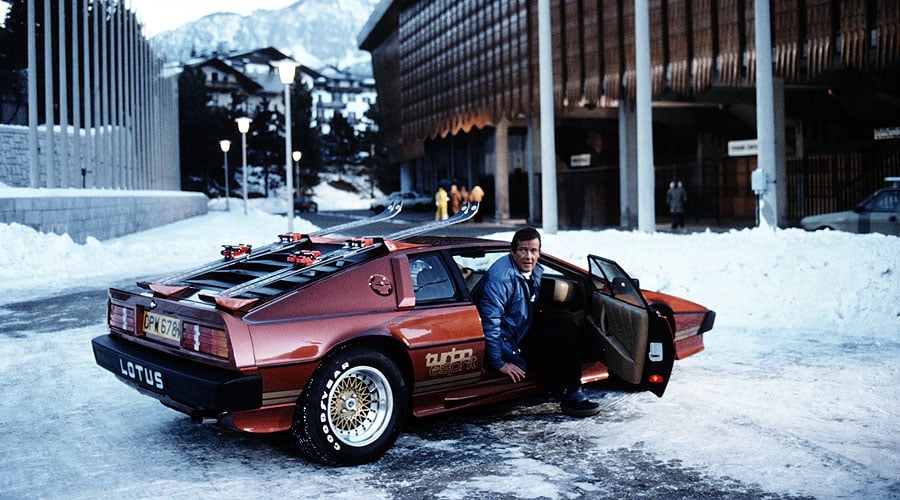 Although the copper car was in the film for less than half a minute, it was apparently quite popular with Roger Moore off camera – he merrily shuttled it around the resort between takes, as can be seen in our pictures.
The debate on which actor portrayed Bond best will no doubt rage on for eternity. But from our perspective, the fact that Moore managed to keep a mid-engined supercar with Eighties turbocharging technology in check in icy conditions (without consigning it to the usual fate of a Bond car) deserves serious respect.