The Carrera version of the Porsche 911 first raced at Le Mans in 1973
Say 'Porsche at Le Mans' and you automatically think of the magnificent 917s that scooped outright victory at La Sarthe in 1970 and '71, or the 935 perhaps, that won the 24 Hours in 1979. But the Carrera version of the classic Porsche 911 first raced at Le Mans in 1973, the 50th anniversary year of the great French race. It was clear, even before the race began, that overall victory would be a battle between Matra and Ferrari but Porsche fans were thrilled to see two Martini-liveried Carrera RSRs piloted by Gijs van Lennep/Herbert Müller and Claude Haldi/Reinhold Joest in the prototype class.
Attack of the ducktail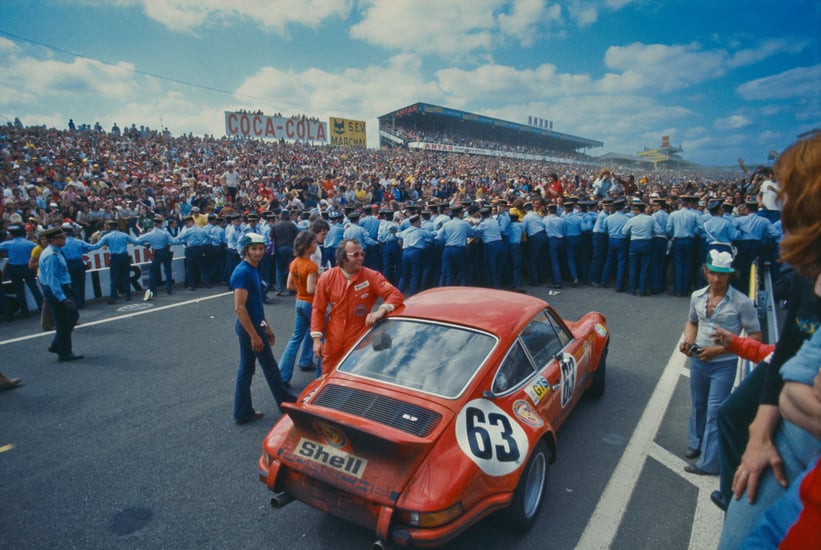 The Porsche 911 Carrera RSR was as an extreme sports version of the already highly capable Carrera 2.7 RS, aimed mainly at privateer Porsche racers – and indeed, the 1973 race saw a fair number of privately entered RSRs in addition to the two works cars. It was, however, the Martini works drivers Herbert Müller and Gijs van Lennep who scored the greatest success in their 3.0 Carrera RSR (# 46), coming fourth overall in the 24-hour race, just one month after winning the last-ever Targa Florio. Meanwhile, the RSRs of teams Porsche Kremer (# 45) and Gelo Racing (# 63) managed eighth and tenth place, respectively.
Photographer Rainer W. Schlegelmilch was there at the time, up close to the on-track action and in the pit lane. His images of the first 'ducktail' Porsche at Le Mans remind us of how much the racing world has changed in the last 40 years.
Photos: Rainer Schlegelmilch / Getty Images