While the mews may look the same as it always has from the outside, the inside has recently been transformed into a modern showroom cum art gallery, with massive commissioned pieces of art on the walls, a retro-inspired wet bar, an amazing car lift that actually pops out of the floor, and some stunning cars — this is not the same mews of the past. We sat down with the Fiskens team, comprised of founder Gregor Fisken, Rory Henderson, and Robert Fellowes, to chat about how the mews have changed over the years, how the new political climate will affect the classic car industry, and to see the what the future holds for Fiskens.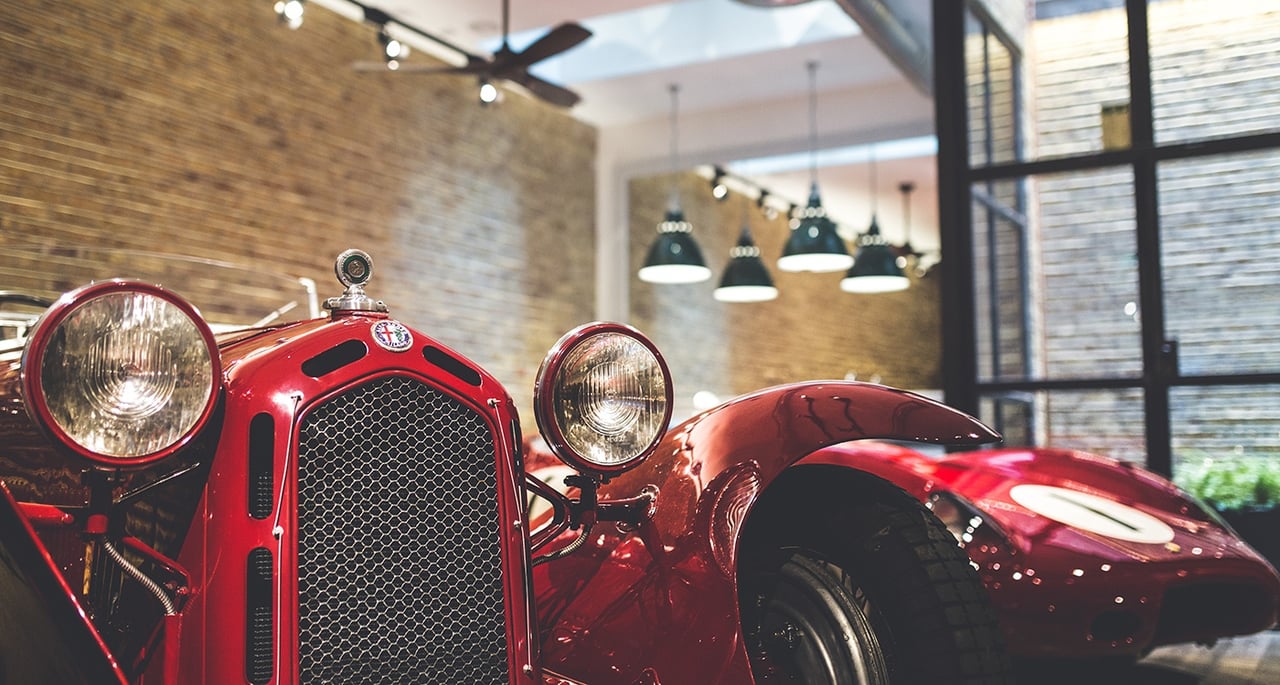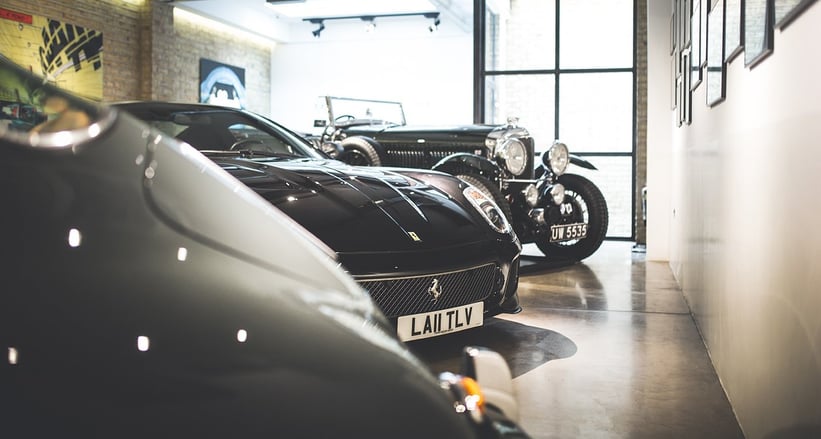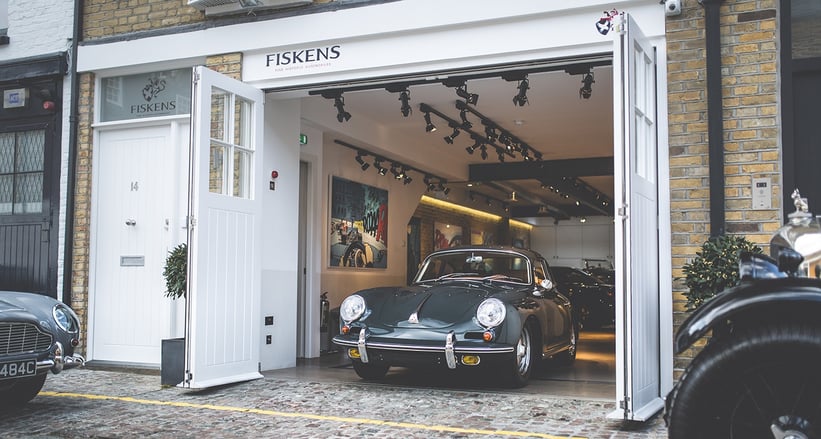 Is the mews an integral part of the Fiskens identity?
Gregor: I think very much so. There are few of the world's greatest cars that have not been through this cobbled street at one time in their career. I mean, all the great pre-War cars have been through here, many of the great post-War ones have been as well, and there are many more to come.
How has the mews changed over the years?
Gregor: These mews have always been the epicentre of what was the world's classic car trade, but over the years, due to the ever-rising London property prices, it has been a sad inevitability for many companies to move out. Although, every time a classic car industry name left, it was generally replaced with a classic car collector name. Within the mews, you've got some of the greatest global collectors, and it's also famous for characters like Alain de Cadenet, who ran all his Le Mans cars and his Le Mans team from the mews and still lives here, with his eight-cylinder supercharged Alfa. There are a lot of great collectors that we can name and many that we can't.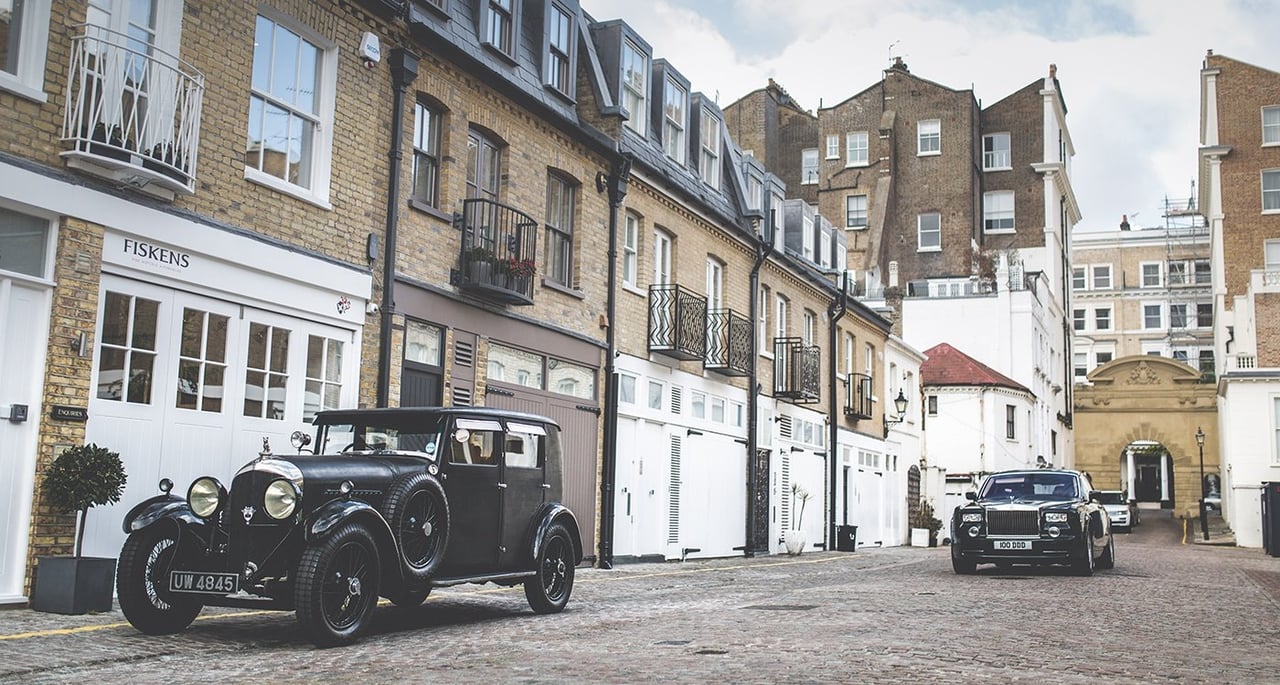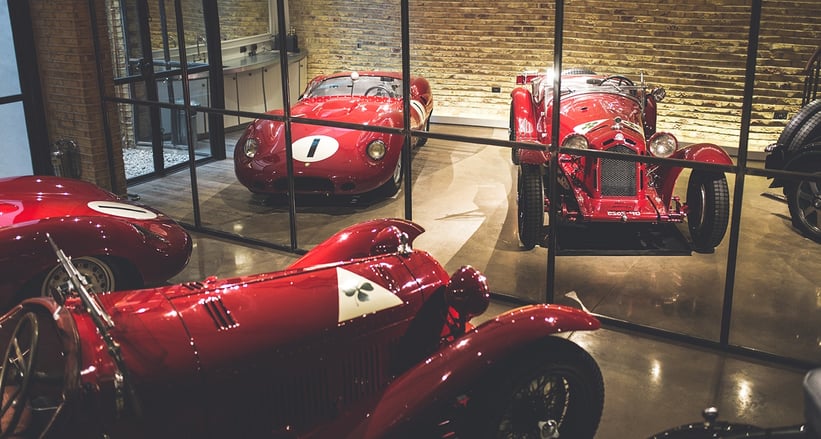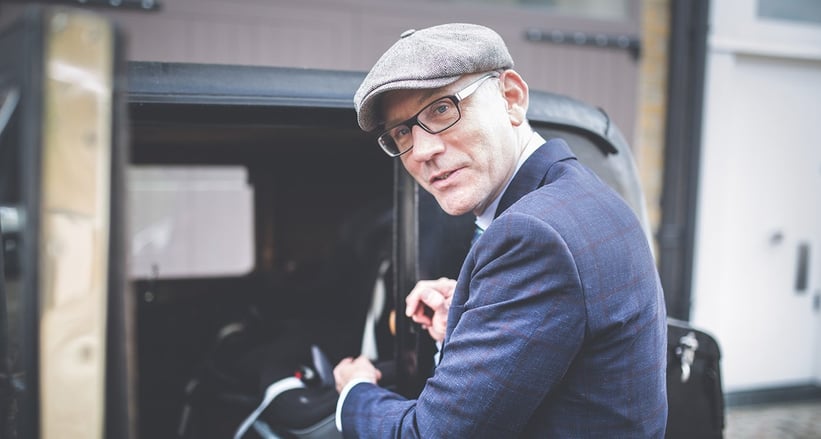 What can customers expect when buying a car from Fiskens?
Gregor: One of the nice things about Fiskens is that I'm the oldest component in the company — everyone else is plus or minus 30. So, whilst they have an interest in the older cars, they're also interested in the younger cars, and as the younger collectors come into the market, they will naturally gravitate towards youngers cars and then slowly be introduced to the older cars, and they'll need a good guide to do so. The Fiskens service is based on loyalty, experience, and a degree of out-right snobbery. We use a triple filter to make sure that we have good cars on offer and that's important to us, because if you're fussy and you don't apologise for a certain degree of perfectionism, you know you're going to deal with people who really care.
What criteria must a car fulfil to be sold at Fiskens?
Rory: We focus on the best of the best. Whether it's an 1894 Peugeot, a 1950s sports-racing Ferrari, or a 2007 Aston Martin DBR9, we strive to offer our clients the best, and we don't compromise on the history of any car that passes through the mews.
Is there any particular era or type of car that you gravitate towards as a business?
Robert: Historically, we've been renowned for dealing in great and unquestionable 1950s and '60s sports cars — and, to a certain extent, they're still what fire us all up at Fiskens. We all have a particular era or period of motorsport that we're passionate about and that complements the business. We'll only handle great and pure cars that we'd be happy to sell again and again.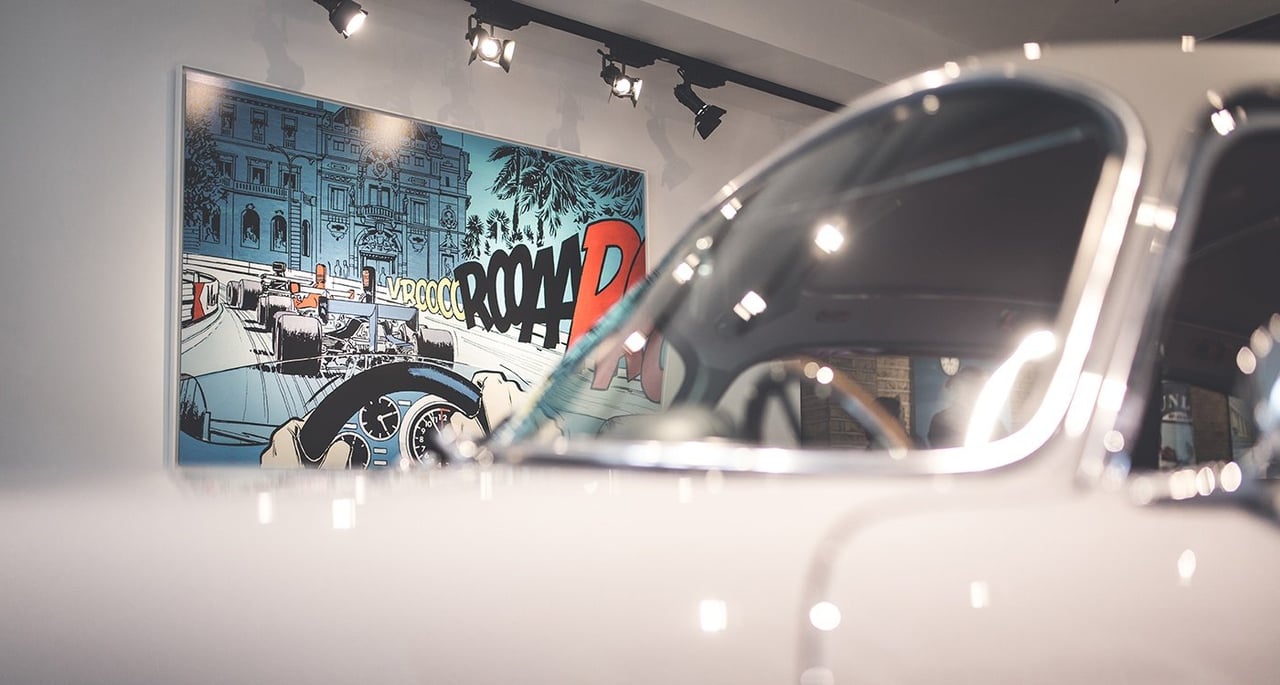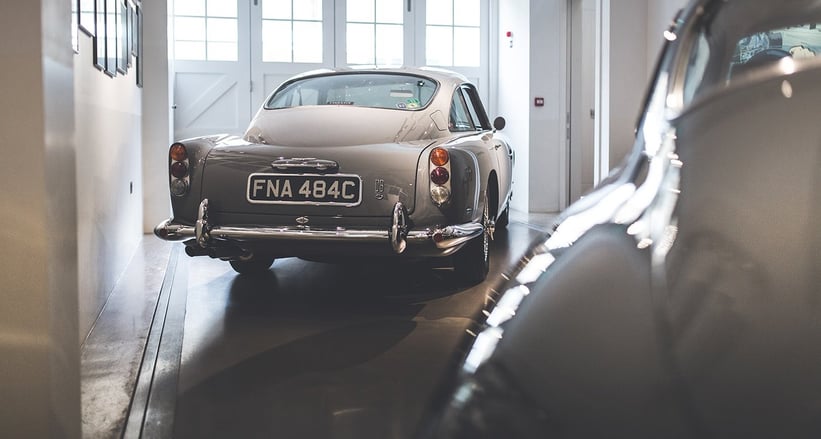 How does the market look from your perspective?
Gregor: I see more cars, more people, more events, more interest than there ever has been. And I think that that's going to grow over time. When you get lots of speculators coming in, you'll see prices, particularly for the more repeatable cars, go up and you'll see them come down. But with interest rates likely to stay quite low and still plenty of interest from enthusiasts, I think the market has already been seriously challenged and it's been found to be remarkably robust.
What are your thoughts on investment collectors as opposed to enthusiast collectors?
Gregor: When people start talking of cars as purely a financial instrument, I'm not really sure that's what it should just be about. Your return on your investment should, first of all, be your pleasure, and if you put too much pressure on yourself or your classic car to be some kind of an amazing financial investment, you shouldn't be doing it. Buy them with your heart and the rest of it will look after itself.
How do you think Brexit will have an effect on the classic car industry?
Gregor: Whether Brexit is a success or not, London is the classic car capital of the world. Great Britain is the epicentre of the classic car trade. If it wasn't for the Brits, there would be no classic car movement. It's the Brits that started collecting and recognising the history and the heritage. There has always been this 'clubby' enthusiasm, which pre-dates any established classic car movement from the get-go. I think that sense of history, continuity, and fellowship are very important to this day.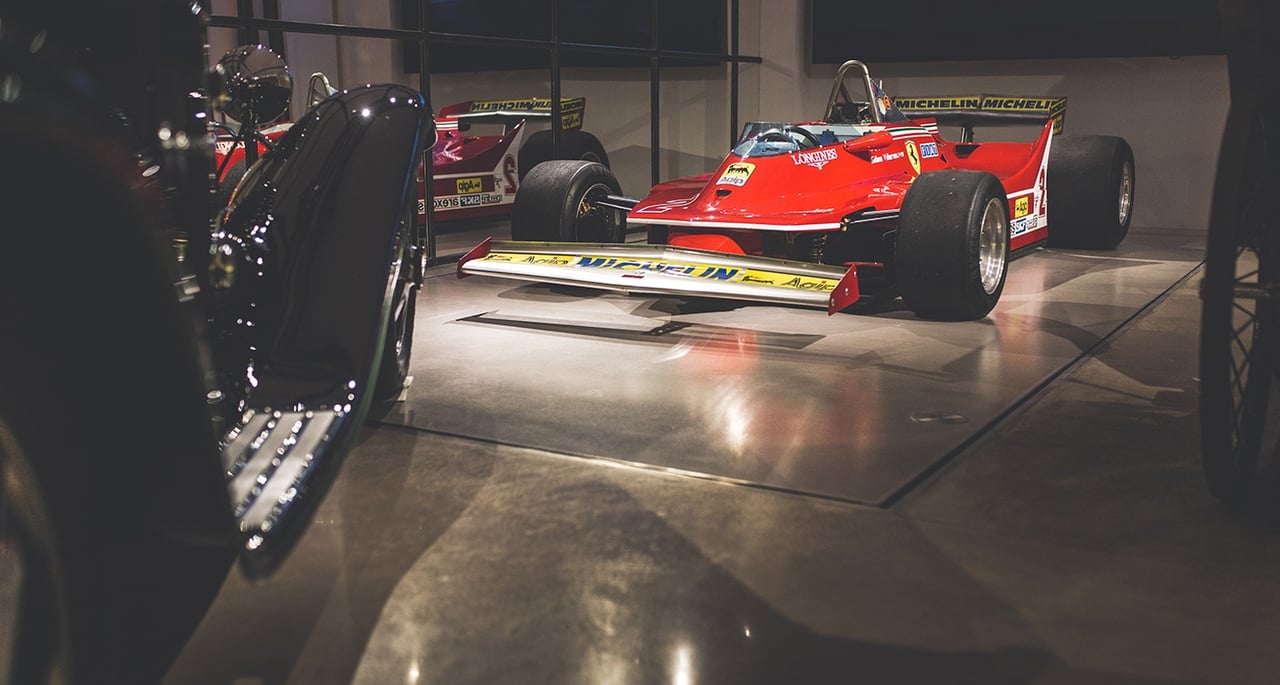 The new showroom is stunning — what's been the reaction so far?
Robert: Thankfully, our customers concur! The project undoubtedly took longer than we'd first anticipated, but the results are extremely pleasing and we're still consigning great cars to the showroom, which now houses cars on two floors, thanks to a simple hydraulic lift. We offer our clients a very discreet way of navigating the buying and selling process and our renovated showrooms complete the service.
What does the future look like for Fiskens?
Gregor: We've increased our showroom capacity, we've doubled it downstairs, and our expansion is quite organic. There's definitely a lot of external interest in what's been going on in the old car world, and I think you may see us make further expansion in coming years' time, but at our own pace. Ultimately, we do this because we love it — we love the events, we love the people, and we have a genuine passion for it. Any expansion of Fiskens would have to be done on the basis that we would never want to lose that.
You've raced at prestigious events across the world — is historic motorsport an important aspect of the business?
Rory: We're all very fortunate to have been able to participate in some of the most prestigious historic events around the world — it's certainly a fabulous perk of the job. A large portion of the cars we handle each year are competition cars, and historic motorsport gives us the opportunity to experience what these machines were designed to do and what makes them so important today.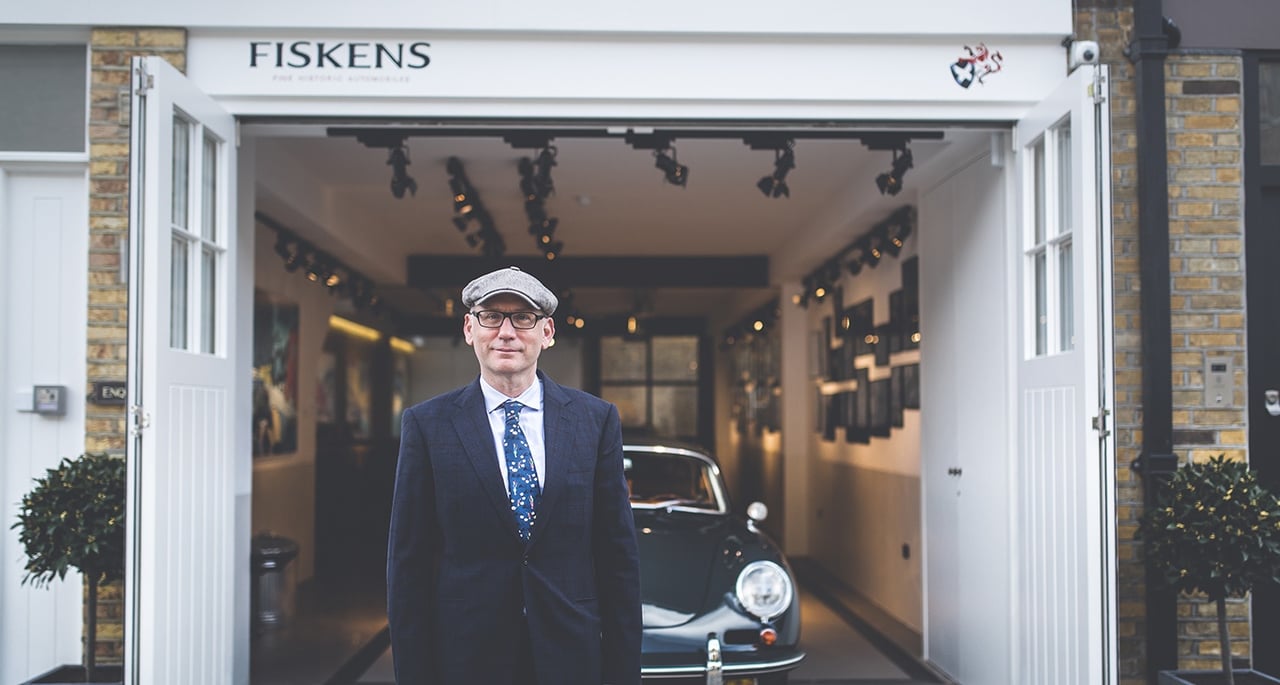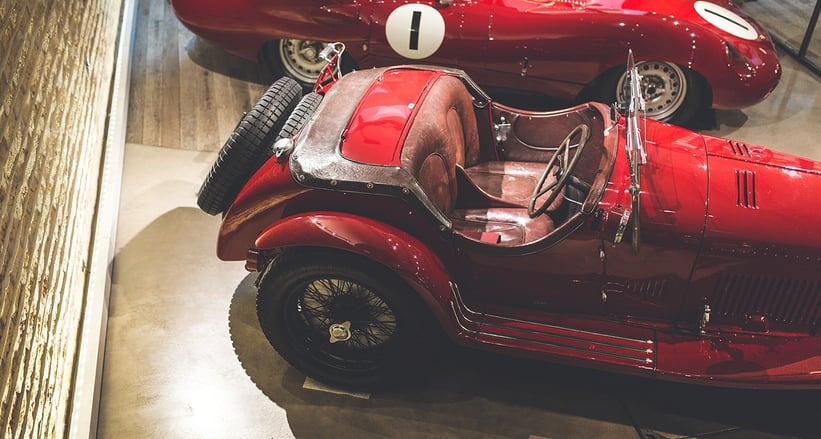 What's the most memorable car you've ever sold?
Rory: I've always had a soft spot for the Jaguar E-type Lightweights and, during my time at Fiskens, have handled the sale of three of the 12 that were ever produced. Each car has its unique charm and story to tell.
Robert: I have a particular interest in Porsche, so any of the examples I have been fortunate to sell while working at Fiskens would be memorable, whether that be one of the 16 356 Carrera 2GTs built or a 911 RSR. Some people are under the impression that Porsches lack soul, especially when compared to their Italian counterparts, but I'd disagree. Given a challenging stretch of road, I'd, without doubt, choose Stuttgart's flat-six for the workout!
What is your weekend driver?
Gregor: I have a 4½-Litre Bentley. Actually, in a rather gluttonous and greedy way, I have both a closed and open one. My children are three and a bit now and I've brought them up in the back of them — they love it.
Lastly, whatever happened with that 512 parking ticket?
Gregor: It was paid. That was money extremely well spent — the cheapest bit of marketing we ever had!
Photos: Robert Cooper for Classic Driver ©