Jim Glickenhaus and the 2006 Pininfarina Ferrari P4/5
Having commissioned the world's most celebrated coachbuilder, Pininfarina, to radically redesign the Ferrari Enzo in the manner of a '60s sports prototype, you'd think the owner would take it easy and consign said masterpiece to an air-conditioned garage...
Not so in the case of Jim Glickenhaus and the achingly desirable Ferrari P4/5 - the car has now covered over 4,000 miles, and a recent trip to Europe saw it pounding round dusty Sicilian roads on the Giro Di Sicilia - Targa Florio, and then moving on to what would normally be the manicured grounds of Goodwood House, but a venue that in June 2007 was turned into marshland by unseasonal monsoons.
Truly a 'Classic Driver', we caught up with the New York-domiciled General Partner at Glickenhaus & Co. at the Goodwood Festival, where the red and black car was being exhibited in the Supercar Run - driven of course by Jim himself, ably assisted by Sal, the technical genius who has masterminded many functions on the Ferrari and is 'chef d'equipe' of the Glickenhaus car collection.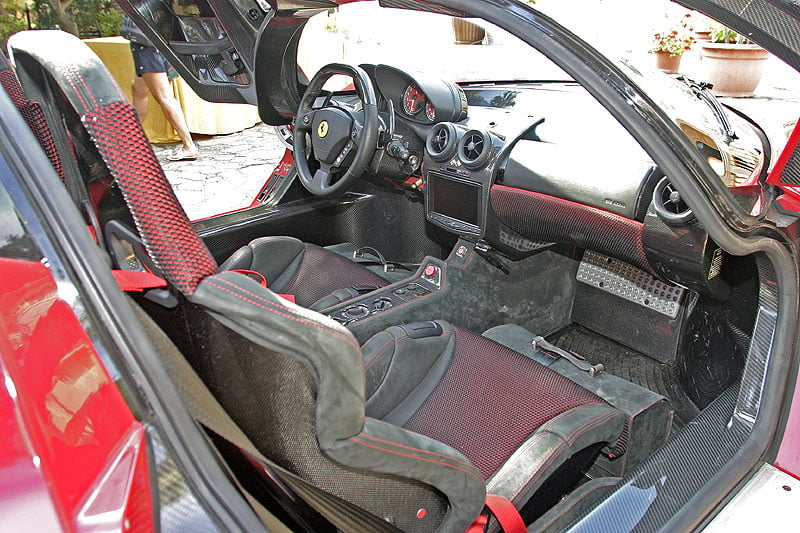 Before you ask Glickenhaus the 'whys, wheres and hows' of this extraordinary project, the first thing to establish is more background on his other cars and, automotively speaking, just what 'makes him tick'.
"I don't really want to own anything I cannot use. If I own it I want to get the best use out of it at events like this and the Historic Targa Florio where you can actually drive on the same roads as Nuvolari, Bandini and Vaccarella.
"I told the story to Nick Mason this morning about wanting a jumper battery and borrowing one from Alan Mann. He said 'You know that's like having Eric Clapton tune your guitar!' Alan Mann is a legend, and you come to Goodwood and meet him and people like Jim Hall, who you can talk to about aerodynamics. It's an incredible thing.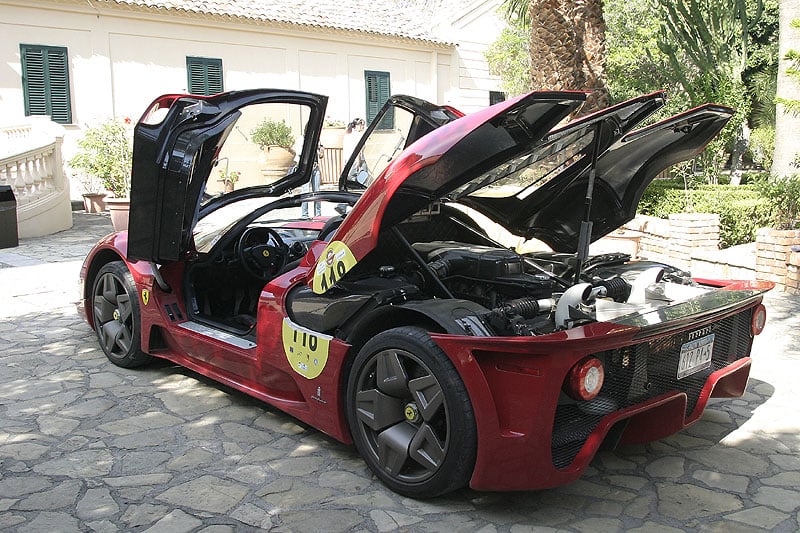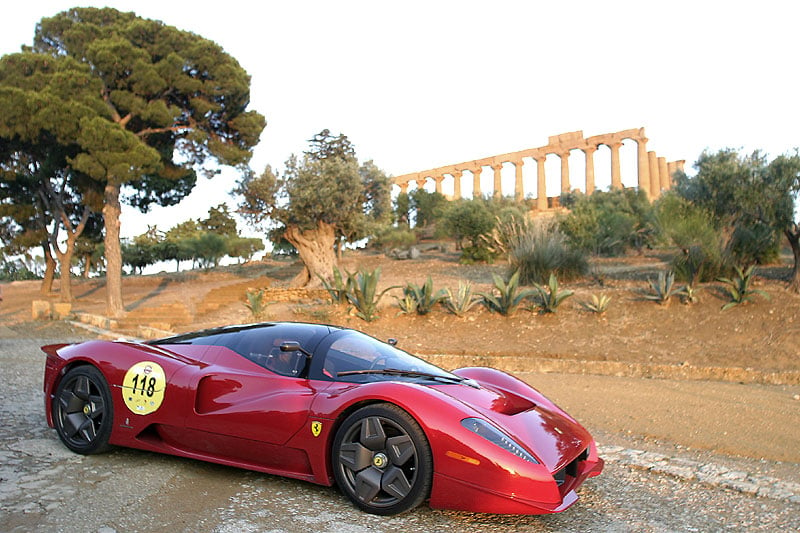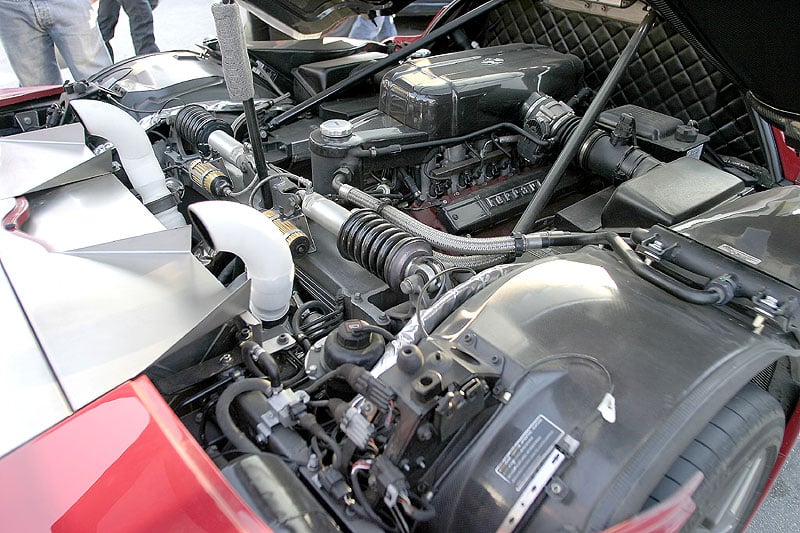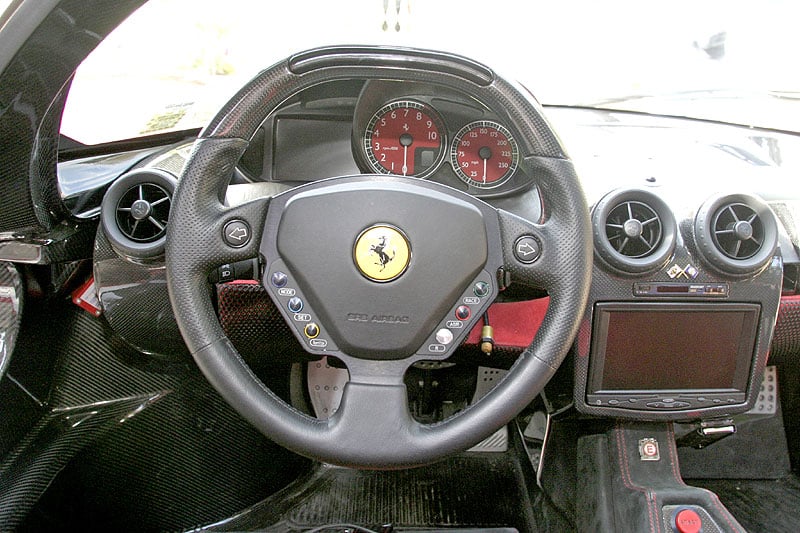 "The magic year is really 1967. The reason is that if you have a race car from that year it will be fitted with headlamps, turn indicators, and two seats, and it's legal to register it as a road car. Jim Hall was telling me that that was in the regulations so they registered the Chaparrals [for long-distance racing] with Texas license plates...
"So the point is when the P4/5 comes here with a plate on it, it's a real plate! I can get in it and drive it to London - it's legal and insured. In the US, pre-1967 racing cars can be road-registered so I can get up early on a Sunday morning and take the Ferrari P3/4, Lola T70, Ferrari 412P or Ford Mk IV out for a 200 mile drive.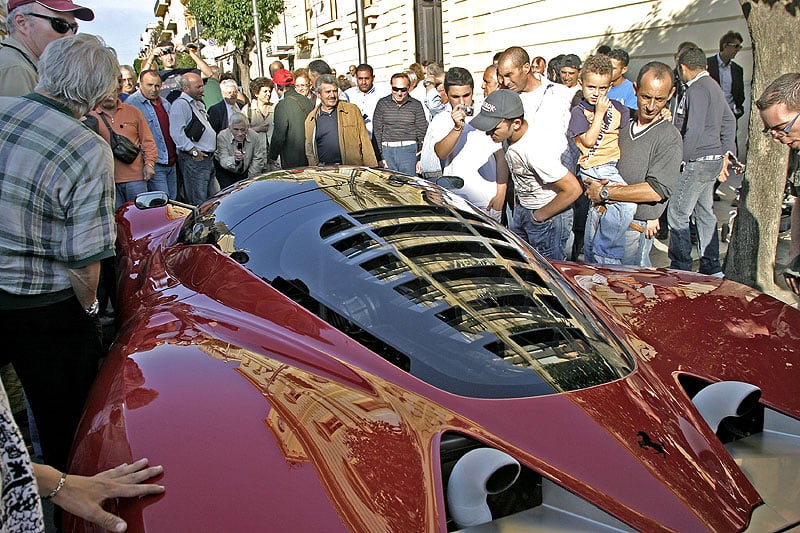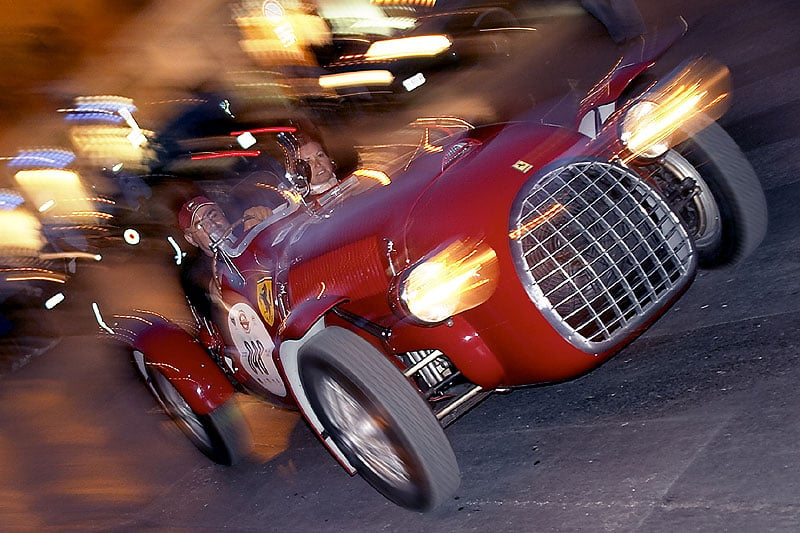 So tell us more about the other cars.
"I have the oldest Ferrari in existance, the 166 Spider Corsa in which Frenchman Raymond Sommer won Ferrari's first major race (the Turin Grand Prix in 1947), and I have a Can Am race-winning, ex-Penske, Lola T70. It was a spider, and I drove it on the road but one day the police said, 'Jim, you should have a windshield on this...' so as the cars were built as both I sourced a coupé body and fitted that. I have owned that car since 1971.
"Another is the 1967 Ford Mk IV, the yellow car #2 Donohue/McLaren Le Mans (4th place) car - one of the most original race cars in the world.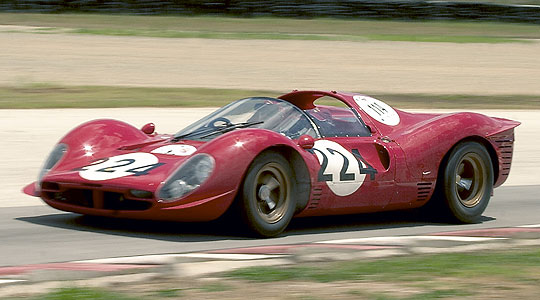 "The later Ferraris that I own are the 1966/67 P3/4 (seen above at last year's historic Targa - Ed.), and the ex-Maranello Concessionaires 1967 412P. "
Jim Glickenhaus had bought the P3/4 in 2000 as a complete car (plus spares) - a chassis commissioned by David Piper in the early 1970s from the original Ferrari fabricators. On stripping for a rebuild, it turned out to incorporate the chassis remains of 0846, the car that started life as a factory P3 in 1966 (a car rolled by Bandini at the Targa), and was then used to develop the P4 (winning at Daytona in '67, crashed by Vaccarella at the Targa and catching fire at Le Mans...).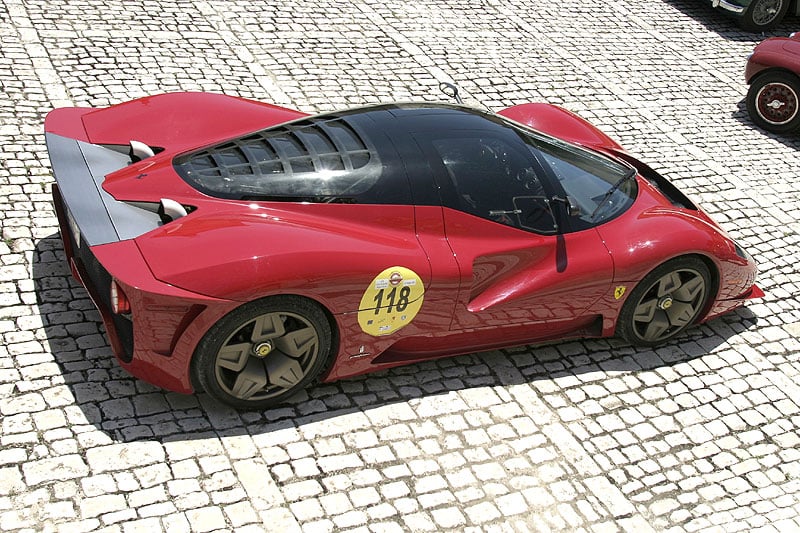 The controversial story of this car merits an article of its own, however Jim sums the car up well; "this car is legally #0846 - there is no question. It was a crashed, burnt and put together from parts; that's what happens to race cars."
"The other Ferrari I have is a 412P, chassis #0854, the British concessionaire's entry that finished 3rd at Spa in 1967 and got the points at the last race of that year (Brands Hatch) for Ferrari to win the Manufacturer's Championship."
Glickenhaus explains that he had not really intended buying this car "I was at Monterey displaying #0846 when a guy came up to me who represented the then owner of #0854 saying 'you should buy this car, you know so much about them'".
Years later he did and, like with the P3/4, has spent much time on restoring it to its original specification. And road-registering it of course. He hopes to bring the Cambridge blue/red car to Europe in 2008, re-uniting it with its drivers of the time, Richard Attwood and David Piper at Brands, as well as driving it on the Historic Targa course.
A final word on these incredible 1967 cars - what's the missing piece, the one car that Jim would buy if he could?
"The Chaparral 2F - I want it but I cannot buy it!"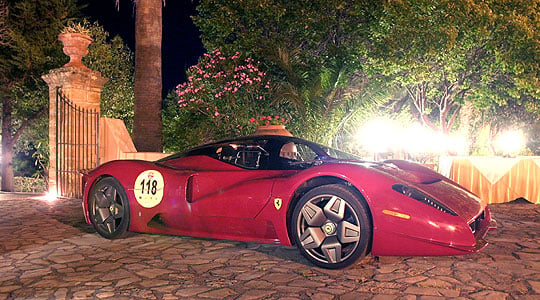 Turning back to the P4/5, we asked how the project came about and first of all what makes it really special compared to the other stellar cars in the collection.
"It's so interesting to drive a modern Ferrari after the old cars where you have to squint at the gauges, cannot see through a wet windshield or in the mirrors. It's a great experience but your arms become numb and you're covered in grime.
"In the P4/5 you start it, you put on the A/C, your wife sits next to you with her iPod [plugged into Sal's specially-engineered hi-fi] and you drive on the old Targa Florio course, listening to opera and seeing through the 'screen because the wipers work!
"That car's done 4,000 miles, including 800 miles in Sicily. It's muddy, it's dirty and it's got a rock chip from the Targa Florio - is that so bad?
How long did the project take from start to finish?
"It took about 14 months. Pininfarina called me and asked me if I'd consider doing it. I said 'I want to capture the look of the P4 with a more modern chassis'. In fairness to them, they pushed me into a more forward-thinking approach than I had envisaged. I would have gone more retro.
"You've got to make something that stands on its own. My wife saw the designs and we all liked it."
The last US-spec un-registered Ferrari Enzo was sent straight to Pininfarina; how much of the original car was retained?
"We kept the carbon-fiber tub, the motor, the gearbox, suspension, brakes, A/C and electronics, but there are over 200 uniquely-engineered systems to our car: the front and rear sub-chassis, wheels and tyres, a new rollover bar to incorporate a lower roofline and shorter front and rear overhangs to make it more driveable on the street.
"It's lighter - around 2650 lb - but because it's based on an existing road car it's totally legal. No pollution equipment, lights or airbags were changed, and we crash-tested it [virtually] on a super-computer to prove that the structural changes made it safe enough. The car can go through any customs in the world and is completely road-legal.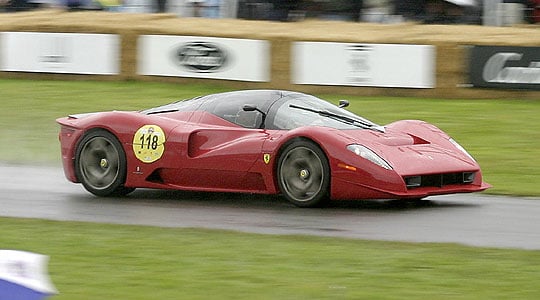 "The exhaust is changed after the catalysts to ceramic pipes [valved to operate at over 3.000 rpm] that exit over the top of the engine cover, and these do not affect emissions.
"It's actually a 'green' vehicle - we used a coating for the oil and water radiators developed by Englehard/BASF that makes them a liquid-cooled catalytic converter...this car is zero emissions and the air passing through it is cleaner on exit (the ozone converted to oxygen).
"I hope they can use this process on production cars."
I don't suppose you were expecting that? Proof indeed that green issues and super-performance cars can live alongside one another.
The P4/5 far exceeded my expectations; in its exquisite styling and finish, and the way its owner looks after it as a true hard-driving enthusiast. Asked about future plans he's understandably reticent, but he will be at The Quail and Pebble Beach with the Ferrari P3/4 and the Ford Mk IV, reprising the spirit of the Ford Ferrari Wars.
Photos: Roger Dixon - all strictly copyright.