Getting our hands dirty with master racing mechanic Davide Riparbelli
The workshop of RS Historics near Monza is one of the go-to places in Northern Italy when it comes to race car preparations and complex restorations. We paid founder and master mechanic Davide Riparbelli a visit…
Once you enter the halls of RS Historics in Albiate, a small town between Monza and Como, you're in another world. It's one of those magic places that smell of oil, petrol, metal — and the spirit of motor racing's golden age. RS Historics is a proper workshop and looks like proper workshops in Italy have always looked like: a painted green floor, boxes full of tools and parts, engine blocks and gearboxes on work benches, a line-up of cars in different stages of assemblage, some racing trophies, car books, souvenirs. What sets this particular workshop miles apart from most other places in the country are the types of cars that are repaired, restored and prepared for their next race. If you drop by and you're lucky, you can observe Davide Riparbelli whilst he's working on a Alfa Romeo 182 F1, a Lotus 15, an ex-Jim Clark Lotus 21 or a proper Alfa Romeo GTA.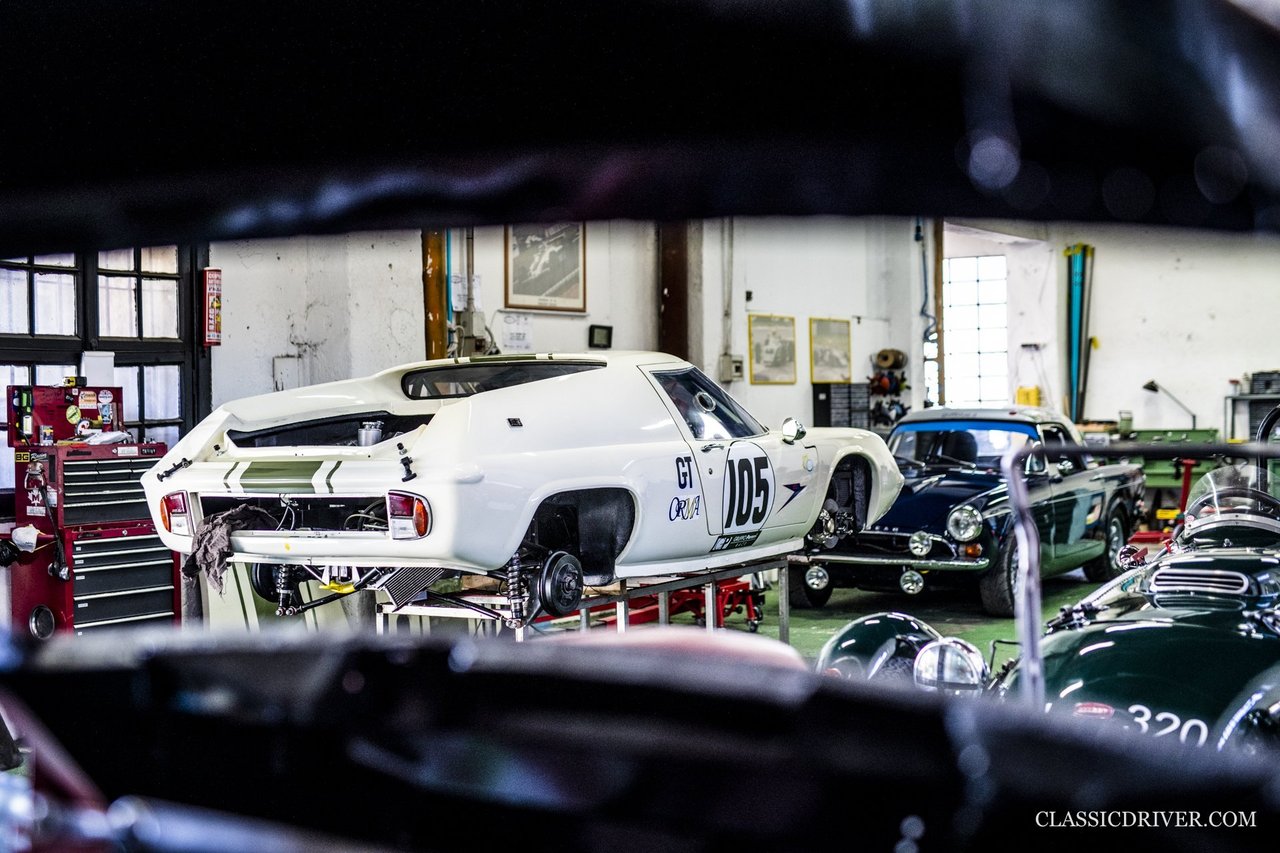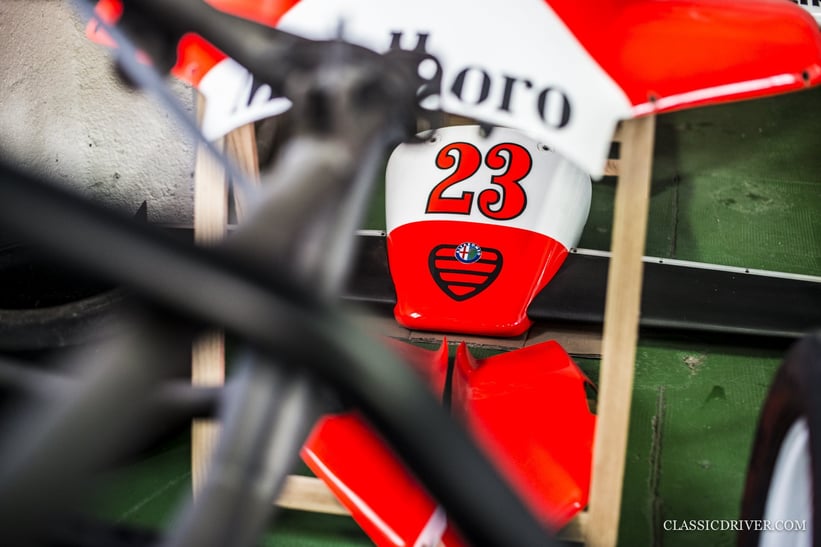 Davide Riparbelli, a friendly bearded man with a cigarette burning casually between his oily fingers, is one of the most renowned race car specialists in Italy — and is known for being an absolute perfectionist. If he's doing something, he simply doesn't stop until everything is finished and he's happy with the result. For his clients who entrust him their classic F1 cars and racing prototypes, his perfectionism is the fundamental condition for winning races. After been trained by historic racing guru Simon Hadfield in England for many years, Davide returned to Italy and started his own business, which he runs together with his partner Enrico Spaggiari, who has successfully raced historic single-seaters. And like most true masters of their field, Davide is not the guy to brag about his skills. He stays modest and rather lets his work speak for itself. Still, we couldn't help but to ask him some questions and find out a bit more about his history.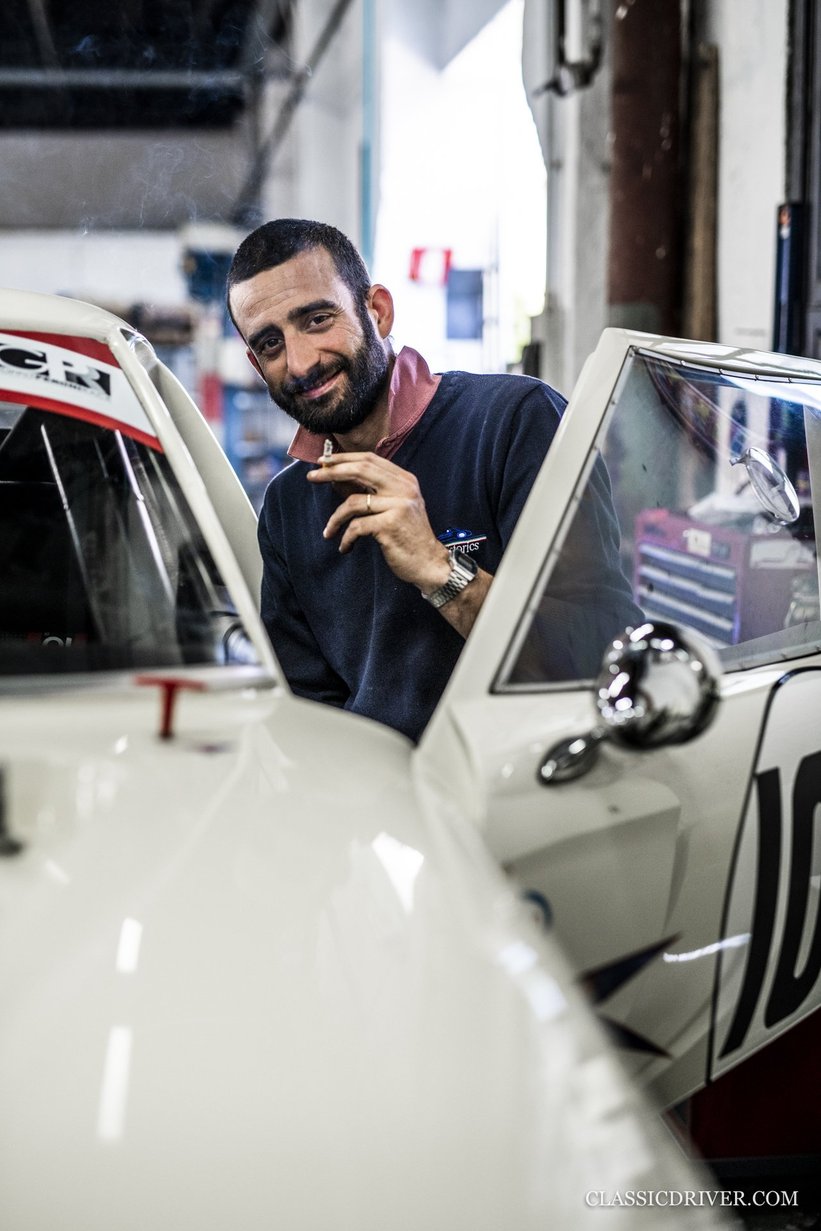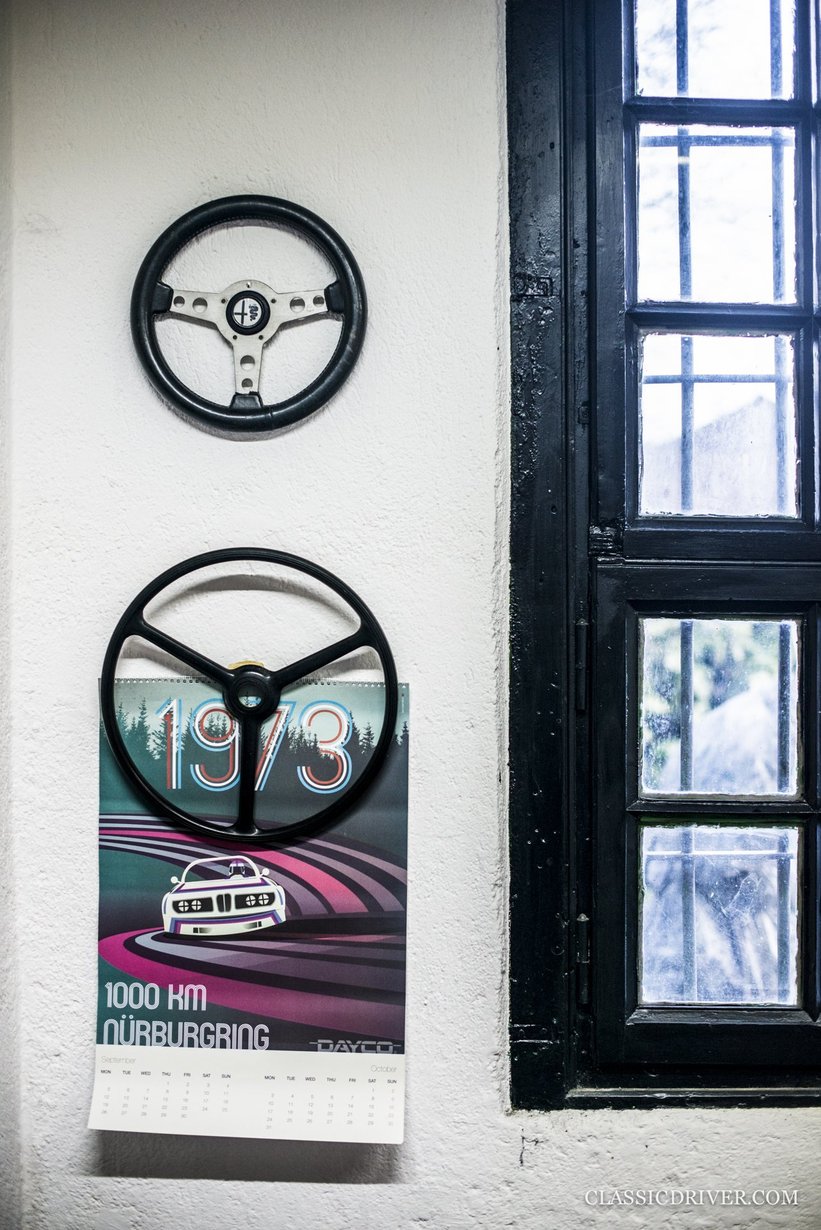 What's your oldest memory about cars?
I always loved cars and their mechanics, but if I have to think of one specific memory that kicked me into this world, that has to be a memory from when I was maybe five or six years old. At a ceremony I had to attend, there was this man that let me sit in his brand-new Ferrari Testarossa — maybe that's why I love that car so much. Sitting in that car made me realise that I wanted to work with cars — fast cars.
Did anyone in your family influence or encourage your passion for cars?
The first person that played a role was my uncle, a car enthusiast, and also my great uncle, a man that everyone in the classic car world knows as Carlo Felice Bianchi Anderloni. They both introduced me to this world. But the person who truly catapulted me into the world of motor racing has been my stepfather, who got me in touch with Simon Hadfield, the guru of historic motor racing.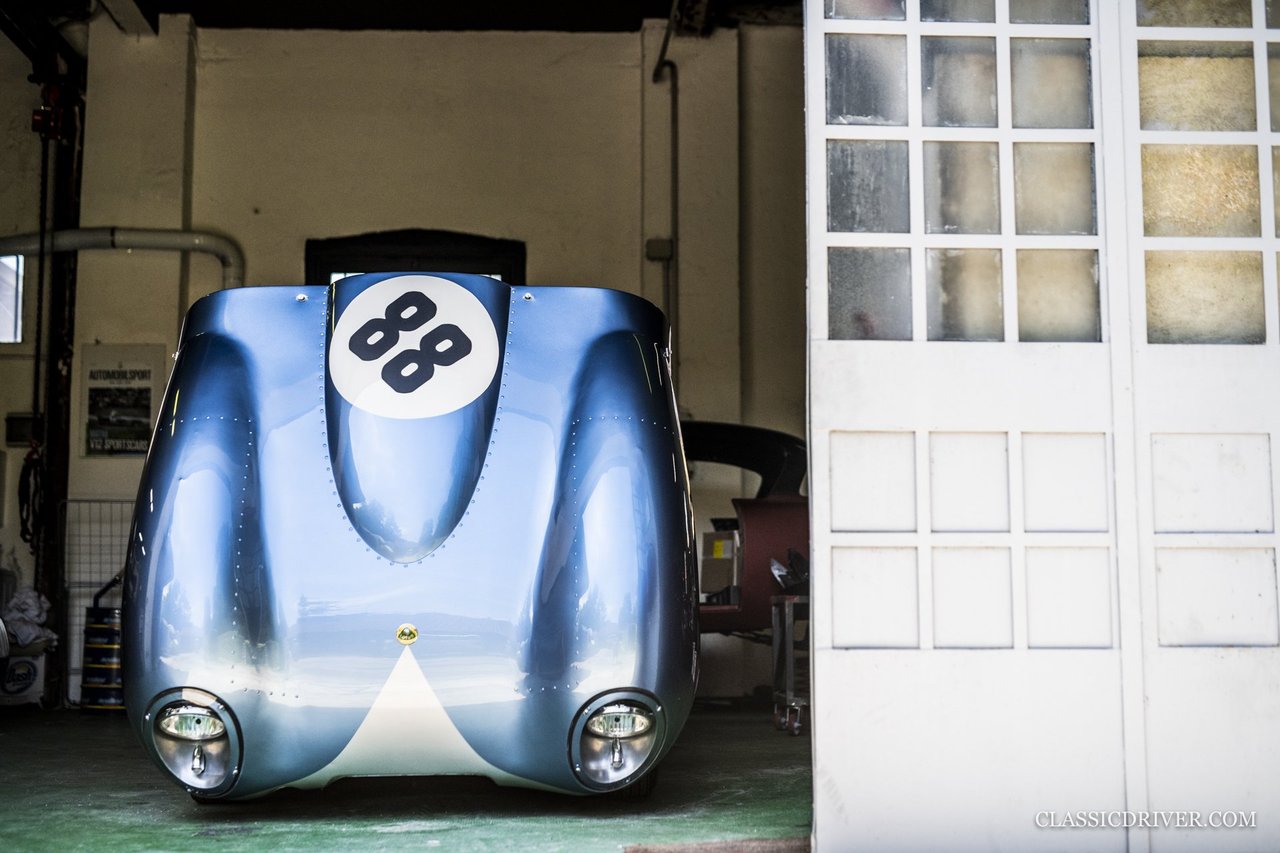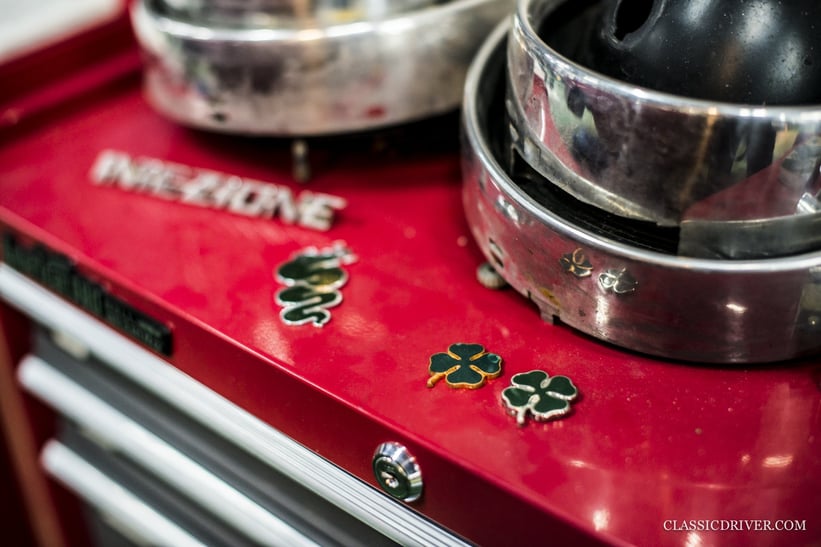 What happened then?
I got introduced to Simon Hadfield in 1996, at the age of 13. My stepfather approached him at the Coppa Intereuropa in Monza and asked him if I could go to his place in the summer to learn about his job, and he accepted. Since the age of 14, I went to his workshop in England for a month every summer to learn more about the work he was doing.
So, at 14 years of age, you knew you wanted to work with classic race cars? That's unusual.
Yes, I did. Classic cars are works of art, but race cars give you something else. Looking at them you realize how clever people like Colin Chapman, Jack Brabham, Mauro Forghieri and Gordon Murray — to mention just a few heroes — were, and how different their approaches were when comparing one to the other. Looking at their cars and how they were made is fascinating — and believe me, working on them is just awesome!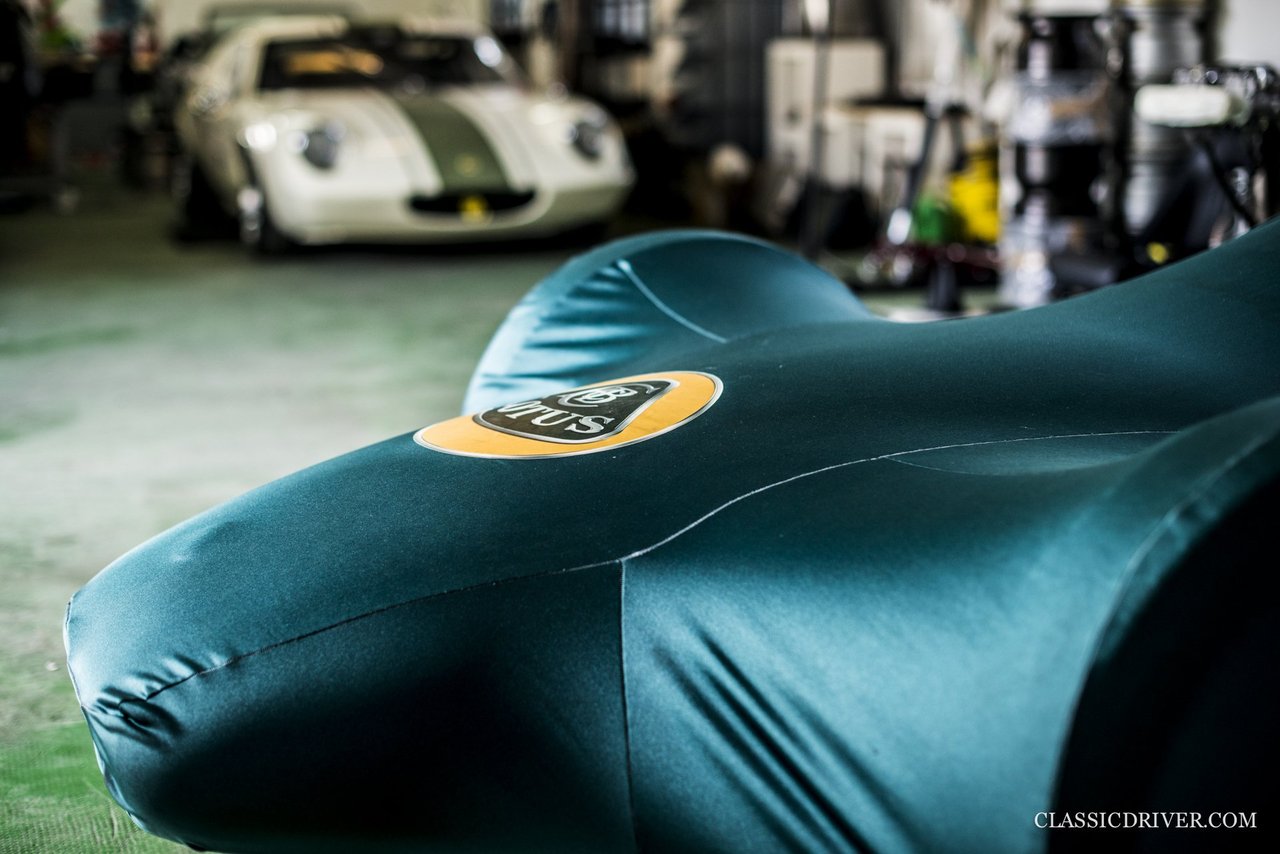 How did your career play out in the years that followed?
Well, after nearly 10 years of summer work experience, I worked at Simon Hadfield's workshop full time for four years. Five years ago, I started my own business back in Italy with RS Historics.
Simon Hadfield is known to be one of the best specialists for historic race cars in Europe. What kind of guy is he and what did he teach you?
Ok, now it's getting personal. Simon is Simon, you either love him or hate him. You love him for what he does and how he does it. I have been in this world for nearly 25 years and still haven't found a person as versatile as Simon. He can weld and machine, he can restore a race car from scratch, he can do all the mechanical stuff, he can set up any car, he knows pretty much everything about the history and technical aspects of them — and if he doesn't, he looks for the right book to study. Most importantly, he can drive — I mean, really fast — and understand the car, so he can hand over the most competitive car imaginable to his customers. Then, you hate him because he wins everything and 99 percent of the time he is right and you are wrong. As a teacher, he was very important in my education, and he was always telling me one thing that I keep saying to myself and I try to say to my employees: Every day you learn something new! Reality is, I am here now because of him.
So, what did you learn?
Something new every day! (laughs)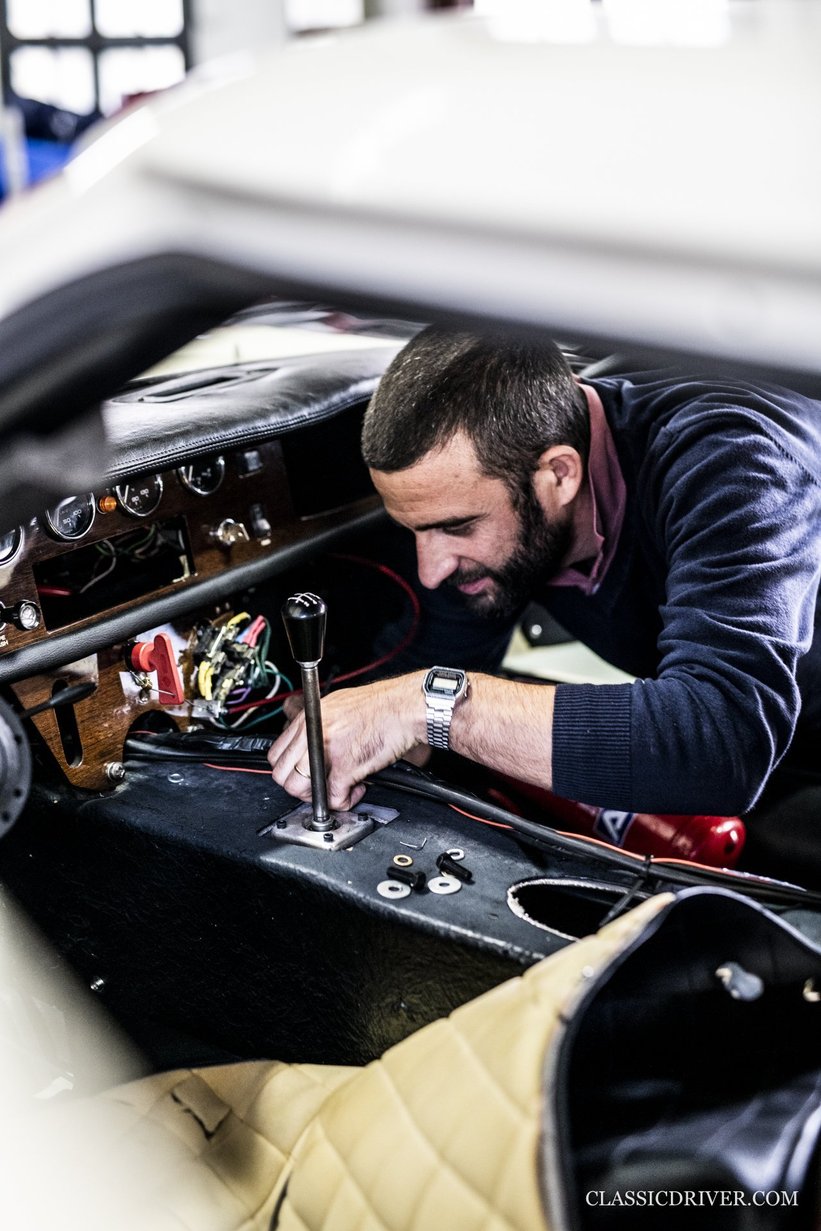 As you were part of such a special team, why did you choose to go back to Italy?
At the age of 23, I realised that I only did one job my whole life and I wanted to try something different to be able to understand what I really wanted to do in life. But after four years of being involved in a completely different business, I realised that historic motorsport was still what I wanted to do!
Did Simon support you when you made this decision to quit?
Not really. He said that my place was in historic motorsport. And guess what? He was right.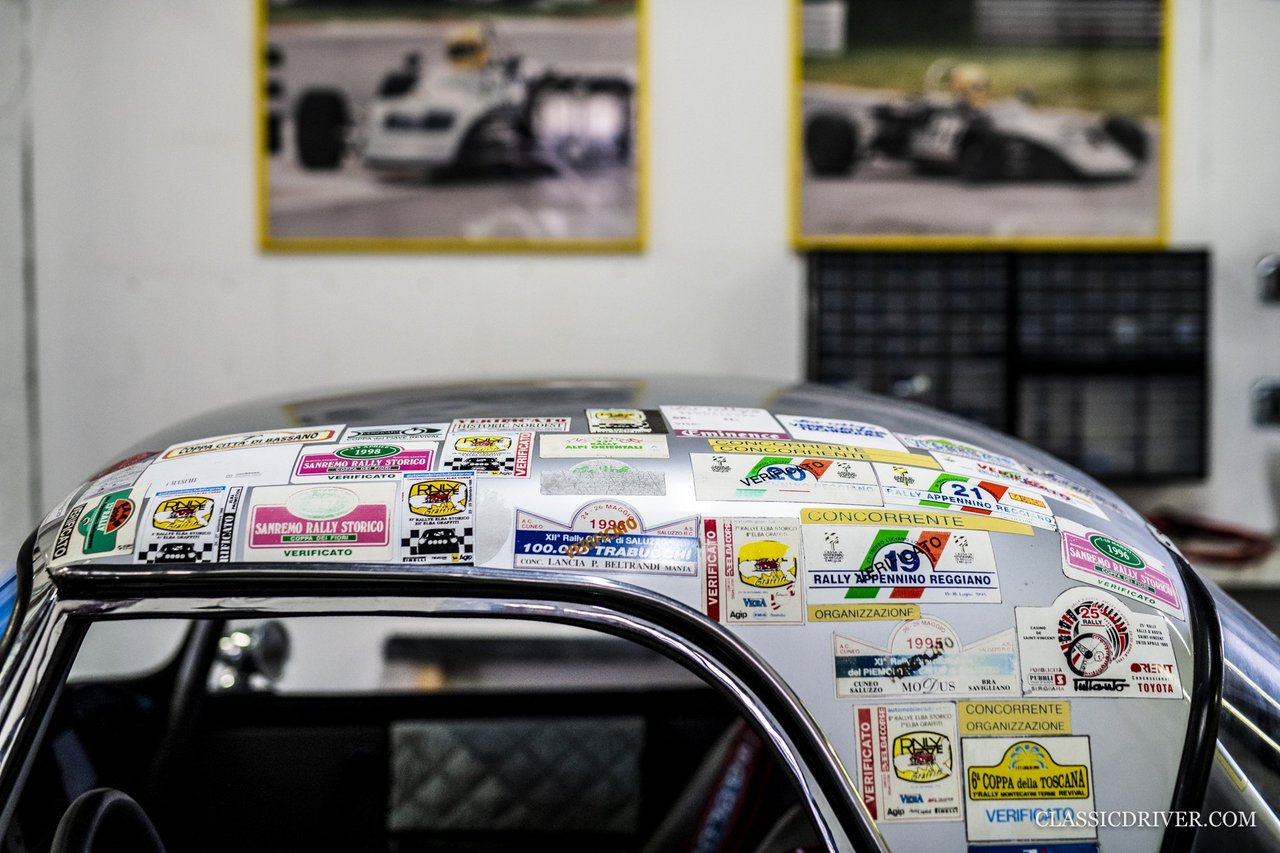 And so, you created RS Historics near Milan, which now is a reference workshop in terms of race car preparation — but how was it at the very beginning?
It was not easy. Italians can be very sceptical and have preconceptions. For some reason, they prefer to go to their mechanic down the road instead of going to a specialist, thinking that they'll pay less. But in reality, they spend more! They just look at any invoice. They have to know you and see you before they trust you. Once they do, 50 percent of the job is done. It's fascinating. But we are getting there, and me and my business partner Enrico Spaggiari are very confident about the future.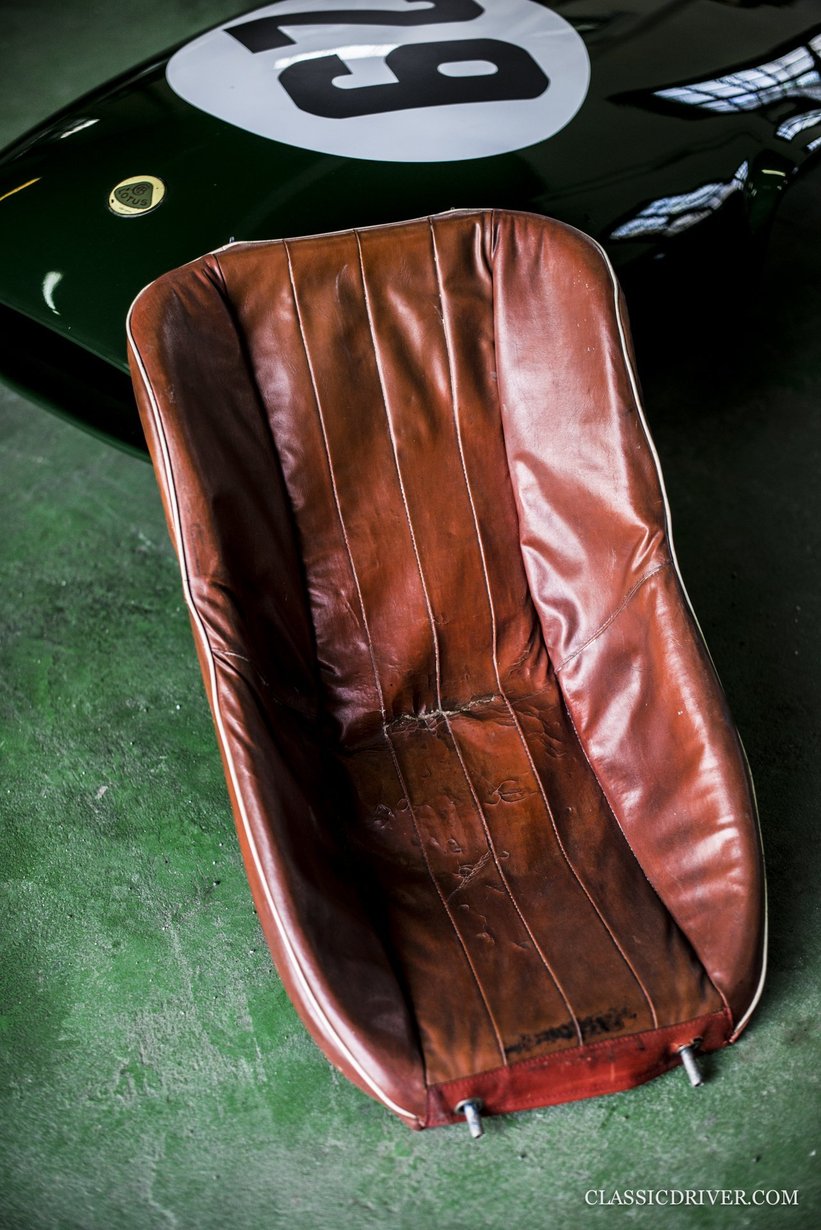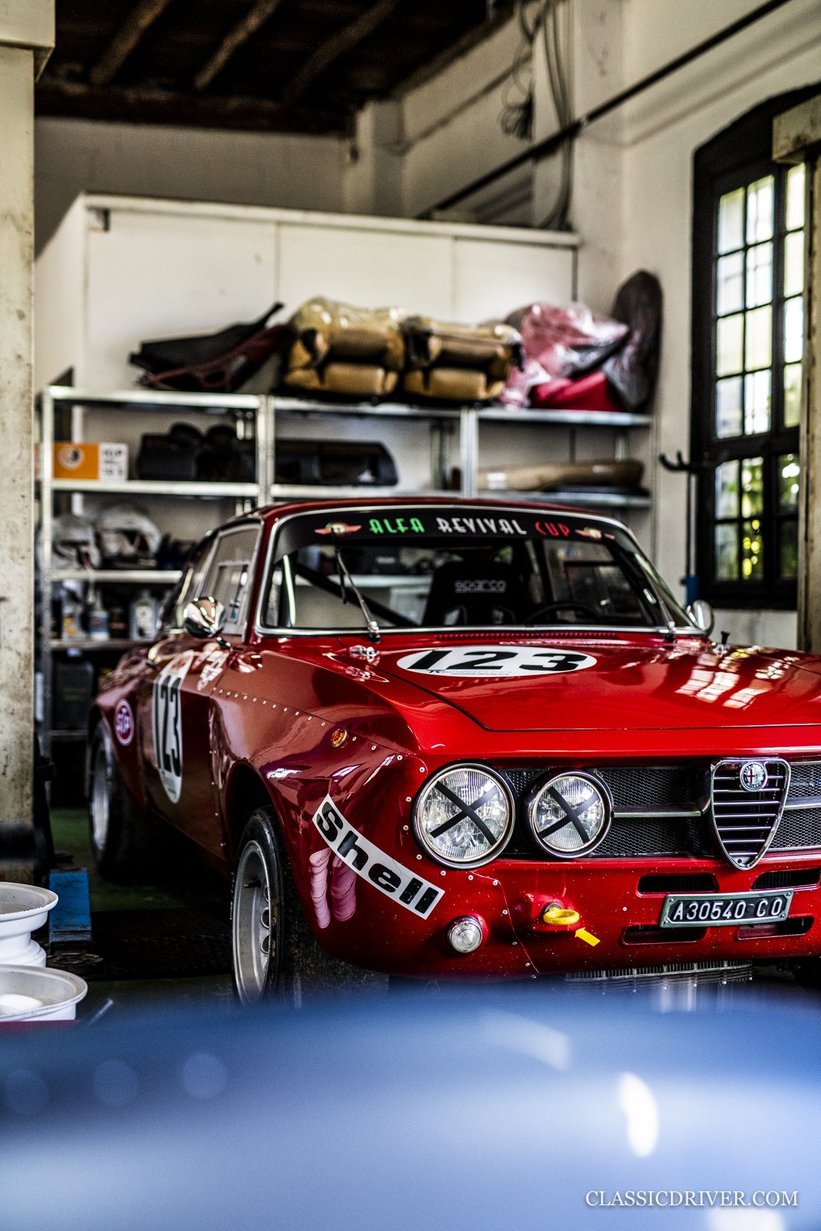 There's clearly a strong presence of two brands in your workshop: Alfa Romeo and Lotus. Why?
Out of coincidence! The first Lotus that turned up in the workshop was a Lotus 21 that my customer brought to us because he knew I had worked on that car when I was at Simon's. Then he brought an Alfa Romeo GTA, and since then, people have seen that we had these two cars, so other customers have brought in their own.
But still, you seem to hold these two brands very dear to your heart.
Yes, that's true. Alfa Romeo and Lotus are the main racing brands in their countries and, in my opinion, the most influential brands in motorsport. What Colin Chapman did in his era was just mega! He was so clever and sharp! Carlo Chiti was different but also a genius. To me, working on these kinds of cars is a privilege. To discover and understand how and why they did something is an honour. These things are impossible to find in modern motor racing.
You're Italian, so what about Ferrari, Maserati and Lamborghini?
I am proud to be Italian, because I think that in the past, we had the best car brands and the best automotive designers. So, it's not just about Ferrari, Maserati or Lamborghini, but also Pininfarina, Giugiaro, Carrozzeria Touring Superleggera, and many others. They were proper artists. Now, I am afraid all this has disappeared.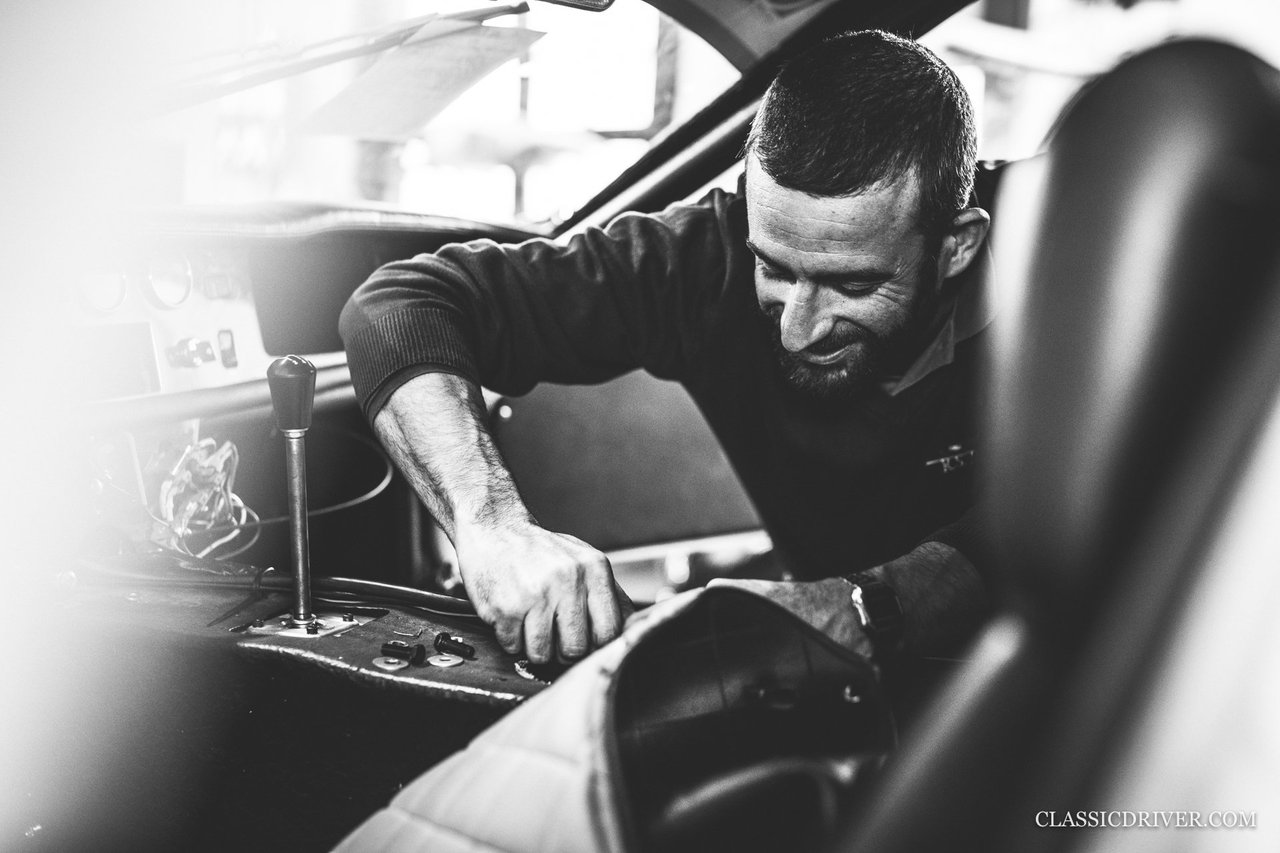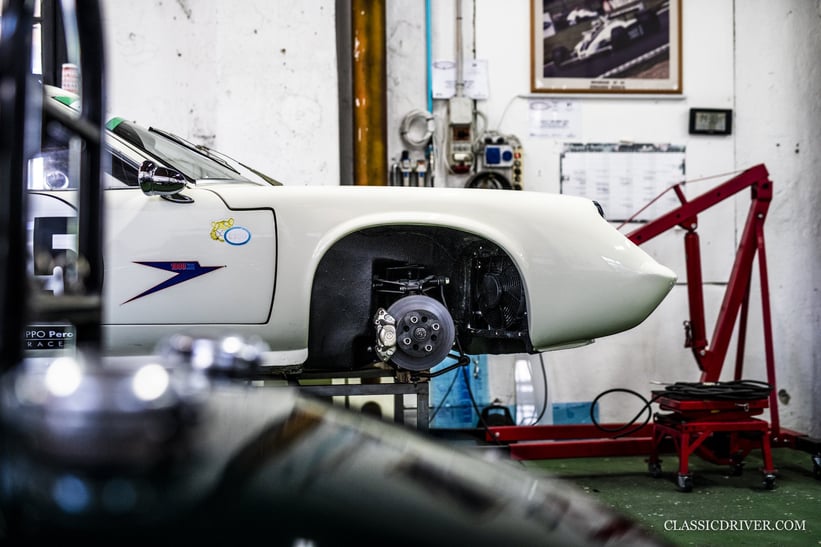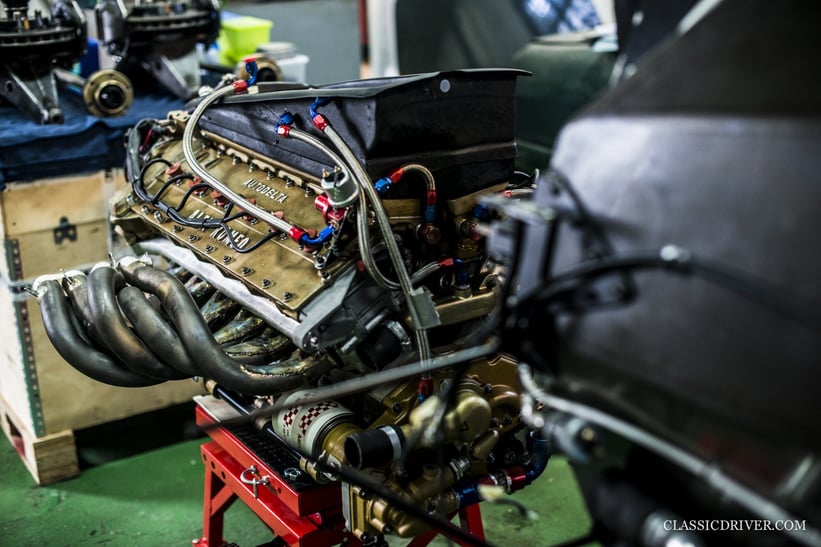 What are your key skills at RS Historics?
Apart from engines and bodywork, we do pretty much everything: from chassis design to machining parts, from drivetrains to all the mechanics, from restorations and preparations to race track support, from setting up cars to organising full events. We like to do everything for our customers. Just arrive and drive, and we take care of everything else.
What differentiates you from other workshops?
I would say the spirit. We love the cars we work on, even more than our customers do. We treat them like they are ours. And, most of all, we talk to our customers. We explain what we think needs doing on a car to make it a winning car and why and how it should be done.
What's the future of RS Historics?
My aim is to become the benchmark of historic motorsport in Italy — and why not also outside of Italy?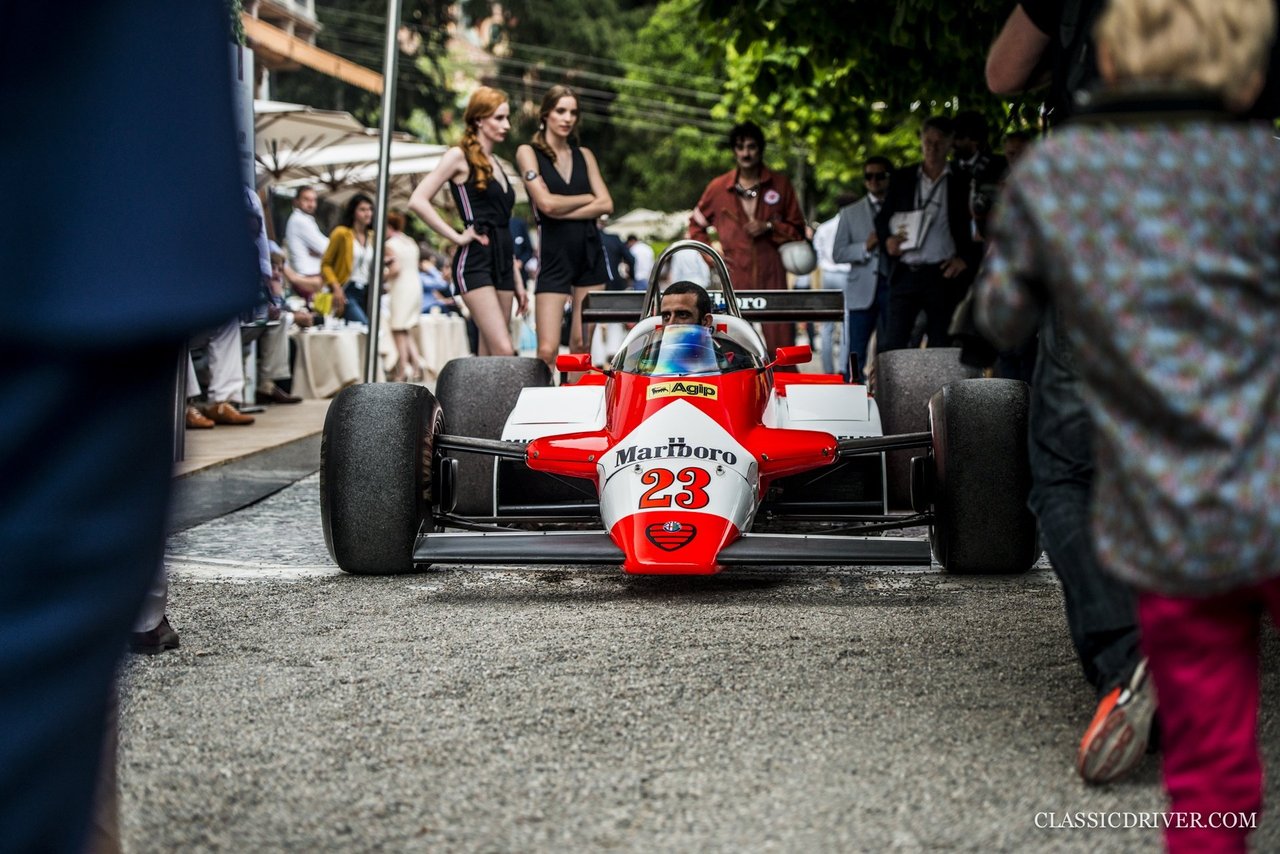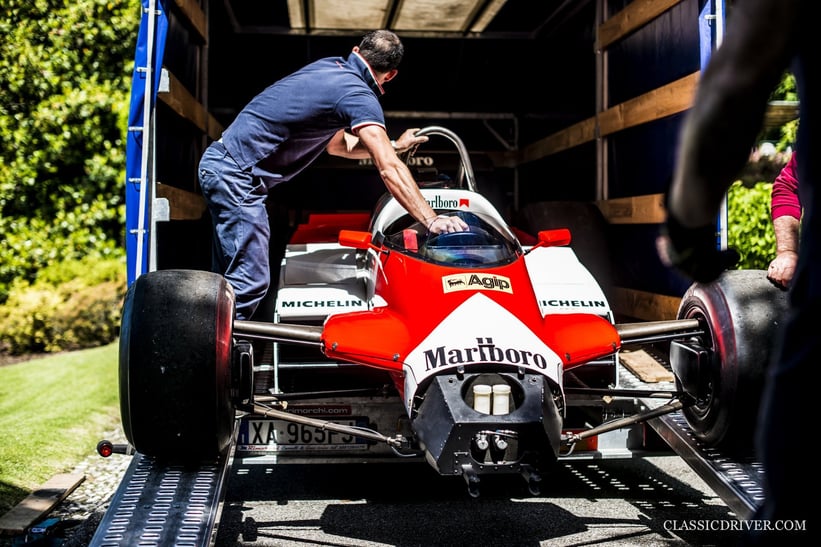 You're definitely a racing guy. But still, you took part at the Villa d'Este Concours d'Elegance in 2018, driving an amazing Alfa Romeo Tipo 182 F1, and accompanying one of your customers with his ex-Jim Clark Lotus 21. That must have been quite an experience.
When they contacted us, we felt honoured and uncertain at the same time. Nothing like this has ever been showed at a concours. We did our best to give the spectators and our customers the best experience ever. Actually, there is an anecdote behind the 182 F1. The month before we received the invitation, we went to do a photoshoot at Vairano for an article about Alfa Romeo going back to F1. There, we discovered the sliders of the throttle got stuck, so we had to quickly sort the problem. We put the engine back on the car the week before the concorso, and when we started it, it was spraying water out of the front cover, which we thought may be due to some corrosion on the magnesium. The engine builder, Renato Melchioretto, his mechanic and us did everything that was possible to sort out the problem, working all night long, and managed to have the car finished and loaded to go to the concours at 11:00pm the evening before. Well, when I called my customer saying that we did it, it was quite emotional, and seeing him crying once I drove the car up to the jury on Saturday — well, that made my day.
Do you think such race cars have their place in such high level concours?
In my own opinion, no. It was great, different and the spectators loved it. But the Concorso d'Eleganza Villa d'Este has its own logic and standards, and I think it should remain like it is. But if they ever want to bring race cars again, I am up for driving them!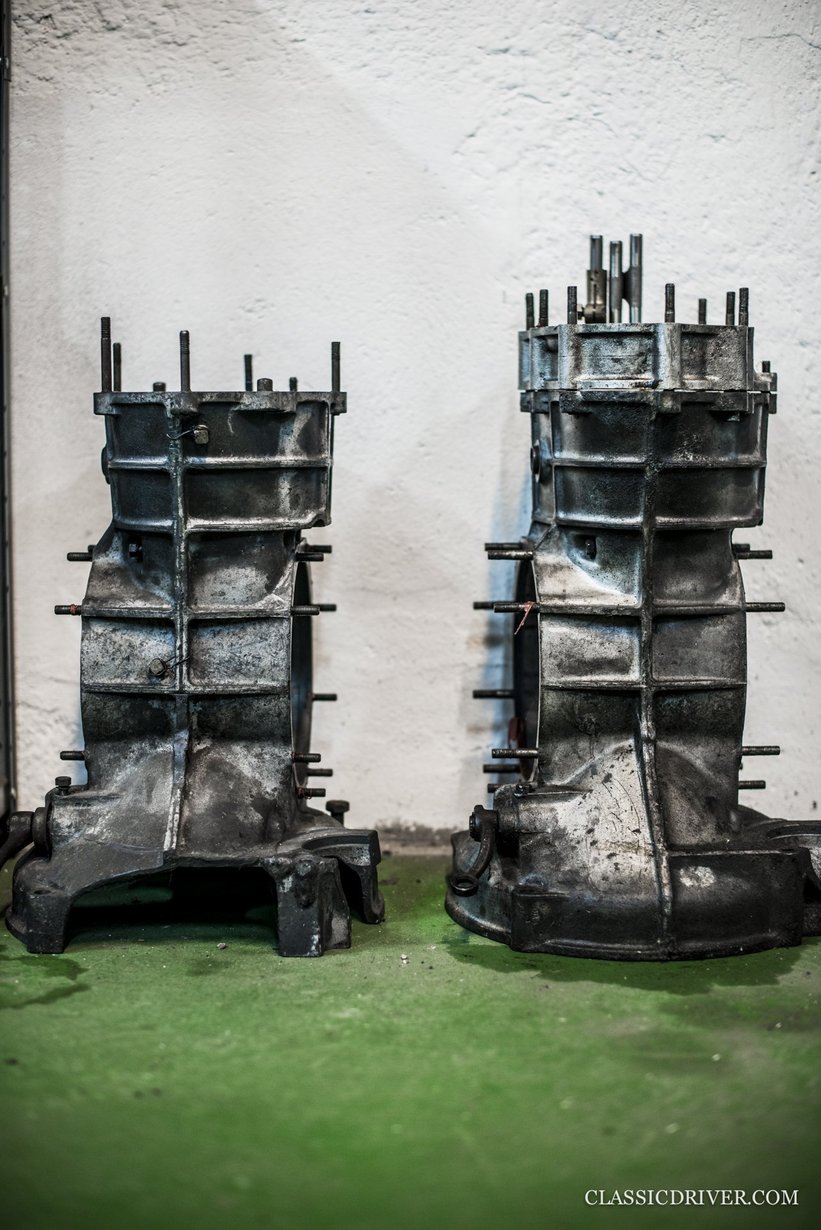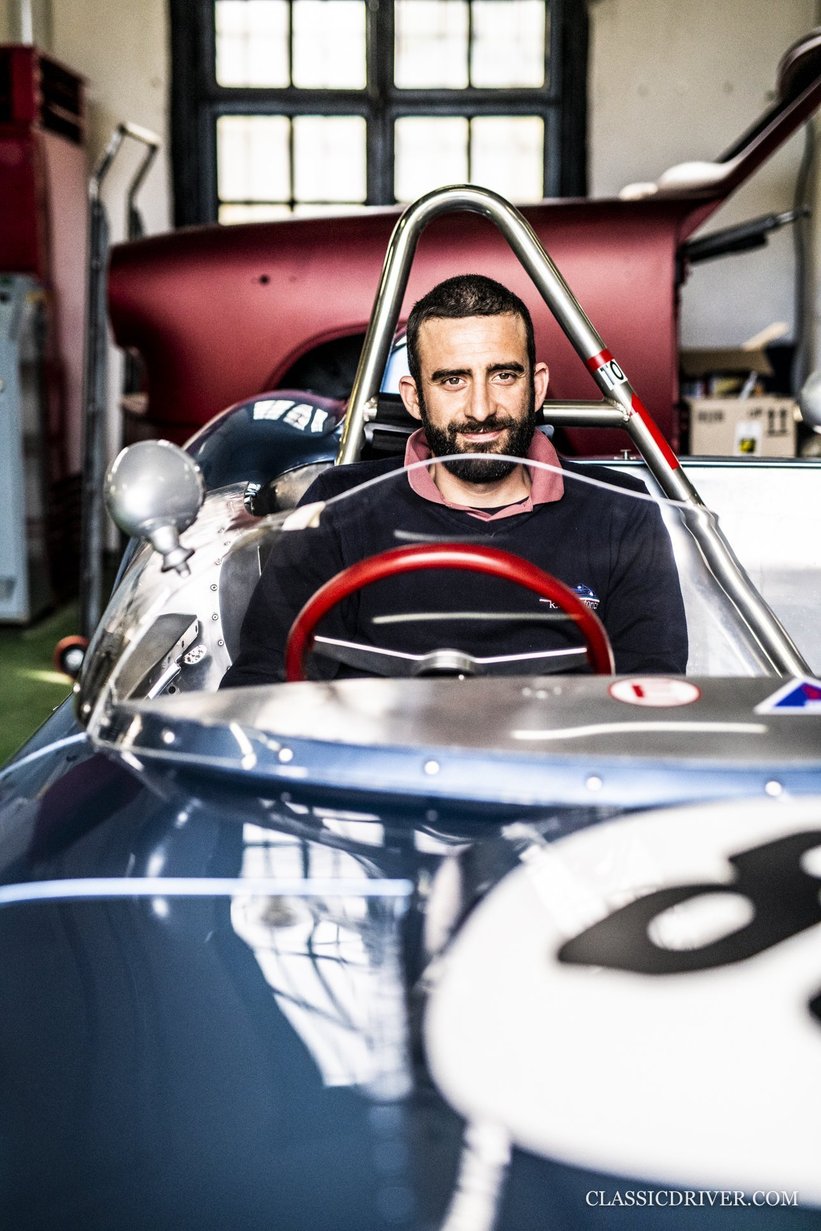 Do you personally drive a classic car on the weekend?
I own a 1991 Alfa Romeo Duetto that I drove to England, back when I worked at Simon Hadfield Motorsport. Since I've come back, it's in a thousand pieces. But I will certainly finish it at one point!
There's a Fiat Panda in your workshop that you use as your daily driver. What's so special about the Panda that many consider it the ultimate Italian car?
The Fiat Panda! The best car I have ever had. I always wanted to own one, especially the 4x4 version. It is a brilliant car. Pn the snow it can beat nearly every other 4x4, especially the modern ones, because of the tiny tyres it has. Like my Duetto, the Panda will be the car I'll never sell. She'll stay with me for the rest of my life. The Duetto was a present from my family for my 18th birthday, and the Panda was a present from by best racing friends for my wedding. So, it's something very special. It drives very well, and never causes a problem. I drove it for six months with no silent blocks, no rear brakes and no oil in the gearbox, and she still didn't miss a beat! Oh, being a mechanic, I probably shouldn't have said that (laughs). The Fiat Panda represents the Italian ability to do more with less: simple lines, ergonomics, space. And with the all-wheel-drive version, they created an icon at the same level of the Fiat 500. It was the economy car of the 1980s and 1990s. Giugiaro's design made it famous worldwide and gave it its personality. And really, you can go everywhere with it, on the snow, off road and in the traffic, too.
What would be your ultimate dream car, no matter the budget?
In terms of classics, an Alfa Romeo 8C 2900 and an Aston Martin DB4 GT. In terms of race cars, a Porsche 917K, an Alfa Romeo 33/2 and a Brabham BT46B.
Photos by Rémi Dargegen for Classic Driver © 2019