Carry on Camping... at the Goodwood Revival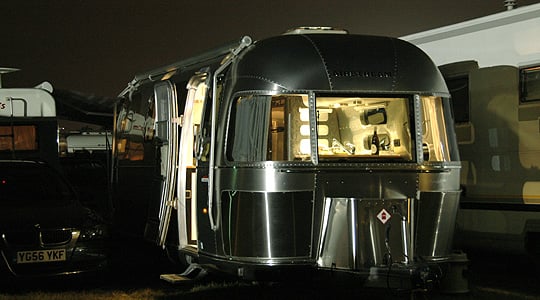 It's known nowadays as 'glamping': 'glamorous camping', or the art of holidaying outdoors equipped with all the conveniences of modern life. For three days your Editor's accommodation was pitch 7, row J at the Goodwood Revival campsite...
For canvas, substitute aluminium, steel and wood as I had at my disposal a top-of-the-line Airstream 'travel trailer', recently introduced to the European market. An 'Airstream International 684', to be precise.
This is the second year of the Revival campsite. Wally Byam, however, came up with the Airstream concept in 1931, and nearly 70% of the Airstreams ever built are still on the road or in static use today (there was one by the pit exit at the Goodwood track). It's all very 'green' and fits in well with Goodwood's ecological strategy as well as its sense of fun and style.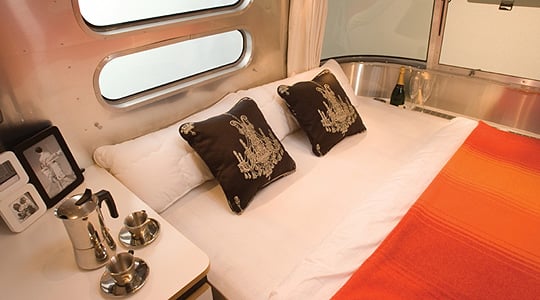 The manufacturers have made subtle changes to the iconic American trailers to make them more suitable for European roads and likely tow cars but, rest assured, they are still tested to Category 2 Hurricane Force water resistance. Handy in a late English summer…
As with everything under the Goodwood Estate banner, the camping facilities for the Revival (a 10-minute tractor-ride from the circuit) are excellent, with the 'right crowd and no crowding' extending to the site plan. There's electricity (at additional cost) and for those poor souls not in a 'Six-Eighty-Four' (as we Airstreamers refer to them), Goodwood has provided showers and toilets.
Once in situ, the now-happy Goodwood camper need not venture out for provisions as the mobile Goodwood Organic Farm Shop opens twice daily and keeps most people going in sausages, bacon, bread and milk for the duration of the event.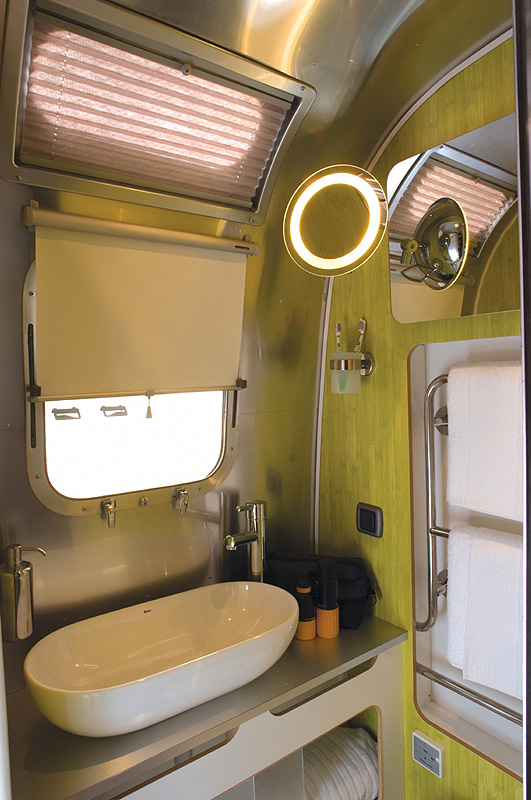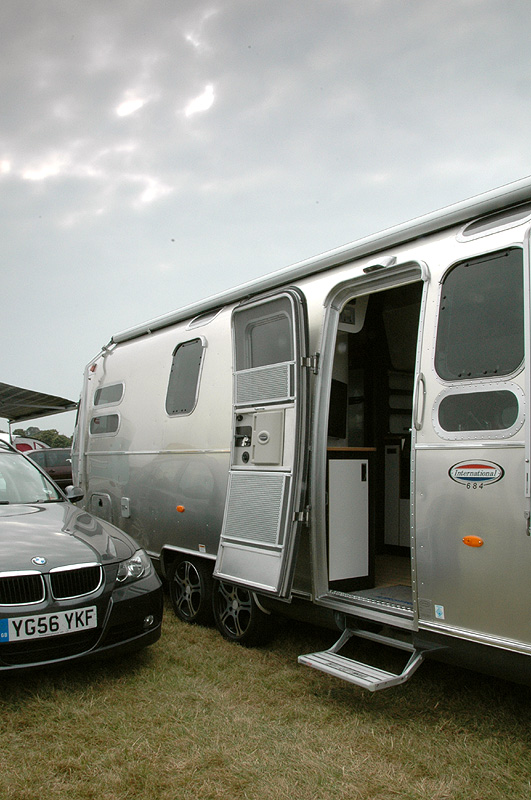 My Airstream soon proves a hit on the campsite. From motorhome owners to existing 'classic' Airstream campers, the brand-new, 8250mm-long aluminium wonder attracts visitors like no other. Correctly set up, it's as solid as a permanent home and as you bustle from shower to bedroom to living area, the floor and walls never give a millimetre. All the fittings are top quality and the interior design would do justice to a hip hotel.
No swirly crushed velour here, I'm pleased to say – although I'd swap the existing leather seating for something a little more comfortable and casual. I might even run up some covers myself – this camping lark seems to have brought out another side to my character.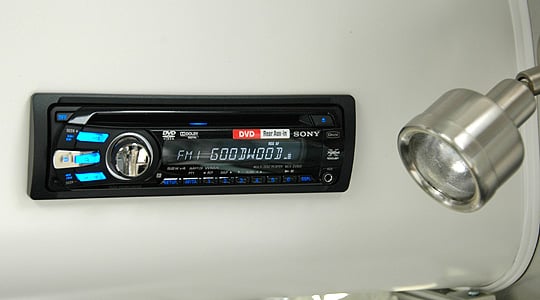 Having dined on Lord March's finest bangers and beans, washed down with organic ginger beer, it was time to turn in. With blinds pulled down and windows opened, the rear sleeping compartment (you can turn the seats at the nose of the trailer into another bed) proved a snug room for the night.
It's really like sleeping in a house. Now many of you might say "but that's not the point of camping" and I suppose you could have a point. But it suited me.
The next day, one could shower in peace, get the kettle on and then dress in appropriately Goodwood manner (tweeds) – all in the comfort of the Airstream before a quick tractor-ride to the circuit. It beats the typically heavy traffic any day, and for those with three-day passes to the event, camping at the Revival must be a serious option.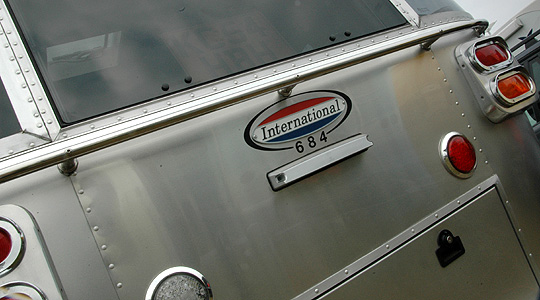 And for those looking for the perfect lodgings, hitch up an Airstream to your Discovery or X5 – it's a home from home.
The Airstream International 684 costs £49,715 + £1150 on-the-road pack. Extras fitted to our test trailer were: £1150 Zip Dee Awning; £1250 Leather Upholstery; £1576 Airscon; £555 Avtex LCD TV; £250 Sony DVD/CD/Radio. Total price as tested: £55,646 including VAT.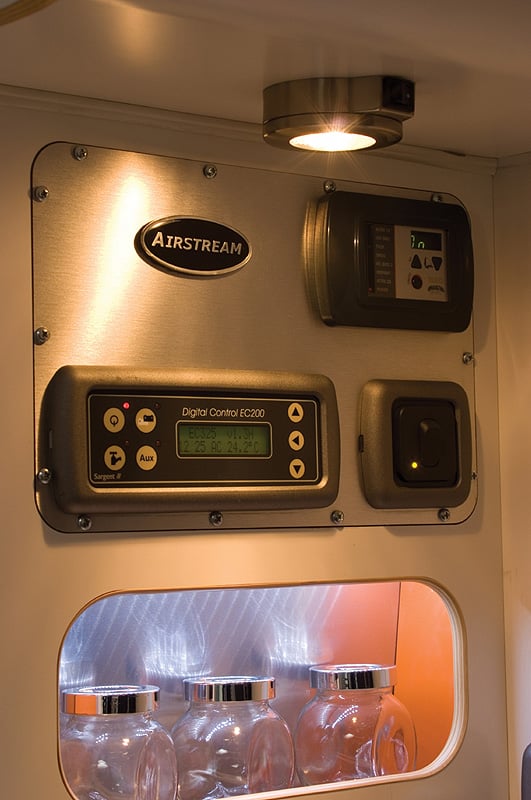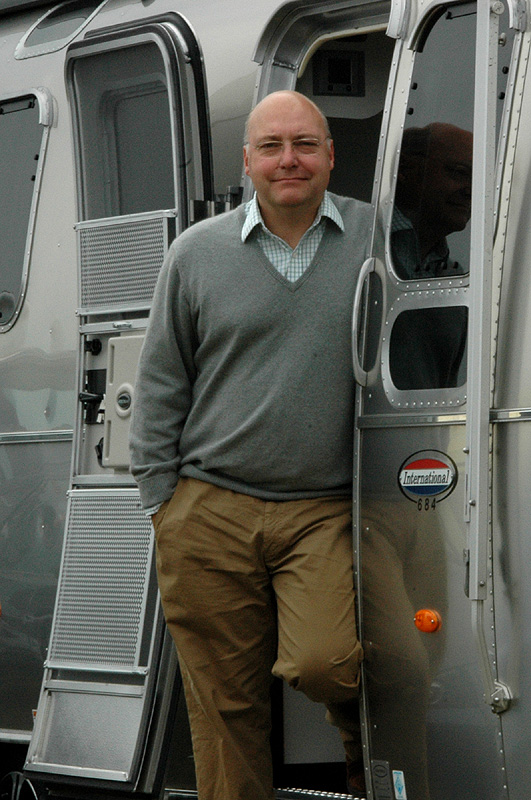 For further details, see www.airstreameurope.co.uk , or call +44(0)1539 624141.
Camping at this year's Goodwood Revival, including electricity, was £181.00 for one pitch and four people. You will, of course, need entrance tickets to the event too. For further details, see www.goodwood.co.uk. Dates for 2010 have not been announced.
Please CLICK HERE to read Classic Driver's coverage of the 2009 Goodwood Revival meeting.
On a serious note, filling the water container a couple of times for my daily ablutions was a minor inconvenience, a walk of 20 metres or so. For millions in the world, such arrangements would be unparalleled luxury.

Visit www.wateraid.org/uk and think on.
Text: Steve Wakefield
Photos: Airstream Europe / Classic Driver
---
ClassicInside - The Classic Driver Newsletter
Free Subscription!