Buell XBRR Factory Racer: Two-wheeled beast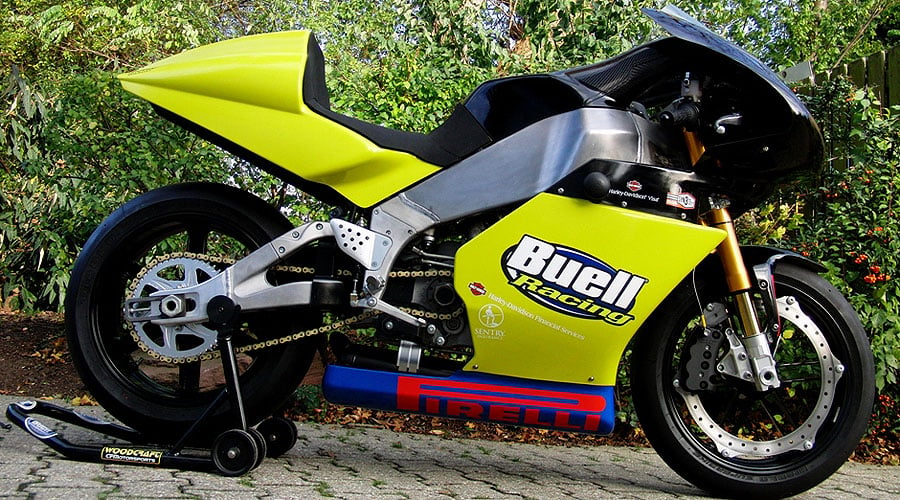 The figures '150bhp' and '1.34-litre' might not sound that impressive in car terms, but when they're derived from a limited-production factory racing motorcycle, they become very interesting indeed. Especially when one of the bikes generating them – a 2006 Buell XBRR – is currently up for sale.

At the heart of the racing Buell is an air-cooled, Harley-Davidson-derived Thunderstorm V-Twin, albeit enlarged (to 1,340cc) and tuned to within an inch of its life. It's enclosed by a bespoke lightweight frame developed specifically for racing, while the wind tunnel-tested fairings are constructed from carbonfibre. Other engineering highlights include high-end Ohlins suspension, and a revolutionary rim-mounted brake disc on the front wheel – an innovation pioneered by Buell.

Production of the racing-only XBRR was limited to 50. Buell was wound up by parent company Harley-Davidson in 2009, but its spirit remains in the form of Erik Buell Racing, which was formed by the original Buell founder soon after the foreclosure.

Tipping the scales at just 162kg, the XBRR's combination of featherweight avoirdupois and outrageous performance certainly affirms the need for an experienced pilot. Perhaps this explains our subject's odometer reading of zero. In fact, it's never been run, and has never even tasted oil. Could you be the one to tame the beast?


Related Links

More information on this Buell XBRR can be found in the original advert


Text: J. Philip Rathgen
Photos: Car Special