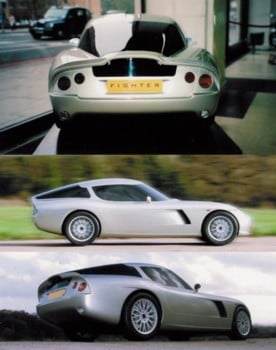 Deliveries of the Bristol 'Fighter', a two seater 'Businessman's Express' will start later this year. The first time since the 1950s' 404 the company has made a strictly two seater car.
In an interview in the excellent 'Cars for the Connoisseur' Magazine, Tony Crook, MD of Bristol Cars, gave more details on what will be an exciting alternative to Bentley and Aston Martin. "I had noticed that during the last boom people had made so much money that when taking delivery of a new Bristol saloon they asked if we were ever going to make a smaller model which they would use as their second or even third car. I had imagined that they were referring to something priced like an MR2 Toyota, with which we obviously could not compete. Then I realised that the second cars that they had left parked outside were of the calibre of Ferraris or McLarens. It occurred to me that perhaps we should once again build a two seater - the first since the 404, of which we made a small number in the mid fifties alongside the full four seater 405."
Powered by an 8 Litre Chrysler V10 engine the car will feature Bristol's characteristic emphasis on power, handling and usability. It will accommodate people from 5' 7" to 7' tall and will be a tractable car in traffic due to light weight and massive power. Figures of 525bhp and 525 lb/ft torque aim to push the car to a top speed in the region of 200 mph. Entrance to the machine is via Gullwing doors and the external dimensions will be similar to a Porsche 911. The price of the car is £205,625.00 and production limited to a maximum of 20 per annum.
Tony Crook has been involved with the Marque for 55 years now and looks forward to the future of the company with confidence, having found a shareholder and successor to carry on the tradition which he holds so dear.
We are grateful to the publishers of 'Cars for the Connoisseur' Magazine for allowing us to use part of this interview; a full version appearing in the March 2002 edition. For further information and details of a free sample issue call +44 (0) 1258 473215 or visit www.carsfortheconnoisseur.com.
We also recommend you visit the official website of Bristol Cars Ltd www.bristolcars.co.uk the only distributor and sales outlet for the Marque in the world.