Bonhams at Beaulieu Autojumble 13th Sept 2003 - Preview
An 'eclectic mixture' is an apposite way to describe Bonhams' Beaulieu Autojumble sales. Like the main event itself, mixed up amongst the humbler items there are the odd gems including a 1957 Aston Martin DB2/4 MkII Saloon in need of a little TLC and an 1896 Whitney Two-cylinder Steam Roundabout – very Brighton Run, it's already completed eight successfully.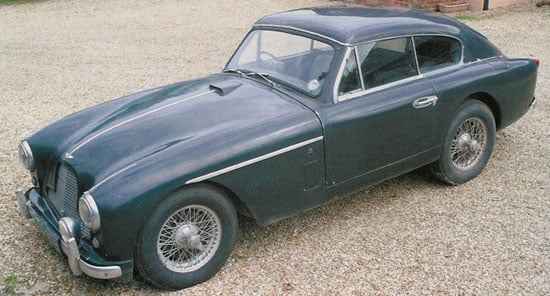 The Aston is in very 'original' condition but is said to run well, with just 33,178 miles on the odometer, having been in one family ownership since 1961. The estimate is £10 – 12,000. The Steam car is one of the more expensive lots in the sale at £40 – 50,000 but as we know too well these Brighton-eligible cars are a law unto themselves pricewise and can go for a lot of money.
Over fifty cars and motorcycles are included in the sale which starts at 12 noon for the Automobilia and 3.30pm for the Cars and Motorcycles.
| | |
| --- | --- |
| Car | Price |
| 1978 BMW R60/7 | £2,000-2,500 |
| 1969 Velocette 192cc LE MkIII | £700-900 |
| 1956 James 197cc Captain | £800-1,000 |
| 1941 Rudge Autocycle | £300-400 |
| 1949 Francis-Barnett Powerbike Autocycle | £300-400 |
| 1950 James Superlux Autocycle | £400-600 |
| 1975 BMW R75/6 | £1,000-1,300 |
| 1969 BMW 594cc R69S | £2,800-3,200 |
| 1952 Triumph 650cc Thunderbird | £2,800-3,200 |
| 1947 BSA-Watsonian B33 500cc Trials Motorcycle Combination | £2,800-3,200 |
| 1949 Vincent 499cc Comet | £4,000-4,500 |
| 1982 Aston Martin V8 Saloon | £8,000-10,000 |
| 1968 Vauxhall Viva GT Saloon | £1,500-2,500 |
| 1960 Riley 1.5 Saloon | £1,000-2,000 |
| 1954 Freeman Clansman Caravan | £5,000-7,000 |
| Teal Bugatti Replica T59 | £7,000-10,000 |
| 1960 Austin Seven Mini Van | £800-1,000 |
| 1963 Morris Oxford Series VI Saloon | £1,000-1,200 |
| 1955 BMA 1 1/2hp Electric Hazelcar | £600-800 |
| 1953 Triumph Mayflower Saloon | £700-1,000 |
| 1932 Austin 7 Swallow Sports Two Seater | £7,000-9,000 |
| 1913 Newton Bennett 12hp Five Seat Tourer | £18,000-20,000 |
| 1936 Rolls-Royce 20/25hp Four Door Saloon Coachwork by Windovers | £17,000-21,000 |
| 1935 Bentley 3 1/2 Litre Two-Door Coupe Coachwork by Barker | £12,000-15,000 |
| 1978 Rolls-Royce Silver Shadow II Four-Door Saloon | £7,000-10,000 |
| 1980 Mercedes-Benz 380SL Convertible | £7,500-8,500 |
| 1937 Lancia Aprilia Four Door Saloon | £4,500-5,500 |
| 1937 Austin Seven Ruby Saloon | £4,500-5,500 |
| 1929 Rolls-Royce Phantom II 40/50hp Sedanca de Ville Coachwork by Barker | £30,000-50,000 |
| 1939 Delage D6-75 Sports Saloon Coachwork by Henri Chapron | £23,000-26,000 |
| 1985 Ferrari 308GTS Qv | £18,000-22,000 |
| 1977 Aston Martin V8 Vantage Saloon | £20,000-22,000 |
| 1938 Austin 7hp 'Pearl' Cabriolet | £3,500-4,000 |
| 1920 Leyland 'Braidwood' Fire Engine | £10,000-12,000 |
| 1937 Wolseley Super Six 25 Series III Drophead Coupé | £10,000-12,000 |
| 1909 Rover | £8,000-9,000 |
| 1927 Jowett 7hp Long Four Tourer | £6,000-7,000 |
| 1912 Rolls-Royce 40/50hp Silver Ghost Chassis | £40,000-60,000 |
| 1955 Austin Healey 100/4 BN1 | £16,000-19,000 |
| 1963 Rolls-Royce Silver Cloud III Four Door Saloon | £17,000-19,000 |
| 1968 Mercedes-Benz 280SL Convertible | £12,000-14,000 |
| 1964 Daimler 2 1/2-litre V8 Four Door Saloon | £1,100-1,800 |
| 1940 Rolls-Royce 25/30hp Wraith Sports Saloon Coachwork by H.J. Mulliner | £24,000-28,000 |
| 1957 Aston Martin DB2/4 MkII Saloon | £10,000-12,000 |
| 1937/8 Buick Sedan | £11,000-14,000 |
| 1920 Rolls-Royce 40/50hp Silver Ghost Chassis | £20,000-25,000 |
| 1926/7 Bentley 3/4 1/2-litre Chassis | £25,000-30,000 |
| 1896 Whitney Two-Cylinder Steam Runabout VCC Dating Certificate no. 1541 | £40,000-50,000 |
| 1932 Rolls-Royce 20/25hp Limousine Coachwork by Thrupp & Maberly | £13,000-15,000 |
| 1957 Austin-Healey 100/6 Two-Seat Sports Roadster | £11,000-14,000 |
| 1994 Rover Mini '35' Limited Edition Radford Saloon | £5,000-6,000 |
| 1971 Jensen Interceptor II Saloon | £5,500-7,500 |
| 1935 Bentley 31/2-Litre Tourer Coachwork by J C Pitney | £28,000-32,000 |
| 1967 Jaguar 3.4-litre S-Type Four Door Saloon | £12,000-15,000 |
| 1926 Ford TT Charabanc | £8,000-10,000 |
| 1927 Overland Whippet | £5,000-7,000 |
| 1996 Mercedes-Benz S420L Saloon | £12,000-15,000 |
Text - Steve Wakefield